1 View
Polaris Introduces RZR XP 4 Turbo EPS and RZR XP 4 1000 High Lifter Edition
October 19th, 2015 10:06 AM
Share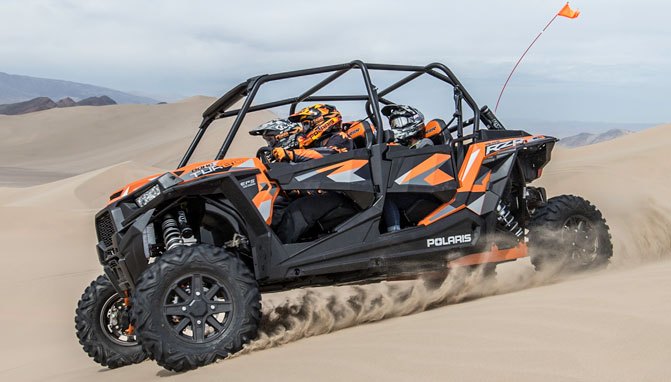 More multi-passenger fun from Polaris
Polaris has just beefed up its multi-passenger RZR lineup with two new models. While we were expecting the new RZR XP 4 Turbo EPS, the RZR XP 4 1000 High Lifter Edition is a pleasant surprise.
RZR XP 4 Turbo EPS
It was only three months ago that Polaris reclaimed its title of horsepower king with the introduction of the 144 hp RZR XP Turbo EPS. You can read our review here. This machine was designed to be the ultimate desert and dune riding UTV. It is no surprise that a four-seat version has quickly followed, since the only thing more fun that tearing up the dunes is doing it with three of your friends.
"The vehicle brings significant innovations to each of the hallmark Power, Suspension, Agility, Comfort and Customization aspects of RZR to provide the ultimate off-road experience for four," Polaris says of the new RZR XP 4 Turbo EPS.
The Polaris ProStar Turbo engine provides an industry-leading 144 horsepower, which is 30 percent more horsepower and 45 percent more torque than the RZR XP 4 1000 EPS. This new engine features forged pistons, upgraded 270-degree firing order, forged crankshaft, high strength connecting rods, closed deck cylinder, sodium filled exhaust valves, and new oil lubrication system. For consistent performance at all temperatures, the vehicle also includes a new liquid charged air cooler with front-mounted, dual radiators with high-capacity fan and high-flow electric pump.
Polaris boasts it performed enough test miles on the engine to travel around the world more than nine times.
Similar to the RZR XP Turbo EPS, the RZR XP 4 Turbo EPS boasts comes equipped with exclusive FOX Podium Internal Bypass Shocks. Paired with a long wheel base, dual A-arm front suspension with 16 in of front travel and 3-Link trailing arm rear suspension with 18 in of rear travel, Polaris says this Sport UTV offers "one of the smoothest rides in a side-by-side whether riding alone or with up to three passengers."
A front sway bar is designed to decrease body roll in cornering, while upgraded brakes feature triple piston front calipers, dual piston rear calipers and large 248mm ventilated stainless steel rotors on all four corners.
For driver and passenger comfort, the RZR XP 4 Turbo EPS offers adjustable seat sliders up front and adjustable seat belt heights for the rear occupants.
Polaris has more than 110 accessories available for the new turbo-powered four-seater.
"With integrated mounting points situated along the vehicle frame and pass-through areas for routing wires, accessories can be attached with minimal installation time," says Polaris.
The RZR XP 4 Turbo EPS retails for retails for $27,499 U.S./$32,399 CAN. It will be offered in Graphite Crystal and Spectra Orange, and will be available at Polaris dealerships in October.
RZR XP 4 EPS High Lifter Edition
If you prefer mud instead of sand, the RZR XP 4 EPS High Lifter Edition allows you to take three friends along for some fun in the slop.
"We needed to find more ways to get people dirty, and that's exactly what we did with the new RZR XP 4 EPS High Lifter Edition," says Scott Smith, owner and President of High Lifter Products, Inc. "Now, I can share my love of the mud with more of my family and friends."
Similar to the RZR XP 1000 EPS High Lifter Edition, the RZR XP 4 EPS High Lifter Edition has a 110 horsepower ProStar 1000 H.O. engine with mud-specific cooling and gearing.
"The high-mounted engine intakes, clutch intakes and exhaust keep the water out while providing an ample amount of fresh air," says Polaris. "The vent lines are integrated into the cab frame to keep them free of debris for ultimate mud performance. To optimize power and torque for maneuvering through the mud, the vehicle offers reduced gearing for more torque and a larger reverse chain."
As for suspension, high-clearance lower A-Arms and rear radius rods max the vehicle out at 15 in ground clearance. The vehicle's new, stiffer springs are designed to fight back when the mud piles up by helping maintain ground clearance as mud collects and the overall weight increases.
Connecting the RZR XP 4 EPS High Lifter Edition to the ground are 29.5 in High Lifter Outlaw 2 tires. The standard 4,500 lb winch with integrated in-dash switches and synthetic rope will help get you out of trouble, should you find it.
Dryseat technology on the seats and factory-installed half doors help keep mud away from occupants. The doors feature a secure latching system with sealed contact points around the rocker panel and front fender. Other features include electronic power steering, standard rear-view mirror, and removable floor drains.
The RZR XP 4 1000 High Lifter Edition has an MSRP of $25,699 U.S./$30,199 CAN and will be available in dealerships in October.
RZR S 900
Polaris also released a two-seat RZR S 900 with Blue Fire premium paint. This model comes without electronic power steering and retails for $15,499 U.S./$17,799 CAN. As with other RZR S 900 models, it features a 75 horsepower ProStar 900 engine, 60 in width, dual A-Arm rear suspension with FOX Performance Series 2.0 Podium X Shocks, and True On-Demand All-Wheel Drive. The vehicle will be available in dealerships in October.
Published October 6th, 2015 12:18 PM
Top Brands
Popular Articles