1 View
2016 ATVMX Series Schedule Released
March 16th, 2016 8:17 PM
Share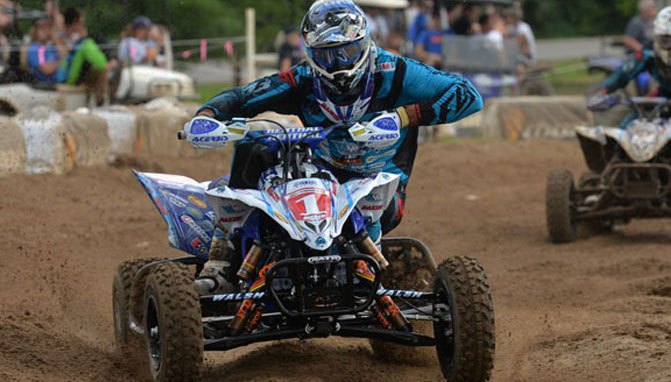 2016 season kicks off at Daytona International Speedway
Chad Wienen will begin his quest for a fifth straight AMA ATV Motocross National Championship when the series kicks off March 8 at Daytona International Speedway.
The 31st Annual ATV Motocross Championship will feature 10 amateur rounds and 11 AMA Pro points rounds.
For the second straight year, the series opens at Daytona with the ATV Supercross (ATVSX). Although the event will only contribute pro points, there is a full roster of amateur classes available.
A month later the 2016 ATVMX season will begin for both amateur and pro points the weekend of April 9 and 10 at Underground MX Park, located in Kemp, Tex., which sits just 45 minutes outside of Dallas. This will be the second year that the ATVMX series has visited the Lonestar state.
"After an outstanding 2015 season we are already looking forward to the start of the 2016 campaign and the new facility that will welcome this incredible championship," said Roy Janson, Competition Director at MX Sports Pro Racing. "The return of ATVSX combined with the renowned motocross tracks on the schedule should make for the ultimate battle as the professional field looks to claim the National ATV Motocross Championship."
From there, the series moves to the foothills of the Appalachian Mountains to Muddy Creek Raceway where it will continue taking place at staple stops such as Ironman Raceway, High Point Raceway, Sunset Ridge MX, Spring Creek MX Park, Unadilla MX, RedBud and the season finale at the historic Loretta Lynn Ranch on August 13-14. However, another new stop will host the pivotal halfway point of the championship.
The series will roll into Tallassee, Ala. for the first-ever ATVMX appearance to Monster Mountain on June 4 and 5.
2016 AMA ATVMX National Championship Schedule
| Round | Date | Venue | Location |
| --- | --- | --- | --- |
| 1 | March 8 | Daytona International Speedway | Daytona, FL |
| 2 | April 9-10 | Underground MX Park | Kemp, TX |
| 3 | April 23-24 | Muddy Creek Raceway | Blountville, TN |
| 4 | May 7-8 | Ironman Raceway | Crawfordsville, IN |
| 5 | May 21-22 | High Point Raceway | Mt. Morris, PA |
| 6 | June 4-5 | Monster Mountain | Tallassee, AL |
| 7 | June 18-19 | Sunset Ridge MX | Walnut, IL |
| 8 | July 2-3 | Spring Creek MX Park | Millville, MN |
| 9 | July 16-17 | Unadilla MX | New Berlin, NY |
| 10 | July 30-31 | RedBud MX | Buchanan, MI |
| 11 | August 13-14 | Loretta Lynn Ranch | Hurricane Mills, TN |
Published November 23rd, 2015 1:57 PM