1 View
Can-Am ATV and UTV Winter Accessories
December 10th, 2015 4:55 PM
Share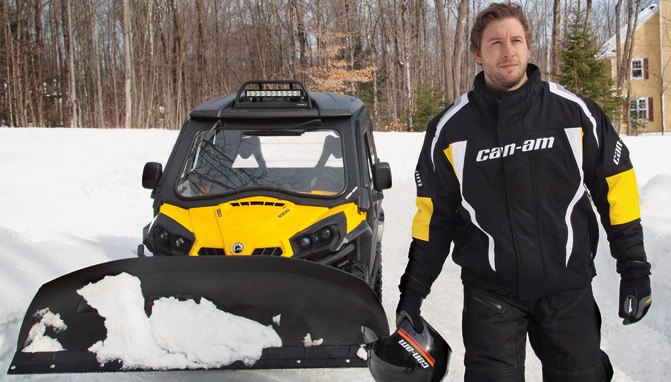 Don't be afraid of the snow this winter
Just because the mercury is dropping and Old Man Winter is starting to wake up, doesn't mean you have to put your ATV or Side-by-Side away for the winter.
Our Canadian friends at BRP feels the same way and offer a host of cold-weather accessories made to fit Can-Am off-road vehicles so you can ride right through the winter. Learn more about any of these accessories at the Can-Am online store.
Winter ATV Accessories
Alpine Flex Plow Kit
The blade, available in 60- and 54-inch widths, is made of preshaped UHMWPE thermoplastic. It naturally flexes to retain it shape and has a reward release action to reduce impacts to the rider and vehicle. The Alpine Flex Plow Kit (SKU requires an Alpine Flex Push Frame with Quick Attach System (includes a roller fairlead) and Plow Mounting Kit. The mounting kit is designed to stay on the ATV year round once attached and allows for easy attachment and detachment. The blade-turning allows for various blade angles.
MSRP: $984.97
Apache 360 LT Track System
BRP says the Apache 360 LT Track system offers the biggest contact patch, highest ground clearance and lowest steering effort on the market. The heavy-duty kit is designed to convert from tires to tracks in minutes and users can choose between two different track angles (floatation vs. attack angle). The kit supplies reduced friction and vibration while offering excellent acceleration, turning, braking and side-hilling performance. The angled front lugs enhance steering from the front tracks. All kits require an Apache 360 LT Mounting Kit (sold separately). System is compatible with Outlander, Outlander MAX and Renegade (SKU and 2016 6×6 (SKU
MSRP: $4,699.99 to $6,049.98
Heated Handgrips and Throttle Kit
Say goodbye to freezing cold hands with this heated handgrips and throttle kit (SKU Choose between four different temperatures settings to get your grip and thumb throttle warm during the winter. The kit features an ergonomically designed control module with an LED dimmer for reading temperature settings. It includes one-touch shutdown as well as memory for returning to the previous heat setting. The kit fits one-up Can-Am Outlander L, Outlander and Outlander MAX units as well as the Outlander 6×6 and Renegade ATVs.
MSRP: $174.99
Plow Lights
The 35W H3 halogen bulbs and lens design can throw out a 110-degree beam spread to provide better lighting during plowing in low-light situations. The plow lights kit (SKU is available for both the Outlander L and Outlander L MAX ATVs.
MSRP: $69.99
Winter UTV Accessories
72-inch Alpine Flex Plow Kit
This is basically the same idea as the plow 60-inch plow kit for ATVs, except in a 72-inch design. Its rearward release action means less accidental impacts reaching the driver and vehicle. It features a high-pivot design and easy blade-turning mechanism. The kit can be used on the Can-Am Defender (SKU and both the Commander and Maverick two up and MAX vehicles (SKU Vehicle-specific mounting kits and push frames are required for proper fitment and are sold separately. The kit includes a roller fairlead and cable saver limit switch. Other Alpine Flex Plow accessories are available for further customization.
MSRP: $1,404.99
Apache 360 LT Track System
The same Apache 360 LT Track system mentioned in the ATV section also works for the Can-Am Defender, Commander and Maverick families (SKU All kits require an Apache 360LT Mounting Kit (sold separately) for a precise fit.
MSRP: $4,699.99.
Rigid Cab Enclosure
The full enclosure kit (SKU includes a Sport Roof, Full Doors, Glass Windshield with Wiper Package and Rear Window. It's designed so you can work comfortably and stay protected from the elements in frigid temperatures. The system is modular in design, so owners who have previously purchased a roof, for example, would only need to order the remaining parts (sold separately) to complete the full enclosure. Side mirrors are sold separately.
MSRP: $4,299.99
15" Double Stacked LED Light Bar
Adorned with 18 5W Cree LEDs, the 15"inch LED light bar (SKU offers 8,400 lumens to light up low light situations when removing snow. Fits with the Sport Visor Light Rack assembly (sold separately). Wiring kit and switch is included. Fits Defender, Maverick and Commander Side-by-Side vehicles.
MSRP: $449.99
Published December 10th, 2015 4:54 PM
Top Brands
Popular Articles