5 Views
Best ATVs and UTVs of 2017
March 15th, 2021 12:58 PM
Share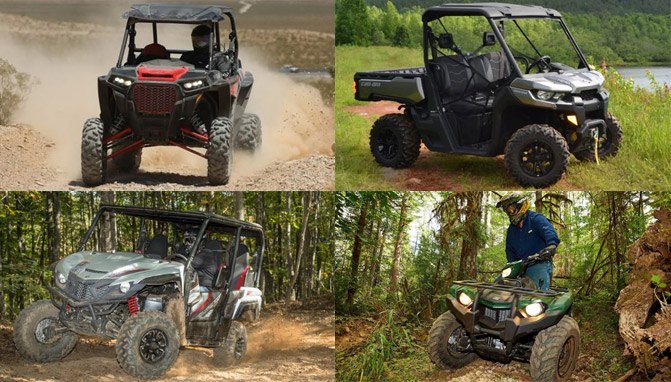 The past 12 months were good ones for the off-road world and we thought we'd look back and highlight the best ATVs and UTVs of 2017.
As we close the door on the marvelous year of 2017 we look back to the incredible industry we all love. There were a few firsts in the ATV/UTV industry and some grand improvements that will make riding in the dust, mud, rocks, heat, sweat and excitement even more achievable in 2018. Whether it was incredible pricing for new machines or stand out innovation that gets our attention, one thing is for certain, our off-road industry is not sitting back on its laurels and we can expect even more to come as technology swiftly changes.
With the competition between brands at an all-time high it is never a job taken lightly when we decide to lay out our favorite machines from the previous year. Our goal is to not only give an unbiased look at what stood out the most to us, but also to swing a positive light on what really matters to the masses whether they know it or not. Adding horsepower or LED lighting is not what we are referring to either, as true engineering and moving this industry forward is. Many new specific items were dropped onto the riding scene this year and it is always important to realize that innovation from companies will have an effect on others in the coming years. Without further delay, here are the machines we recognize as the best ATVs and UTVs of of 2017.
Sport UTV of the Year
Polaris RZR XP Dynamix Edition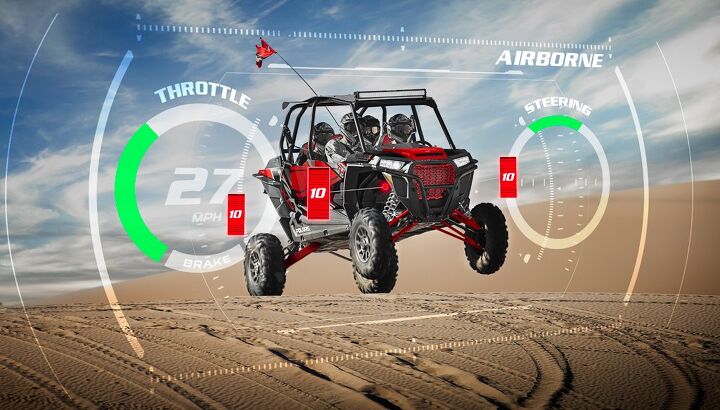 2018 Polaris RZR XP Turbo EPS Dynamix Edition Review + Video
We talk a lot about innovation in this industry, but it seems that sometimes the stale air just lingers throughout the shop. It takes bold moves in the ATV/UTV industry to get noticed these days, but having a product that steps the game up one more rung on the ladder can not only change a product but the entire industry. In the year 2017 Polaris came to the game with a totally new way to see suspension and handling. The 2018 Polaris RZR Dynamix Edition was experienced in the desert rocks of Primm, Nevada and it sure does open a window into the future.
Controlling a high-speed (925cc – 168HP) sport UTV at a fast clip can be tough for anyone, but when you have shocks on your machine thinking a little (approximately 200 times a second) for you, things change for the better. The partnership between FOX and Polaris has introduced many great items to the table for the hard-hitting world of go fast UTVs, but this simply takes the cake. In combination with the popularity of the RZR platform, Polaris most definitely brought some firepower to the game in 2017.
Honorable Mentions
Can-Am Maverick X3
Stepping up the game of go fast off road is simply in the Can-Am DNA and we realize that simply adding horsepower to the verbiage in the spec sheet is also not ground breaking. However, this machine was our favorite Sport vehicle last year and Can-Am did add to those incredible HP numbers, bringing the X3 up to 172 for 2018. Using loads of great suspension travel in the X RS and X DS, one thing some will look forward to is that they get that same great power in the base model as well! With incredible handling and power, the luxury of owning this bad boy in the desert is as simple as throwing down the cash. We are sure the creative minds at Can-Am are hard at work on the next step in this program and we are excited to see just how that plays out.
Yamaha YXZ1000R
This machine has begun to dominate many disciplines of off road racing and that 998cc triple cylinder never ceases to satisfy the masses with both power and sweet exhaust tones. The YXZ comes with some of the sharpest shock technology as well as gearing for the rock hounds, giving us reason to include it in our roundup. When it comes to shifting, the Sport Shift model does not disappoint and using the launch control makes even the hardest driver smile. The 2017 SE version of the YXZ comes with the FOX 2.5 Podium X2 shocks that are limitless in adjustability and if crawling across mega rock piles strewn across the trails in your back yard, the GYTR TAG (Torque assist gearing) kit is something to consider. We have no doubt that the YXZ1000R will continue to evolve and capture our minds again and again.
Utility UTV of the Year
Can-Am Defender HD10
When looking into the working world of SXS there has to be a good balance of "wants" in your notes. If you need or want big power as well as towing capabilities that have shock value, then you need to consider the Can-Am Defender line. We have had the pleasure of working and trail riding many great Side-by-Sides in the big bore utility part of this segment and our personal favorite has to be the Can-Am Defender HD10.
2017 Can-Am Defender HD10 XT Review + Video
Using the brute strength of the Rotax engine platform, Can-Am has harnessed those ponies into a well-rounded and versatile rig. Can-Am's three modes of power delivery also gave us something to consider. From Work to Normal and ECO mode, the throttle-by-wire helps any driver in most any situation deliver their style of power control. Small items like easy egress cab from either the driver or passenger side allows riders to work without restraint. The storage capability of this machine is also worth mentioning, as the removable boxes both on the dash and under the passenger seat give you many options. If you love to carry items in the bed in an organized manner then the slots molded into the bed for use with one-by lumber helps organize that madness. There are many other reasons to love the Defender HD line, making it an easy choice on our list of the best ATVs and UTVs of 2017.
Honorable Mentions
Polaris Ranger XP 1000 EPS
2018 Polaris Ranger XP 1000 Review
This manufacturer is surely on their game when it comes to building a hard-working reliable machine. We tested the Polaris Ranger XP 1000 EPS for several months and found it to be a formidable foe in today's war of the working machine. The powerful 999cc ProStar engine has loads of power and also contains the dash-mounted throttle control center for those wishing to regulate the ponies. Going from "Performance" to "Standard" mode and then on to "Work" mode on the switch gives the driver decisions that are easily selected. This throttle by wire is a very valuable tool.
When you look at capability from the Ranger XP platform you will get a lot more than some others. The towing capability is an impressive 2500 lbs and bed capacity is at 1000 lbs. We found that in the Work mode when towing we had plenty of torque plus a smooth throttle response that made our towing feel much more controllable. The Ranger is a smooth trail rider as well and this versatility lends to a well-rounded ride. We cannot forget to mention the tough and spacious bed as it too has dividers built in for segregating the small stuff for a day's work on the farm. All of the small things do add up for this Polaris Ranger and that's why it gets our honorable mention.
2018 Kawasaki Mule Pro FXR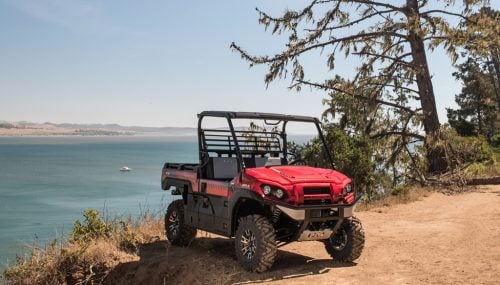 2018 Kawasaki Mule Pro-FXR Review
Kawasaki has built an incredible line of machinery in its Mule Pro FX line. Unleashing the Pro-FXR this year Kawasaki simply gives yet another reason to consider Team Green for those hard work weeks and wandering weekends. The brute strength and solid build of the Pro-FX machines shows that Kawasaki wanted a hardcore work vehicle for the masses. Using the same theory as its other Mule brethren, for a more trail ridden vehicle Kawi installed the same triple cylinder 812cc mill in the Pro-FXR. In fact, many things are similar as in the bed capacity (1000 lbs) and towing capacity (2000 lbs).
So what is different or new, you might ask? Well this Kawasaki Mule is a full foot (12 inches) shorter than others. It allows three passengers to ride in comfort and style with the pride of knowing they have an industry leading three-year warranty!
Adventure UTV of the Year
2018 Yamaha Wolverine X4
2018 Yamaha Wolverine X4 Review + Video
When looking at last year's product releases it wasn't hard to step back and say "where do we grow from here?" For one manufacturer, the plan had been set in motion well before last year's products were released. In 2017 Yamaha released to its loyal customers possibly the biggest news and that was the birth of the 2018 Yamaha Wolverine X4. Now we all know that this machine signifies a bold new platform in Adventure riding. It is not only for dads out there to drive, but also for that mom who wants to take off with the kids on her own adventure and feel safe doing so.
It is also a giant step for Yamaha in the engine department of its UTV line. This Wolverine X4 brings with it the first Twin cylinder engine from a Yamaha UTV. The 847cc twin is quite possibly the most exciting news and we know it is just a matter of time before this engine begins to make its way along the platform of off-road vehicles available from Yamaha. Let us not discount the other comforts and reliable features like EPS, self-leveling rear shocks as well as movable rear seating that gives access to more bed space should work come before play. This package is quiet, comfortable and engineered for great family adventure and that is why has a home on our list of the best ATVs and UTVs of 2017.
Honorable Mention
Can-Am Maverick Trail 1000
2018 Can-Am Maverick Trail 1000 Review + Video
If we look back in time, a popular 50-inch machine revolutionized our industry. However, it seems we have gotten far from that size at least until now. Recognizing a void of sorts in its own arsenal of off-road machines, Can-Am decided that a trail-sized UTV had to be born. Enter the 2018 Can-Am Maverick Trail 1000. This 50-inch wide rig boasts a 1000 Rotax engine and this package simply rocks. The massive 75 horsepower of our test model may be tuned to the chassis, but this small and capable machine is a complete thrill to drive. Having spent many hours in the driver seat of a Trail 1000 in the forest near Christmas Meadows, Utah, it was clear that we had forgotten where we came from and the thrill of narrow trails. Utilizing its popular throttle-by-wire, the Maverick Trail also helps keep throttle bump in the rough sections to a minimum while allowing the driver to choose between a couple of different throttle delivery modes. Compact, powerful and definitely a fun "Trail" machine to drive.
Utility ATV OTY
Yamaha Kodiak 450
Some things we all tend to consider when looking at a new ATV is not only reliability, fit and finish, but also price. The numbers in this industry have always tended to grow as the newest models come out, but some manufacturers are taking a closer look into not only fresh engineering, but also affordability. Nothing is more useful than an ATV that is comfortable and reliable, but it has to be versatile in this market as well. Once you get those covered then there is that small item that tends to get a sideways grin in the dealership and that is price.
Yamaha introduced this brand-new machine in 2017 that is not only affordable, but with the trustworthy brand name of Yamaha stamped on it you know you will find a product that will always be ready for the task you use it for. The 2017 Yamaha Kodiak 450 comes in a small package with a 421cc single cylinder power plant offering big advantages for not only the first-time buyer but the jaded penny-pinching curmudgeon as well. With features like the tough Yamaha Ultra-Matic CVT, available power steering and a comfortable riding all rounded out with a base price of $5999, you have an incredible package that earned its spot on our list of the best ATVs and UTVs of 2017.
Published January 8th, 2018 3:22 PM
Top Brands
Popular Articles