1 View
2018 Kawasaki Mule Pro-FXR Review
October 23rd, 2017 10:42 AM
Share
Fast Facts
Engine: 812cc Triple
Ground Clearance: 10.8 in.
Towing Capacity: 2,000 lbs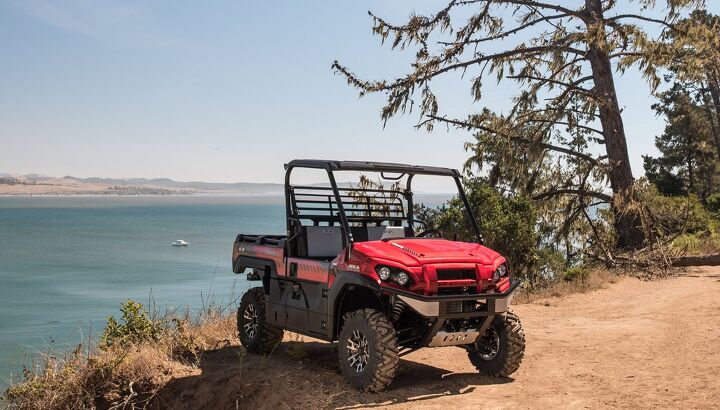 The 2018 Kawasaki Mule Pro-FXR is touted as the most trail capable Mule ever built and we had a chance to put that theory to the test.
After the 2018 Kawasaki Mule Pro-FXR was unveiled back in June, we were eager to see it in person. We had a chance to do just that a short while ago in a very unique location.
Kawasaki invited us out to California to drive the new Mule Pro-FXR at the historic Hearst Ranch. This 82,000-acre property is a mixture of rugged, rocky terrain and breathtaking ocean views and made for a memorable place to spend a day riding UTVs.
The 2018 Mule Pro-FXR shares much in common with the other Mule Pro vehicles, including the 812cc, three-cylinder engine and industry-leading three-year limited warranty. While the Mule Pro-FX and Pro-FXT were designed to be mostly working machines with some trail capability, Kawasaki found many owners were using it primarily as a trail machine. Sensing a niche that needed to be filled, the idea for the Mule-Pro FXR was born.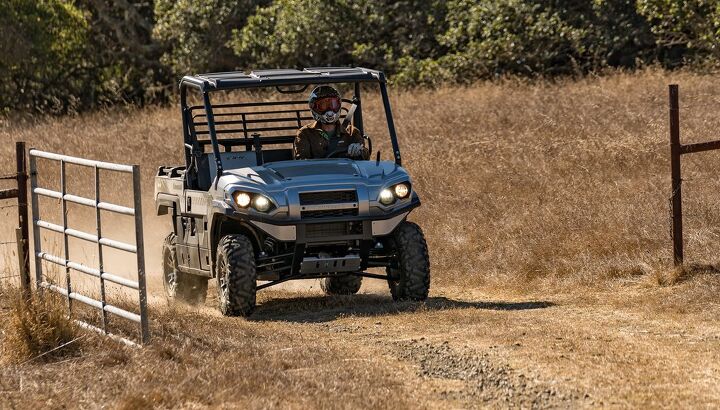 Kawasaki designed the Mule Pro-FXR to be the most comfortable and trail-capable Mule ever.
According to Kawasaki's thinking, the three-seat Mule Pro-FXR is designed to be ridden more as trail machine without sacrificing too much of its work capabilities; we like to think of it as a hybrid of the Mule Pro-FX and the Teryx. Its work capabilities include seating for three, a dumping bed that can hold 1,000 pounds and up to 2,000 pounds of towing capacity.
Those are the same capacities as the Mule Pro-FX, except in a significantly smaller package. Measuring 121.5 inches long, the Mule Pro-FXR is a foot shorter than the Pro-FX. It's wheelbase of 79.7 inches is also more than a foot shorter, which leads to a much tighter turning radius of 14 feet – two feet less than the Pro-FX and Pro-FXT. While that may seem like you are giving up a lot of size, the 2018 Kawasaki Mule Pro-FXR still has roughly the same footprint full-size working UTVs like the Honda Pioneer 1000 and Can-Am Defender.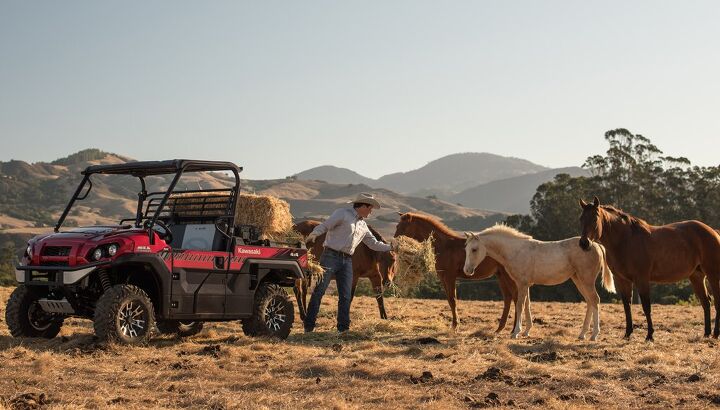 While the Mule Pro-FXR is smaller than its siblings, it is still a capable working UTV and similar in size to some flagship Utility UTVs from other manufacturers.
Besides its smaller size, the Mule Pro-FXR differs in several ways from its big brother. This includes more aggressive tires, new four-point ROPS, twin-tube shocks designed specifically for comfort, quieter cab and what Kawasaki calls truck-like styling.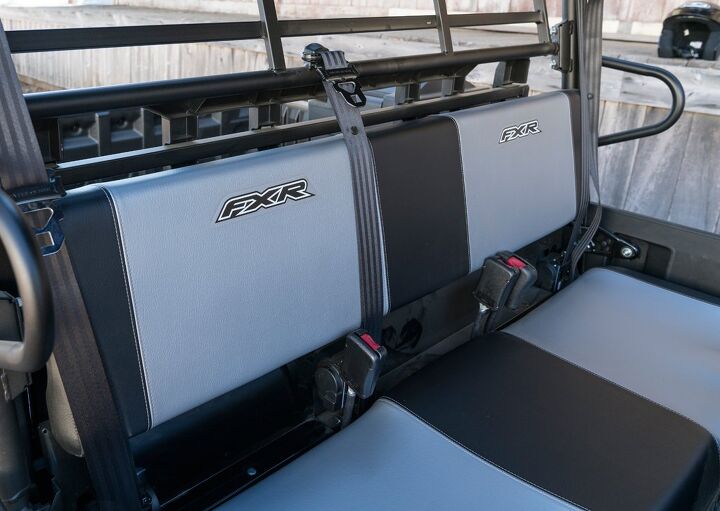 Kawasaki is also targeting a more upscale buyer with the Mule Pro-FXR, so this model doesn't skimp on the features. The plastics are painted for a more upscale look with improved durability, which really make the machine "pop" in person. You'll also notice front and rear steel bumpers, sun top and two-tone contoured seats. This does not look like your father's Mule.
Ride Impressions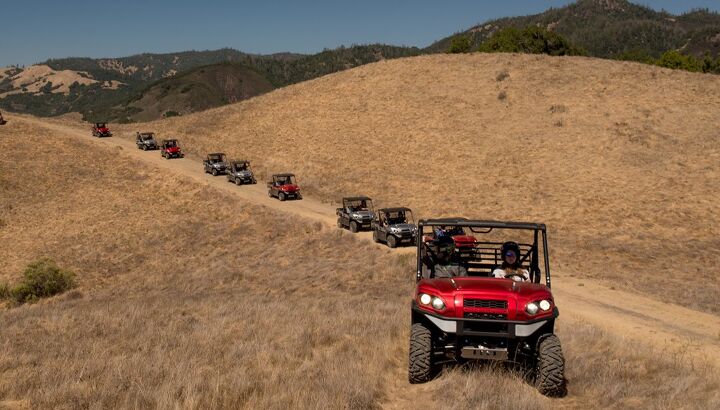 On a beautiful fall morning we made our way up the California coast from San Luis Obispo to the Hearst Ranch. Ben Higgins, who is the director of agricultural operations, gave us the lay of the land and would lead us on our ride. He pointed out that Hearst Ranch is home to the largest single-source supplier of grass-fed, grass-finished cattle in the United States. We drove around many of these cattle as they watched with apparent confusion as a fleet of UTVs disrupted their otherwise quiet existence.
Outside of some employee housing and the enormous Hearst Castle, the vast majority of the property is undeveloped, including some 15 miles of pristine coastline. The property is also teeming with wildlife, including herds of zebra that are descendents of William Randolph Hearst's wild animal park. Those animals care for themselves on the massive property and have been left to their own devices for many years.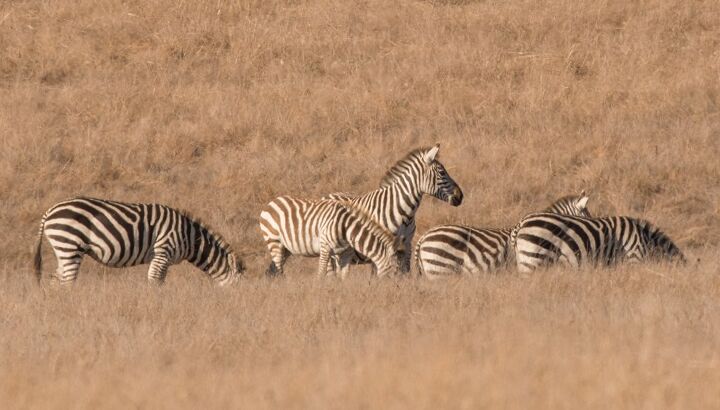 Our ride for the day was a 2018 Kawasaki Mule Pro-FXR painted in eye-catching silver. The inserts in the front bumper just about matched the paint perfectly. Shortly after turning the key, it was evident how much quieter the Mule Pro-FXR is than its predecessors. Having a conversation with a passenger while cruising down the trail can be done easily without yelling.
(Note: We talked to Kawasaki and were told that the engine/muffler are identical to the other Mule Pro models. We rode a Mule Pro-FX this summer in the Georgia woods, so either the more open country in Southern California made things seem less noisy or we are just remembering the Mule Pro-FX incorrectly.)
While we were able to experience some wide open field to run the Mule through, it started to really shine when the going got rough. Though they aren't designed for sporty performance, the twin tube, preload adjustable shocks did a really good job of smoothing out the bumps in the road. We didn't really have a chance to pin the throttle over a rutted out trail to see exactly what the shocks could handle, but that's not what this machine is designed for. Trail comfort is key with this setup and we have no complaints in that department.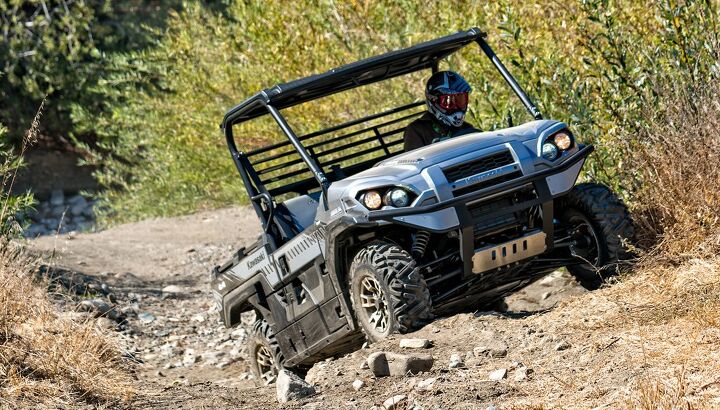 Kawasaki's twin-tube shocks do a good job of soaking up trail chop, while the Mule Pro-FXR offers up a feeling of stability.
Power will feel familiar to anybody who's driven the Mule Pro-FX and Pro-FXT. We wouldn't go so far as to call it peppy, but this engine gets up to speed smoothly and with no issue. It's not as responsive as a Teryx, but it's got enough performance to put a smile on your face and get you out of trouble if need be.
Because the Mule Pro-FXR shares the same width as its longer brothers, overall stability is quite good. We made our down and up a nasty rock face and were impressed with how planted the machine felt.
Mule Pro-FXR Accessories
As Kawasaki built the Mule Pro-FXR for upscale buyers, a host of accessories are available to personalize the UTV to fit a variety of needs – all of which maintain the warranty after installation.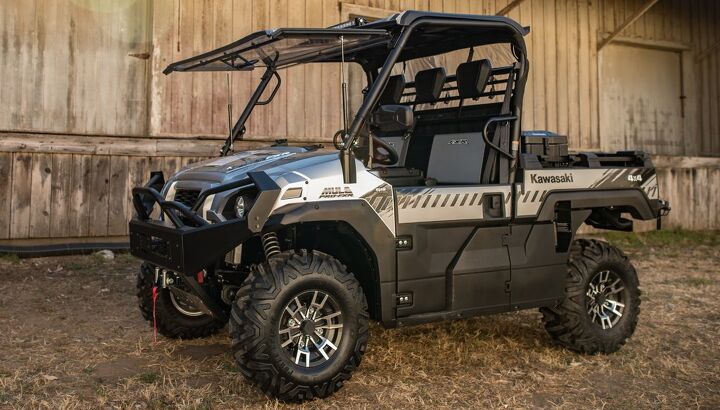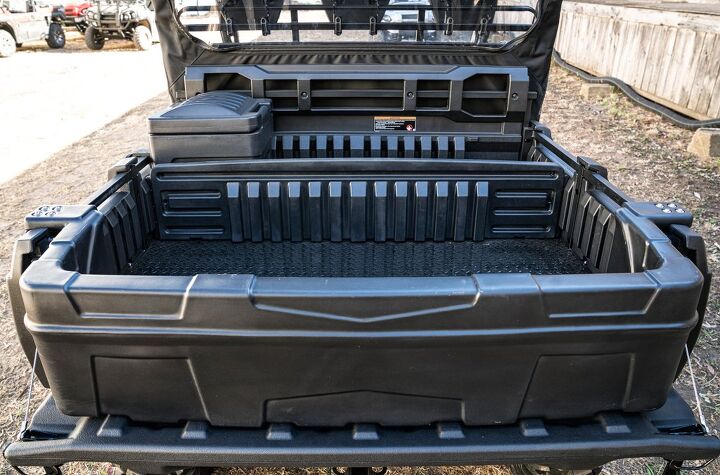 The bed divider and bed extender pictured here allow owners to configure the Mule Pro-FXR to their liking.
Final Thoughts
Kawasaki touts the Mule Pro-FXR as the most trail-friendly Mule ever made, and we can't dispute that. But outside of a shorter bed, this is still a hard-working machine that would fit in well for anybody who doesn't want an 11-foot long UTV.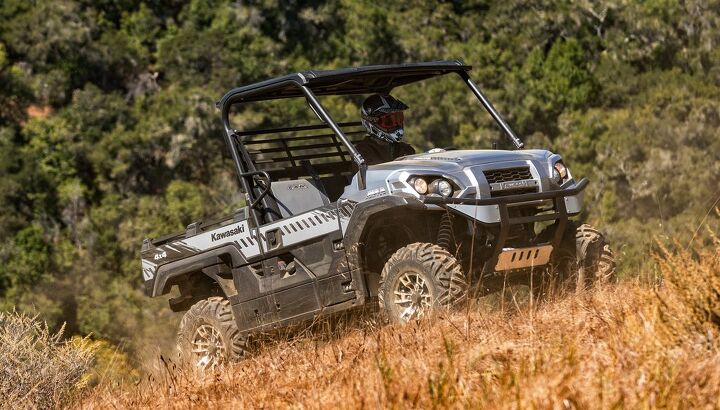 For a pure trail riding machine, we would still go with the Teryx or Teryx4. But the 2018 Kawasaki Mule Pro-FXR is an interesting choice for people less concerned with performance and more concerned with comfort and features.
Published October 18th, 2017 4:19 PM