13 Views
2018 Kawasaki Mule Pro MX LE vs. Cub Cadet Challenger 750 EPS: By the Numbers
July 23rd, 2018 12:22 AM
Share
We're committed to finding, researching, and recommending the best products. We earn commissions from purchases you make using links in our articles. Learn more here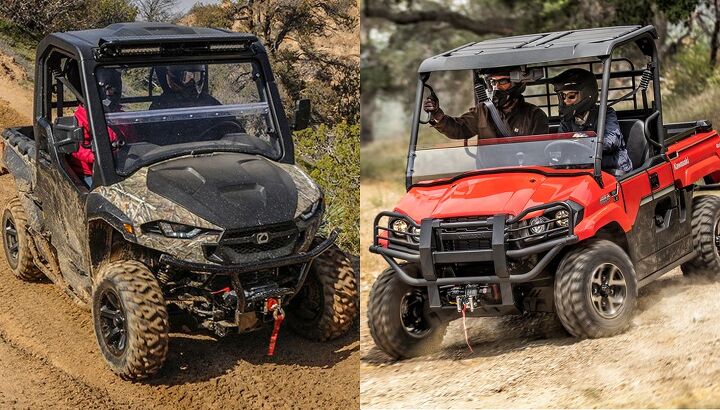 The Kawasaki Mule Pro MX LE and Cub Cadet Challenger 750 are two midsized Utility UTVs ready to be put to work. Let's see how they compare – by the numbers.
The utility segment of the UTV market may not seem like the sexy covergirl that is the sport performance side, but if you ask dealers which machines they want more of in their sales inventory, and they'll take the utility machines every time. This fact is not lost on the manufacturers, who have responded with a host of different Utility Side-by-Sides. Two in particular that we wanted to compare are the Kawasaki Mule Pro MX LE and Cub Cadet Challenger 750.
The Kawasaki Mule family has been the benchmark used to measure up any other utility machine, so when the Team Green company launches a new one, you'd better believe the industry takes notice. The Mule Pro series has been growing lately, with the Mule Pro FX and FXT, followed by the Pro DX and SX models. The newest, the mid-sized Mule Pro MX, is poised to fill the void between the full-sized FX and the compact SX.
Cub Cadet was, until the last couple of years, known mostly for riding lawn mowers and other equipment. It jumped in with a line of utility and crossover UTVs and is starting to make a name for itself in the off-road industry. Its flagship machine, the Cub Cadet Challenger 750 EPS, has garnered some coverage and good reviews for being a good, mid-sized Utility UTV. Does it have what it takes to take on the Kawasaki Mule Pro MX LE? Let's see.
Motorin'
Kawasaki is known for strong, dependable motors and the Mule Pro MX is powered by a 695cc SOHC single-cylinder engine that is fed through digital fuel injection and a 44mm throttle body. If you've read any of my other stories on here, you know what I'm about to say – a big, single-cylinder motor means torque. In this case, 42.7 lb-ft at 5,000 rpm. That power is funneled through a CVT transmission.
The Cub Cadet Challenger is powered by a 735cc single-cylinder, liquid-cooled four-stroke motor rated at 37.5 hp. Everyone who has driven a Challenger has said the engine is pretty smooth, and I would agree. Being that Cub Cadet is sourcing these machines, the Challenger avoids some of the issues we've seen in the past, like questionable quality and ride performance. The Cub uses a CVT transmission and the power delivery is good, with speeds up to 45 mph quite doable.
Both machines offer four-wheel drive. The Mule has a dual-mode rear differential with a differential lock. The Challenger has selectable locking front and rear differentials. This means both machines have the ability to go into turf mode, which helps keep your lawn looking good and allows you to make tighter turns.
Capability
The Cub Cadet Challenger 750 has a poly cargo bed that measures 34 inches by 46 inches by 11 inches. The bed is rated for 500 pounds of cargo. The Cub will tow up to 1,200 pounds with a 2-inch receiver hitch. Total payload is rated at 1,100 pounds, with the Cub having room for two. There's even cup holders built into the seats to hold your coffee.
The Kawasaki Mule Pro MX has a similar bed construction to the other Pro-series machines. It's composite on the sides with a metal base. It is rated at 700 pounds (600 in California) and measures 33.4 inches by 44.1 inches by 9.1 inches. The total payload capacity is 1,200 pounds. The Mule is also equipped with a 2-inch receiver and it can tow up to 1,500 pounds. And yes, there are cup holders.
Nice Features
The Kawasaki Mule Pro MX LE comes from the factory with aluminum wheels and a sweet Firecracker Red color. You also get a roof and four LED headlights. The MX has a headache rack standard and rails along the bed for tying down cargo, or mounting accessories. The floorboards are diamond-plate steel, too. Best of all, it comes with the Kawasaki Strong three-year warranty. You can get the LE for an MSRP of $12,499. The base EPS model sells for $11,999.
The Cub Cadet EPS has some pretty sweet features included for its $11,899 price tag. It has rearview mirrors, a roof, windshields, skid plates and a 3,500-pound winch. It comes with a one-year limited warranty. You can drop down to a non-EPS machine for less money, but trust me when I say, power steering is worth it.
Go to your local dealership to check these machines out in person and see which one is right for you. Derrek Sigler
Derrek's love for all things ATV started when he was a mere 11 years old, growing up on his family farm. His mom gave him and his sister a choice - get a horse, or a three-wheeler. The sister wanted the horse, and Derrek wanted the ATV. Luckily he won out, and was soon burning up the trails on a Yamaha Tri-Moto 200. By the time he was 14, he had saved enough of his own money by working on the farm and in his folks restaurant to buy a new 4-wheeler. That happened the day he and his mom were driving past the dealership and saw 1987 Banshee. His mom had no idea what he was buying, and he never looked back. He's been riding ever since, and been writing professionally for many years. He has ridden all over North America and been behind the controls of just about every machine out there. And yes, he still has his 1987 Yamaha Banshee.
More by Derrek Sigler
Published July 23rd, 2018 12:22 AM
Top Brands
Popular Articles