169 Views
Best ATVs and UTVs For Beginners
September 25th, 2023 1:51 PM
Share
We're committed to finding, researching, and recommending the best products. We earn commissions from purchases you make using links in our articles. Learn more here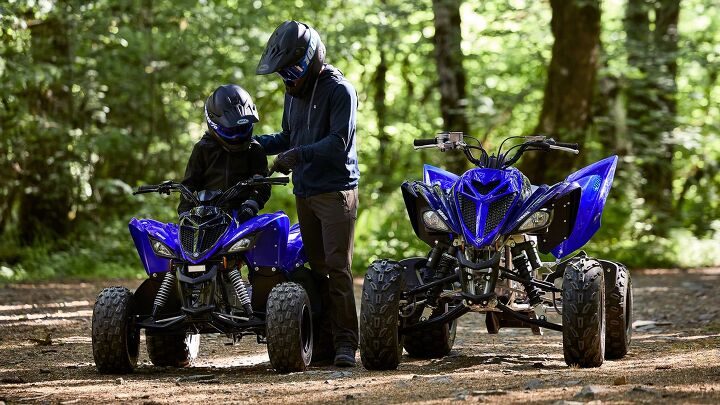 If you've never owned an ATV or Side-by-Side (SxS) vehicle but want to purchase one to enjoy like you see so many others doing, it can be a tough decision on which machine you should get. With so many models and options from the various manufactures, this decision is just as, if not more, difficult than buying a new car. We are here to help you make the decision a little easier by showing you the benefits of the various models to see which suits you best.
ATV.com thanks Yamaha for sponsoring this New Rider series.
First off, you need to decide on which you want to get. To many, getting a SxS is a no-brainer because of the ability to carry a passenger and usually some kind of a load like an ice chest, chairs, or other exploration/camping gear. Is there a downside? Well, it all depends on how you look at it. If you don't already have one, you'll need to get a trailer capable of carrying a SxS. Furthermore, you also need to make sure that your vehicle is capable of handling the load of a trailer and SxS.
Our staff at ATV.com have been going back and forth between ATVs and SxS vehicles, and quite frankly, it's a tossup as to which they prefer. On one hand, you can have an exciting experience when riding on an ATV since they're more responsive, smaller so you can go on tighter trails, and offer a riding experience that is really hard to beat. If you have never ridden an ATV, there will be a learning curve that you'll experience to truly appreciate everything that those machines can do.
If you want a machine that is as comfortable as your daily driver and potentially has the handling to match, then a SxS might be in your future. If you can drive, you can operate a SxS on simple terrain. This is one of, if not the main, advantage of getting a SxS if you're new to the sport. The ability to bring a passenger is another selling point, as is the feeling of safety from the factory installed roll over protective structure (ROPS). These machines range from mild to wild and really do offer a great experience in the great outdoors.
Now when it comes to picking the right ATV, you'll find that you have two different styles of ATVs to choose from: Sport and/or Utility models. Your options in the Sport ATV market are going to be fairly limited since most brands focus more on the youth models with a displacement of 50cc to 90cc. From there you have to make the jump to a 450cc or even 700cc ATV, which for the inexperienced rider can be a lot of machine to handle. In the past there were plenty of offerings in the 200-250cc range that were great for beginner riders, but that number has significantly dropped. The same goes for the larger displacement units as well.
When it comes to Utility ATVs, the machines are generally more dual purpose since they can be used for recreation and for work. This means that they're typically not as sporty, but they'll provide more comfort making longer rides more enjoyable. Additionally, many of these machines will be equipped with four-wheel drive, so your options of where to ride them are increased since they can handle mud and rocks much easier.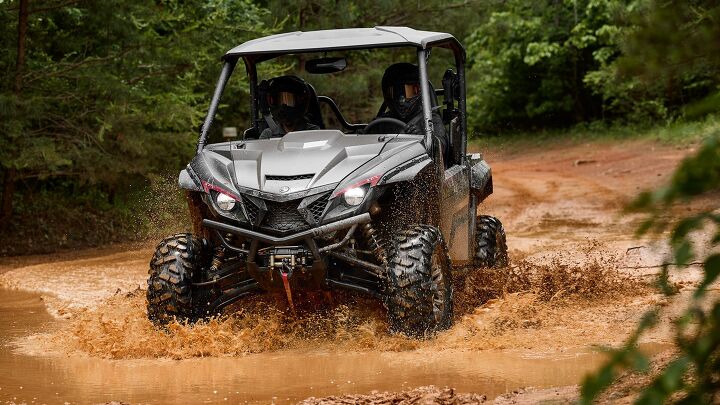 As for model options, you'll have plenty to choose from. Because of the fact that they're equally as useful for work as they are for play, manufacturers have a pretty good line of models that range from 300cc all the way to 1000cc displacements. While it might be really enticing to get the biggest machine that money can buy, you might want to hold back as a beginner in the sport. Those big displacement ATVs have a lot of weight, a lot of power, but aren't quite as easy to manage as the lighter and more nimble Sport ATVs.
Picking the right style of machine is really determined on the terrain where you're going to be riding the most. Once you narrow that down, you'll want to see the various models to see which feels the most comfortable to you. Some may have more comfortable controls, the seating areas of one might feel more comfortable than others, and pick the right engine displacement that won't be too much for you to handle. That is the biggest mistake we've seen with ATV purchases is when egos outweigh common sense, and people get a unit that is more than they need and can safely handle.
As for SxS vehicles, this is much like shopping for a new car. Do you want an SUV that provides the luxuries of a truck or SUV where you can load up plenty of gear for a day or weekend excursion, or do you want the feel of driving a sports car in an off-road environment? In our younger days, many of our staff would pick the latter of the options, but we really like the thought of stopping to enjoy nature while still having a bit of a rush from a UTV with a good amount of power.
You'll be happy to know that there is a happy medium for this kind of SxS. One such example is the Yamaha Wolverine RMAX 1000. These machines are extremely comfortable, have excellent handling characteristics, and deliver plenty of power for an exciting ride.
Furthermore, these units offer decent storage for carrying enough cargo for a day or weekend excursion. These might not be the Sport SxS vehicles that you're seeing hyped up on UTV forums, but in our opinion the Pure Sport SxS segment is not really for beginners. After you get a few years in the seat you'll be ready for machines of that magnitude, but it's our recommendation to stay away from them as an entry level user.
Regardless of which you want to purchase, ATV or SxS, don't allow yourself to be swayed by the flash and hype. Make the right purchase the first time and we guarantee that you'll still enjoy getting out on the trails with your friends or make new friends when you're out there. Just remember to use common sense and stay safe.
No matter which off-road vehicle you choose, be sure to leave the trails looking as good as or better than how you found them. You can even consider volunteering to help maintain the trails you regularly ride. Check out what our friends at the Yamaha Outdoor Access Initiative are doing to help keep riding areas open. Published September 1st, 2023 4:48 PM
Top Brands
Popular Articles