1 View
S3 Racing Wins Henderson 250 in Can-Am Maverick
December 9th, 2015 10:17 AM
Share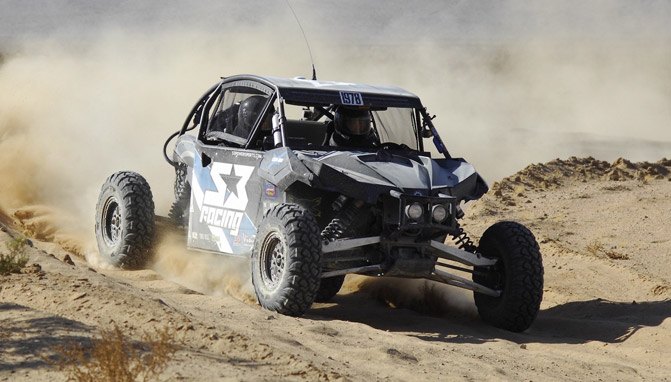 Maverick racers earn four of top eight finishes
The S3 Racing team of Dustin Jones and Shane Dowden wrapped up the 2015 Best in the Desert racing season with a victory at the Henderson 250 in Nevada in a Can-Am Maverick MAX 1000R.
Jones and Dowden flipped roles for this round, as Dowden took the wheel and drove the team to its second BITD victory of the year.
2013 Can-Am Maverick 1000R X rs Review - Video"We capped the BITD year with another Class 1900 overall victory from S3 Racing's Dustin Jones and Shane Dowden. Their season was very impressive considering they are desert-racing rookies, earning two wins with their 121-hp Can-Am Maverick MAX 1000R," said Jeff Leclerc, Racing Project Leader, Can-Am. "This victory, putting four of our Can-Am teams in the top eight, and having the Murray's earn third overall on the year, certainly is a great way to end the year. We will continue to fine tune our racing efforts and aim for more in 2016."
A record number of racing entries, 217, signed up to take on the challenging Nevada desert at this round. Can-Am had four teams in the Maverick 1000R in mix, with the No. 1978 of S3 Racing, the Murrays (No. 1917), the No. 1904 of Desert Toyz and Logan Gastel's No. 1969 vehicle.
The Can-Am / S3 Racing team chose a different strategy at the final round, swapping driver and co-pilot. Dowden took the wheel for the first time this year, while Jones took over as navigator. The decision certainly panned out, as the tandem took home the win. They finished with a two-lap time of 3:14:56.027 to grab win No. 2 in their rookie desert campaign. The ended the year in 11th place in the Pro standings.
"We did it again. What a way to end the BITD season with another first-place victory! Great job to my teammate Shane [Dowden] for an amazing job driving this race," said Jones post-race. "Thanks to [our entire] pit crew for keeping us going."
The Murrays recorded yet another top-five finish in their Maverick MAX 1000R. They tallied 106 championship points after completing two laps in a time of 3:18:17.021. The fifth-place run pushed them into third place overall for the season standings.
"This season, we ended up second in the points for SCORE and third in BITD, making us the only Pro UTV team to finish top three in both series, which is very impressive," said the Murrays on their Facebook page.
Gastel (Rugged Radios / Racer Tech) and co-pilot Adam McKinney took finished seventh in their Can-Am Maverick, which maintained its seventh-place overall finish in the Class 1900 season standings. Cory Sappington's Desert Toyz Can-Am Team finished one spot behind Gastel in Henderson. Sappington, who took fourth overall in SCORE racing, ended up in the top eight in the final BITD standings for the year.
Published December 9th, 2015 10:16 AM
Top Brands
Popular Articles