1 View
DragonFire Joins Forces With Corry Weller
February 25th, 2016 2:55 PM
Share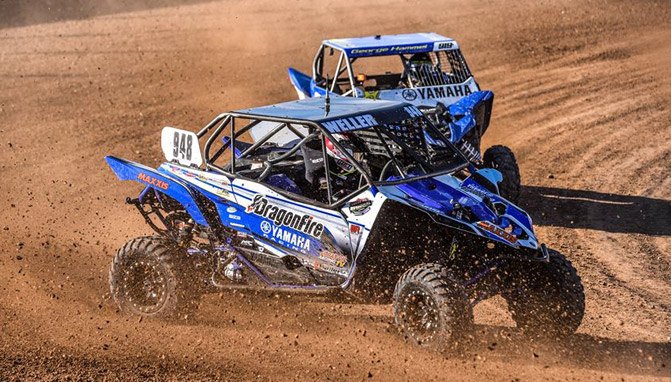 Weller to race LORORS in 2016 in YFZ1000R
Corry Weller will be competing at part of Team DragonFire in the 2016 Lucas Oil Regional Off Road Series short course races in Arizona and California, as well as select Best in the Desert events. The new team made its debut at the LORORS event on Valentine's Weekend at Wild Horse Pass Motorsports Park in Arizona.
"I am super excited to be working with DragonFire Racing and Yamaha Motor USA for the 2016 season in the Production 1000 class," says Weller.
In the new team's inaugural race weekend, Weller qualified first in SR1 and finished third in the main event. She followed that up with second overall in Production 1000 – her first ever race in the intensely competitive class. Not a bad start to a new partnership.
"This was the first weekend ever driving my new YXZ in the Production 1000 class," says Weller. "Yamaha took the top two spots on the podium, with my DragonFire teammate Ken Benson taking third in his Can-Am! Wow, what a great start to our season!"
"Corry proved she is the real deal," says DragonFire Operations Manager and Race Team Manager Brice Ginn. "We are proud to support Weller Racing as a primary sponsor for the 2016 season and beyond. In addition to flying the DragonFire Performance by Weller Racing banner, she will be racing with DragonFire quick-release steering wheels, five-point competition harnesses, bumpers, fire extinguisher mounts and more."
While new to the DragonFire team, Corry is no rookie! She won her fifth and sixth SR1 championships in 2015, clinching both the Arizona and California Lucas Oil Regional Series Championships with a couple rounds to spare. After switching from motocross to UTV racing in 2007, Weller has been on a real roll. She was the first female to podium a UTV in CORR, then became the first woman to win in the LORORS title in 2010. She won her first SR1 Championship in 2011, became the first female to race a PRO 4 truck in 2012 (where she won Rookie Of The Year honors and finished on the podium four times that season), then focused on and dominated the SR1 class.
"One of DragonFire's 2016 goals was to return to our racing roots," says Brice. "With the addition of Weller Racing, Hans Waage and our Killer Bs of Bobby VanBeekum, Ken Benson and Lacrecia Beurrier, we are looking strong in the LORORS and Best In The Desert series. In the Midwest we have the defending Heartland Challenge winners and perennial GNCC threats Marcus and Mouse Pratt and our beasts from the East, Russell Griffin and Jimmy Keys contesting the UTV Rally Raid championship.
"Should be DragonFire's year for making memories… and making champions."
Published February 25th, 2016 2:55 PM
Top Brands
Popular Articles