1 View
NBC Sports Nework to Broadcast 2016 GNCC Series
March 16th, 2016 8:13 PM
Share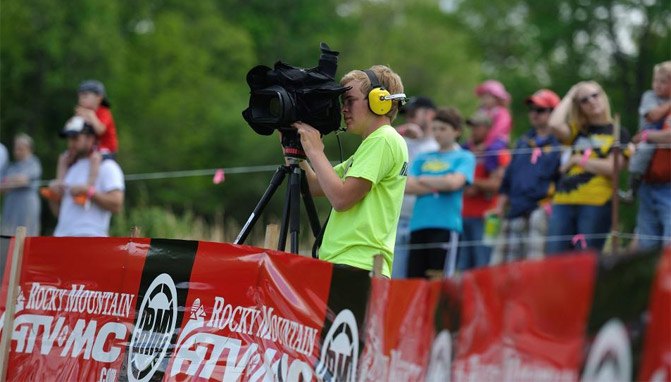 All 13 rounds to be broadcast live on Racer TV
ATV and UTV race fans will be able to watch highlights from the 2016 AMSOIL Grand National Cross Country Series on NBC Sports Network (NBCSN).
The Moose Racing Wild Boar GNCC kicks off the season's broadcast racing coverage on April 9 at 1:30 p.m. EST. NBCSN will air highlight shows of all 13 rounds, and programming will continue until December 17 with the AMSOIL Ironman GNCC airing at 3:00 p.m. EST.
Repeat shows will air sporadically throughout the year when time permits. In 2015, GNCC received 33 repeat airings in addition to the 13 premier episodes, for a total of 2.1 million viewers tuning in throughout the year.
This season will serve as the fifth year that GNCC and NBCSN have partnered together, and the 16th consecutive year that GNCC has been broadcast on cable television.
In addition to the NBCSN shows, Racer TV will produce an additional 13 different 30-minute highlight episodes that will be available on RacerTV.com.
Finally, GNCC LIVE streaming returns with live coverage of all six UTV pro races, in addition to the 13 ATV and 13 bike pro races. All highlight and GNCC LIVE shows will be archived on RacerTV.com for viewing.
2016 GNCC NBCSN Television Schedule
| | | | | | |
| --- | --- | --- | --- | --- | --- |
| RND | EVENT DATE | BROADCAST DATE | TIME | EVENT | LOCATION |
| 1 | Mar 5/6 | April 9 | 1:30 p.m. | Wild Boar | Palatka, FL |
| 2 | Mar 12/13 | April 23 | 2:30 p.m. | Cannonball | Sparta, GA |
| 3 | Apr 2/3 | May 8 | 6:30 p.m. | Steele Creek | Morganton, NC |
| 4 | Apr 16/17 | May 14 | 2 p.m. | Big Buck | Union, SC |
| 5 | Apr 30/May 1 | May 29 | 12:30 p.m. | Camp Coker Bullet | Society Hill, SC |
| 6 | May 14/15 | June 4 | 1 p.m. | Limestone 100 | Springville, IN |
| 7 | May 28/29 | June 25 | 2 p.m. | John Penton | Millfield, OH |
| 8 | Jun 11/12 | July 30 | 6 p.m. | Tomahawk | Odessa, NY |
| 9 | Jun 25/26 | Sept 17 | 5 p.m. | Snowshoe | Snowshoe, WV |
| 10 | Sep 10/11 | Nov 6 | 3:30 p.m. | Unadilla | New Berlin, NY |
| 11 | Sep 24/25 | Nov 27 | 4 p.m. | Mountaineer Run | Masontown, WV |
| 12 | Oct 1/2 | Dec 10 | 4:30 p.m. | Powerline Park | St. Clairsville, OH |
| 13 | Oct 29/30 | Dec 17 | 3 p.m. | Ironman | Crawfordsville, IN |
Published February 19th, 2016 2:10 PM