1 View
Bad Boy Stampede 900 Coming in May
April 4th, 2016 3:53 PM
Share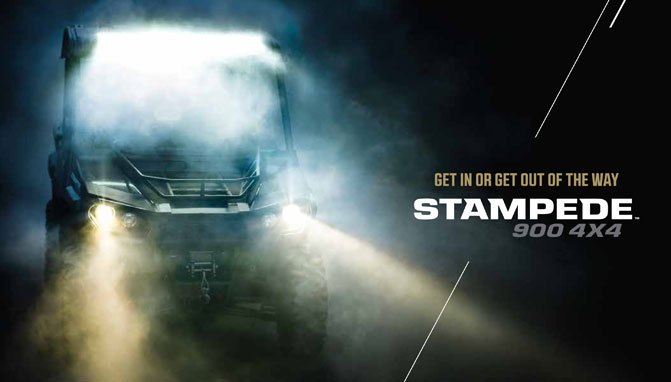 Sign up for your chance to win this new UTV
May 2 is a big day for Bad Boy Off Road. The ATV and UTV manufacturer is coming to market with a new UTV, the Stampede 900 4×4, and will officially unveil it on the morning of May 2, 2016.
ATV.com was lucky enough to get an early look at the Bad Boy Stampede 900 4×4 and spent a day putting it to the test. While we aren't allowed to say anything about it now, you will find our full review here on May 2.
Check out Bad Boy Off Road's press release below about the new Stampede 900 4×4 and be sure to visit BadBoyStampede.com for a chance to win the new UTV and some other prizes.
(Press Release) Bad Boy Off Road has a proud history and a dynamic future. Bad Boy was the pioneer of electric 4×4 technology, and at 9 a.m. EST on May 2, 2016, the brand will be getting on the gas with the release of the all-new Stampede 900 4×4!
Bad Boy Off Road has launched an online campaign with a sneak peek at its new 80HP beast of a side-by-side. Consumers can go to this website to enter to win a grand prize Stampede 900 4×4, as well as other great prize packages: http://www.badboystampede.com/
Published April 4th, 2016 3:50 PM
Top Brands
Popular Articles