1 View
Camso Introduces New UTV Track System
July 5th, 2016 3:03 PM
Share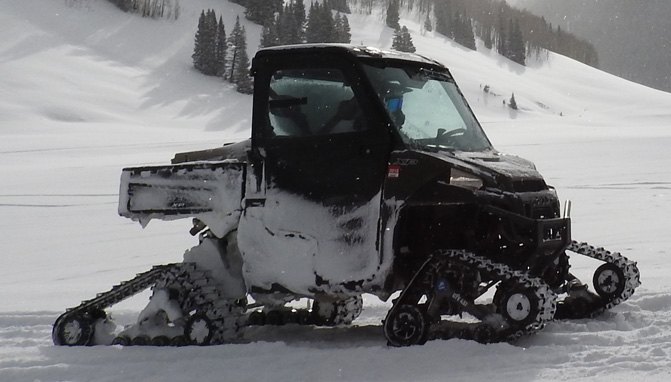 Take your UTV anywhere with the UTV 4S1 track system
Camso, formerly Camoplast Solideal, is advancing powersports mobility further by introducing the new Camso UTV 4S1; a track system that allows riders to do more in deep snow, nasty marshes, thick mud, or any other type of terrain.
The Camso UTV 4S1 track system reaches new heights of performance, harnessing technology that brings added durability and sturdiness. "The Camso UTV 4S1 was specifically engineered for the toughest conditions to push the side-by-side riding experience," says Bruce Dashnaw, Sales and Marketing Director – Powersports at Camso.
With rubber dampers used for mounting mid-roller wheels, users will experience increased ride comfort, stability and reduced vibration. The enhanced geometry of the solid steel frame adds durability in non-snow terrain, while ensuring faster and easier-than-ever switch from wheels to tracks, and back again.
"Our team designed the Camso UTV 4S1 for ease of use and reliability without sacrificing performance and versatility on any terrain, be it hard, soft, wet, frozen or just plain difficult," adds Dashnaw. "No other track system can contribute this much to an enthusiast's side-by-side tracked riding journey," concludes Dashnaw.
Camso UTV 4S1 Track System Benefits
The unique features of the new Camso UTV 4S1 allow the track system to reach extended levels of performance in any condition and surpass the needs of side-by-side vehicle owners by ensuring an unmatched ride – and more:
New mid-roller suspension feature minimizes vibration and increases ride comfort.
Light-weight solid steal frame design adds durability, easily sheds snow, mud and debris, and offers better weight distribution.
Sturdier and more adjustable tensioner prevents critical part misalignment.
Easier switch between tracks and tires allows side-by-side enthusiasts to go out and free themselves from the road as quickly as possible.
The new Camso UTV 4S1 is now available in dealerships.
Published July 5th, 2016 3:03 PM
Top Brands
Popular Articles