1 View
5 New Polaris ATV and UTV Features For 2017
November 15th, 2016 1:22 PM
Share
We're committed to finding, researching, and recommending the best products. We earn commissions from purchases you make using links in our articles. Learn more here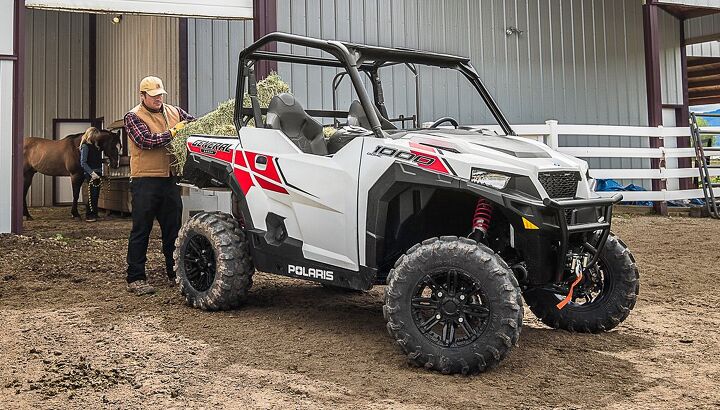 Polaris offers up some innovative features
When it comes to innovative manufacturers, it's tough to top the always envelope-pushing Polaris. For the 2017 model year of Polaris ATVs and UTVs, the forward-thinking trend continues. Here are five new off-road features we really like, from navigation systems to integrated bucket holders.
Ride Command
Probably the most impressive item to come from Polaris for 2017 is Ride Command. This on-board device gets you not only into the trail dynamics by tracking your moves, but it also keeps track of where you are in relation to the others in your group of riders. By making this intelligent computer app available to smart devices, you can tap into the world of Ride Command even if you do not have the dash-mounted device on your machine. Coupled with your GoPro, you can set scenes and control recordings or simply snap photos with the device. Of course, it can control your smart phone for calls or music, as well as MP3 players hooked into the system either wired or via Bluetooth. It's quite the addition to any ride and we hope to get more involved with Ride Command very soon.
Adjustable Throttle Control
So imagine you have a few different levels of rider who may share the same machine. Or maybe you have jobs that require more finesse than others when traveling along fence-rows or into working parts of a jobsite. You may sometimes want to control the throttle for newer riders and after the work is finished you want to let your hair down and shred the trails. This is where the Polaris triple mode throttle control comes into play, which gives the user control over three settings of throttle input via a handlebar-mounted switch or dash rocker switch.
The first setting is the Standard mode, which gives you a comfortable blend of throttle response for typical riding scenarios. The second setting is the Work mode, which allows your throttle to be more controlled and responds to maintain a little better control of the vehicle's attitude. This could be a fit during work-related situations or for more inexperienced riders who are not as familiar with the off-road machine they are learning on. The final full tilt mode would be the Performance mode that drops the restrictions all together and allows the driver or rider to really feel the beast as it unleashes the power.
AC/Heat in Ranger
Talk about getting the comfort zone enhanced even more and you cannot leave out the fact that Polaris is on the ball. We were introduced to a model of Ranger that now has both Heat (which has been possible in the Ranger for years) as well as Air Conditioning. Can you believe just how far we have come in this industry where the major manufacturers are thinking of features like AC? I would dare say that many working machines around the farm, ranch or jobsite could use an employee-motivational feature like AC, but to see it come to life in a SXS/UTV is simply amazing. The Polaris North Star AC Special edition with full cab enclosure is sure to be a hit and at a great price point of $23,699 id say it's an easy choice.
New ProStar Engine for the ACE
I know this one is not really in the feature realm but definitely worth talking about. This new 900cc engine with 78 horsepower is surely something to brag about. The ProStar platform in general has bolstered many great commentaries on its performance and continues to drive the biggest part of the Polaris RZR line. To now have a newly redesigned, seriously tuned engine squeezed into the fenders of the ACE is something to brag about. Features inside the big heart of this engine include electronic throttle control, 4-valves per cylinder and dual overhead cams to throw out that impressive precise power. When you add this to the ACE XC package then you have a really tiger by the tail.
Integrated Bucket Holders on ATVs
We are just touching the surface with that introduction, but looking at the model as a whole we see where Polaris is trying to help the working side of the industry to be more efficient and to also have a ATV set up for specific consumer. Polaris introduced the "Utility Edition" model of the Sportsman ATV for 2017 and it comes with many things the hard working outdoorsman might need to get a full day's work out of a tool.
When you look at the racks, which are steel and have tie-in points for securing loads, you see just the surface. Now take a close look at the rack base and you will notice integrated dish-like spaces in the flat areas of the racks that are made for keeping buckets in place during transport. If you drop to the nose level on the front of the machine, you will find an additional receiver hitch location just in case you need to back a trailer into a tight area. You can hook to the trailer and face into the direction of travel for more precise guidance.
With every year that comes to pass companies like Polaris are dreaming up incredible ways to make life easier for off-road vehicle owners. It sure is nice having some of these great features and we look forward to many more years of growth in the world of ATV/UTV. If you have a special feature you have dreamt up, feel free to share it with us and maybe an engineer will see a place for your idea on the next Polaris ATV or UTV! Published October 28th, 2016 2:55 PM
Top Brands
Popular Articles