1 View
How Can-Am Adds More Utility To Every Model
August 2nd, 2018 2:39 PM
Share
We're committed to finding, researching, and recommending the best products. We earn commissions from purchases you make using links in our articles. Learn more here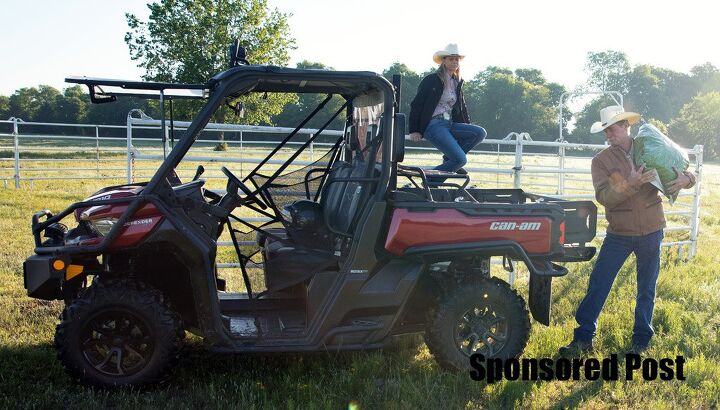 While just about any Utility ATV or SSV can help you get work done, Can-Am is among the best at coming up with ways to get more utility out of every model.
We hear it at almost every new product launch that involves a working-based machine. "This is a recreational Utility machine" or "this is a working product that is feature filled for Utility." In other words, you can utilize the ATV or Side-by-Side to work and for some machines it can be a work and play situation. Assuming there is a line that separates the two, we decided to take a look at how Can-Am adds more Utility to each model that wears that distinction.
Learn more about Can-Am ATVs and SSVs here.
Keeping the list of actual utilitarian options on the growing list of new features can be somewhat of a challenge. After many years of creating great, usable and fun machines that boast both hard work and fun trail time, Can-Am has been able to continually grow its feature list and here are a few examples.
Storage
Storage has to be one of the most asked for features on a Side-by-Side these days and with Can-Am dropping new products like the Defender, storage is a standout feature that adds more utility than just about anything. Take the incredible dash glove box that is removable. This feature alone excites consumers as soon as they figure out that it actually is a standalone product removed from the cab. Look under that passenger seat of the same Defender and there is yet another removable storage unit. Front and rear racks for hauling your gear down the trail or supplies into the work shed are also another way that Can-Am makes useful features on its machines.
Simple Features
Some incredibly simple features that are built into the spec sheet of some utility-based machines might be the tool-less bed gear. Adding service racks or tool holders to the beds of most any Can-Am Side-by-Side has never been easier with the LinQ system. This one feature alone adds great utility to the machine and even the Can-Am Outlander ATV racks use this same tool-less system. If you want to think super simple, then how about the bed rings for tying down gear. That's complete utility right there.
State of Being Useful
It says it right in the definition of Utility and with floors that are rugged, embossed for traction as well as some having pass through designs for ease of entry and exit, you have a truly useful feature. If you take a step back a few years to the very first Side-by-Side that Can-Am produced, then you might notice the dual layer bed in the original Can-Am Commander. The Commander had a double bed that could be used for either storage underneath or just remove the divider panel and you had a deeper bed overall.
Big and Usable Power
Power could be considered one more way that Can-Am builds utility in its machines. Without the incredible power and torque of the Rotax V-Twin, you might not get the most out of a day's work. Try towing a fencing trailer with low or weak power output and you will see just how much Utility is in the Can-Am Brand! Published August 2nd, 2018 10:35 AM
Top Brands
Popular Articles