1 View
2016 Polaris General 1000 EPS vs. Can-Am Commander 1000 DPS
March 10th, 2016 12:36 PM
Share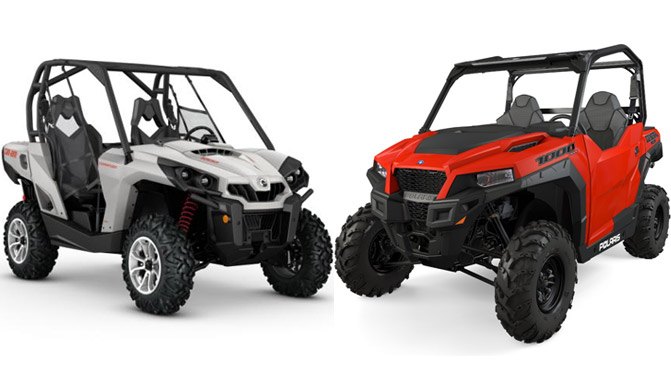 A specs comparison between the heavyweight Sport-Utility UTVs
As the demand for purpose-built Side-by-Sides continues to increase, the lines between market segments are becoming more defined. The Can-Am Commander was the first UTV offering from BRP and until the release of the pure sport Maverick, it was filling the void in both the Sport and Utility segments. Fast forward to this year and the release of the all new Defender, the Commander is no longer Can-Am's workhorse vehicle and the Canadian manufacturer now boasts three different UTV models targeted at three different user groups.
The release of the all new General from Polaris further illustrates that the Sport-Utility (or rec-utility) segment is a growing marketplace that OEMs are taking an interest in. This significantly benefits the consumer as more and more models hit showroom floors and users can more specifically find a vehicle to match their needs.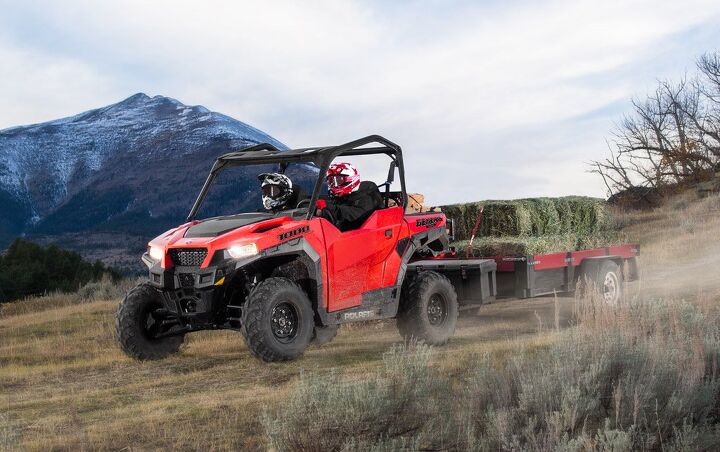 The new Polaris General is ready to take on all comers in the Sport-Utility UTV segment.
As is often the case with Can-Am and Polaris, the latest model appears to take a direct shot at the closest contender by edging out the other brand so as to claim the title of "class leader." Although the Commander hasn't received any significant upgrades in a few years, Polaris made sure to hit them where it hurts; namely power and suspension.
Utility UTV Specs Comparison
Polaris General 1000 EPS
Can-Am Commander 1000 DPS
Price
$15,999
$14,499
Engine
999cc Fuel Injected Inline Twin
976cc Fuel Injected V-Twin
Horsepower
100
85
Driveline/Differential
On Demand AWD/2WD
Selectable 2WD/4WD with Visco-Lok QE
Transmission
Automatic PVT, P/R/N/L/H
CVT, L/H/N/R/P
Engine Braking
Standard
Standard
Wheelbase
81.0 in
75.8 in
Overall Dimensions (LxWxH)
116.4" x 62.5" 73.8"
118.3" x 58.6" x 72"
Dry Weight
1430 lbs
1287 lbs
Front Tires
Carlisle 489 II 27x9x12
Maxxis Bighorn 2.0 27x9x14
Rear Tires
Carlisle 489 II 27x11x12
Maxxis Bighorn 2.0 27x11x14
Ground Clearance
12.0 in
11.0 in
Fuel Capacity
9.5 gal
10.0 gal
Front Suspension/Travel
Dual A-Arm with Stabilizer bar/12.25"
Dual A-Arm with dive-control geometry/10"
Rear Suspension/Travel
Dual A-Arm with Stabilizer bar/13.2"
Torsional Trailing arm IRS with external Sway bar/10"
Brakes
Four Wheel Hydraulic Disc with Dual Bore Front Calipers & Single Piston Rear Calipers
Dual Front and Single Rear Hydraulic Disc Brakes with Twin Piston Calipers
Lighting
50W low/60W high, LED Tail lights
Four 60W Projectors, tail lights
Instrumentation
Digital Gauge, Speedometer, Odometer, Tachometer, Tripmeter, Clock, Hour Meter, Gear Indicator, Fuel Gauge, Hi-Temp, Coolant Temperature, Voltmeter, Service Indicator, Seat Belt Reminder, Selectable Blue/Red Backlighting
Multifunctional Digital Gauge, Speedometer, Tachometer, Odometer, Trip and Hour Meters, Fuel, Gear Position, Sport Mode, ECO Mode, Seat Belt Indicator, 4×4 Indicator, Diagnostics, Clock & Auto Shut Off
Towing Capacity
1,500 lbs
1,500 lbs
Cab Storage
9.0 gal.
8.3 gal.
Tilt Bed
Yes
Yes
Bed Capacity
600 lbs
600 lbs (400 top, 200 bottom)
Bed Dimensions L x W x H
36.5" x 54" x 11.5″
38" x 54.5" x 12"
Power Steering
Yes
Yes
Adjustable Driver's Seat
Yes
Yes
Tilt Steering
Yes
Yes
Performance
The new Polaris General boasts a 999cc ProStar engine that puts out 100 horsepower, painting a clear picture that "play" is in the General's DNA. The Commander's 85 horsepower from its 976cc Rotax engine will scoot you up the trail or around the farm just fine, but if you're going for maximum fun 15 ponies is a pretty big gap.
Another crucial area that can equate to big performance is suspension and the General bests the Commander in this department as well by over two inches in the front and three in the rear. Both machines feature dual A-arm front suspension with standard IRS (independent rear suspension) on the General and BRP's patented Torsional Trailing Arm (TTA) version on the Commander. BRP also engineers the front suspension of the Commander to eliminate diving under heavy braking and rough terrain, which it calls "dive control geometry."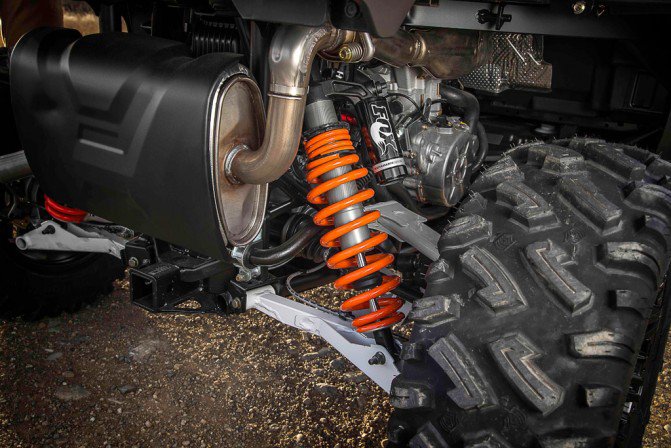 The Polaris General boasts more than 13 inches of rear suspension travel.
Not that you're planning to challenge the Baja 1000 with either machine, but the General has a larger footprint at 62.5 in. wide to the Commander's 58.6 in. and it's wheelbase is just shy of five inches longer at 81 in. to the Commander's 75.8 in. The General also provides an extra inch of ground clearance with 12 in. in total and tips the scale at 147 pounds over the estimated dry weight of the Commander.
Both machines come standard with 27-inch inch tires and the Commander uses a 14-inch wheel where the General makes use of a 12-inch wheel. The tried and true Maxxis Bighorn 2.0 can be found on the Commander while the General uses the familiar 489 ii from Carlisle.
Users can choose between 2WD or 4WD on either model, but the General's automatic AWD feature senses when the vehicle needs more traction and automatically engages the front tires, reverting back to 2WD when the extra grip is unnecessary. Like all other Can-Am Side-by-Side models, the Commander includes front Visco-Lok which transfers power to whichever tire remains in contact with the ground if wheel spin is detected.
Features
Despite the differences in power and suspension, the two machines are remarkably similar in some of the features they provide. Drivers will enjoy the electronic power steering on either model, as well as the tilt steering and sliding driver's seat. Front hydraulic disc brakes with twin piston calipers are standard on both models; however, the Commander features a single rear rotor with a twin piston caliper where the General uses dual rotors with single piston calipers. Fuel delivery is handled electronically on both vehicles with Intelligent Throttle Control (iTC) available on the Commander to help maintain even fuel delivery in the event the driver's foot is bouncing on the gas pedal.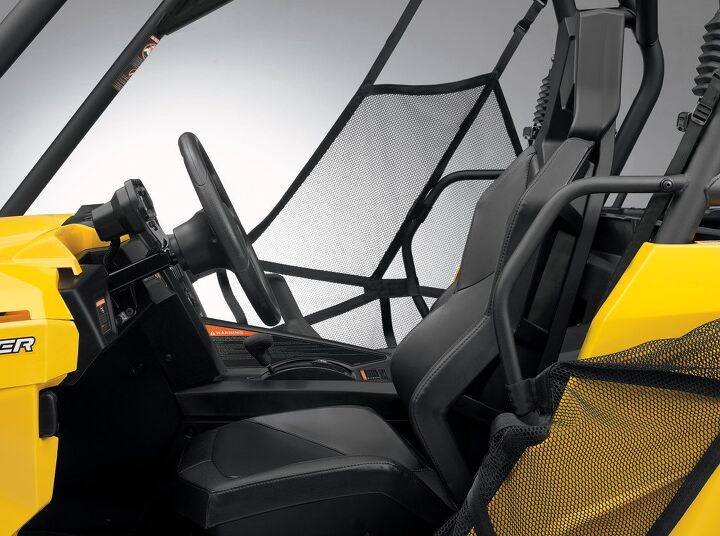 Both the Can-Am Commander (pictured) and Polaris General offer an adjustable driver's seat.
When duty calls, both machines are up to most any task with sizable dump beds capable of hauling up to 600 pounds and equal towing capacity of 1500 pounds. The Commander offers an industry-first split-level bed with a watertight storage area beneath the actual bed itself. If you plan to use the vehicle for a camping trip, this added storage area would be a great way to ensure valuables like clothing and sleeping bags are extra protected from the elements. The lower storage area can carry 200 pounds while the main bed has a 400-pound capacity.
When it comes to comfort, Polaris definitely acknowledged the fact that the Commander has one of the more comfortable cockpits on the market and completely redesigned the cab of the General with upgraded bucket seats, a customizable gauge cluster and 9.0 gallons (34L) of available storage between the glove box, center console and open dash storage. Another win for the General are the integrated half doors that keep out mud and debris. The customizable gauge cluster actually tilts with the steering wheel and features optional red or blue backlighting in addition to offering all the standard gauges. 55W low and 60W high beam headlights with LED tail lights will keep both the trail or the job site well illuminated after the sun goes down.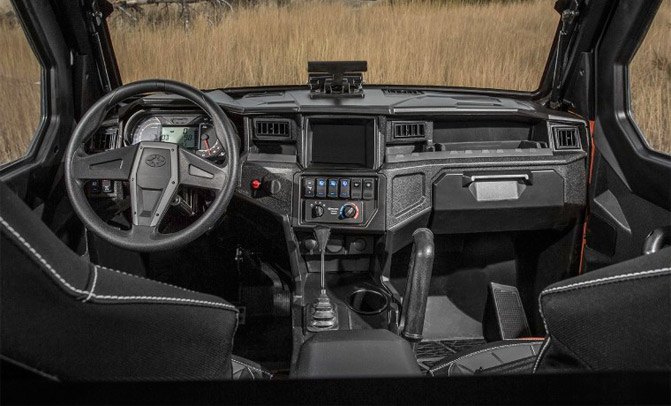 Polaris designed a brand new interior for the General. (General EPS Deluxe pictured)
The Commander maintains a very comfortable cab with just over 8.0 gallons of available cab storage, plenty of room for the driver and passenger as well as a multi-functioning digital gauge with all the standard indicators. Although not quite as flashy as the customizable display on the General, many users might see all the bells and whistles on the General as over the top. Four 60W halogen lamps provide ample illumination with standard tail and brake lights in the rear.
Value
When it comes to price, Polaris did a good job of upping the ante, providing an all-new vehicle with some great features and boosted performance in the power and suspension categories for just $1,550 over the Commander's $14,449. Still, $15,999 might be more than some users are willing to pay, particularly because some of the niceties on the General are a little more luxury than necessity. Others may find the split-level bed on the Commander to be very useful for hunting and fishing trips or keeping tools stored on the vehicle at all times without fear of them getting rusted.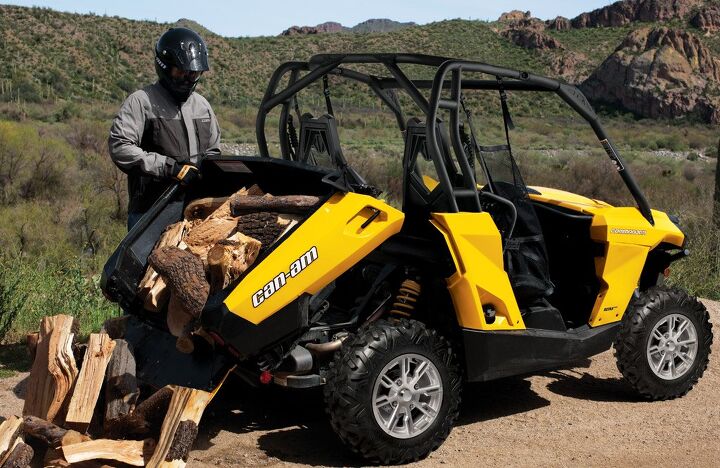 The innovative bed of the Can-Am Commander offers a lower section protected from the elements and whatever you are carrying in the top section.
Regardless of which vehicle you prefer, we're always excited to see new models released and equally as excited to see a new market segment emerging that OEMs are taking a serious interest in.
Published December 30th, 2015 10:59 AM