36 Views
2018 Polaris Sportsman 850 Touring vs. Can-Am Outlander MAX XT 850: By the Numbers
March 30th, 2018 11:16 AM
Share
We're committed to finding, researching, and recommending the best products. We earn commissions from purchases you make using links in our articles. Learn more here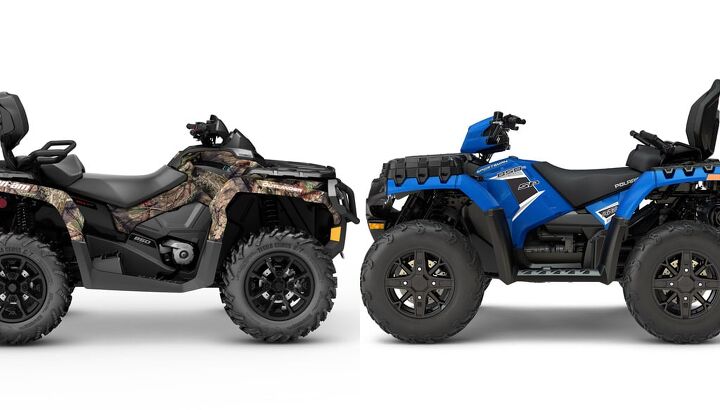 The 2018 Polaris Sportsman 850 Touring and Can-Am Outlander MAX XT 850 are two of the premier two-up ATVs in the industry to we decided to see how they compare…by the numbers.
ATVs have always been single-person machines, even though the idea of having someone jump on the back and riding with you is something that has been done for decades. The manufacturers took notice and some started offering machines with longer wheelbases and specialized seating that allows for a passenger to ride along in a safe way. A two-up machine is an idea borrowed from the snowmobiling world. It gives the rear passenger a seat that is a little higher than the driver, with separate hand holds and proper foot placement. While both Polaris and Can-Am offer two-up machines of various sizes, two that match up very well are in the 850 class – the Polaris Sportsman Touring 850 and Can-Am MAX XT 850. Let's see how well they do, by the numbers.
| | | |
| --- | --- | --- |
| | 2018 Polaris Sportsman Touring 850 | 2018 Can-Am Outlander MAX XT 850 |
| Price | $11,199 | $12,799 |
| Engine | 850cc paralles Twin, liquid-cooled | Rotax 854cc V-Twin, liquid cooled |
| Horsepower | 78 | 78 |
| Driveline/Differential | High Performance True On-Demand AWD/2WD | Selectable 2WD / 4WD with Visco-Lok QE auto-locking front differential |
| Transmission | Automatic PVT P/R/N/L/H; Shaft | CVT, P / R / N / H / L, standard engine braking |
| Wheelbase | 49.2 in | 57 in |
| Length x Width x Height | 86.5 x 47.6 x 58.25 in | 94 x 46 x 53 in |
| Weight | 804 lbs | 821 lbs |
| Front Tires | AT26 x 8-12 Maxxis MU05Y | ITP Terracross 26 x 8-14 |
| Rear Tires | AT26 x 10-12 Maxxis MU06Y | ITP Terracross 26 x 10-14 |
| Ground Clearance | 11.3 in | 11 in |
| Fuel Capacity | 4.76 gal | 5.4 gal |
| Front Suspension | Dual A-Arm 9 in Travel | Double A-arm 9 in. travel |
| Rear Suspension | Dual A-Arm, Rolled IRS, 10.25 in Travel | Torsional Trailing arm Independent (TTI) 9.3 in. travel |
| Brakes | Single Lever 3-Wheel Hydraulic Disc with Hydraulic Rear Foot Brake | 3-wheel 214 mm ventilated disc brakes with hydraulic twin-piston calipers |
| Rack Capacity | 120 lbs front / 240 lbs rear | 100 lbs front / 200 lbs rear |
| Towing Capacity | 1,500 lbs | 1,300 lbs |
All Things Being Equal
Both machines claim an impressive 78 horsepower number. What's funny to think about is how impressive and tame that number is at the same time. It wasn't that long ago that even half that number would have been considered impressive. Now there are machines boasting much more HP. Oh how far we've come! The Polaris gets its power from an 850cc ProStar parallel Twin engine that is fed by full electronic fuel injection. The Can-Am runs an 854cc Rotax V-Twin motor, also fed by EFI.
Both machines also run through a variation of a CVT transmission. Polaris calls its system a PVT, but it's largely the same thing. Each has Park, Reverse, Neutral, Low and High range. Polaris uses its signature On Demand all-wheel drive system, while the Can-Am runs its standard two-wheel drive, four-wheel drive and the Visco-lok QE auto-locking front differential.
And Then, Everything Changed
The Polaris Sportsman Touring is 86.5 inches long. That is just three inches longer than a standard Sportsman 850. While the overall length only increases by three inches, the wheelbase increases by four. The Sportsman Touring model has a 57-inch wheelbase. The Outlander MAX is 94 inches long and has a 59-inch wheelbase. The standard single-rider Outlander 850 is 86 inches long and has a 51-inch wheelbase. Where is the passenger space coming from?
The extra room comes at the expense of rear cargo area. The Sportsman uses an integrated rear passenger seat with separate hand-holds and foot rest areas. The Outlander MAX does something similar, but with a little additional space reserved for the rear passenger. The Can-Am also offers a little more foot space for the second rider with bigger footwells.
Both machines offer 14-inch cast aluminum wheels. Polaris wraps 26-inch CST tires around its wheels, while Can-Am opted for 26-inch ITP Terracross rubber. Both machines have nine inches of travel on the front end with dual-A-arm suspension. Out back, Polaris runs dual A-arms with 10.25 inches of travel. Can-Am uses its torsional trailing arm rear setup on the Outlander with 9.3 inches of travel.
When you look at how each machine is accessorized from the factory, things get dramatically different. With a list price of $12,799 U.S. for the Can-Am Outlander MAX XT 850, you get front and rear bumpers, a 3,000-pound Warn winch, hand guards on the bars and a rear two-inch receiver hitch. It comes in two color options of Brushed Aluminum with Can-Am Red Accents, or Brilliant Red. You can also get it in Mossy Oak Break-Up Country camo for a little more. The Polaris Sportsman Touring 850 has an MSRP of $11,199 U.S. and comes with Engine braking and Active Decent Control. It is available only in Radar Blue. Find out more about these two machines by visiting your local dealership. As always, they are your best source for more information, and nothing beats seeing the machines in person. Derrek Sigler
Derrek's love for all things ATV started when he was a mere 11 years old, growing up on his family farm. His mom gave him and his sister a choice - get a horse, or a three-wheeler. The sister wanted the horse, and Derrek wanted the ATV. Luckily he won out, and was soon burning up the trails on a Yamaha Tri-Moto 200. By the time he was 14, he had saved enough of his own money by working on the farm and in his folks restaurant to buy a new 4-wheeler. That happened the day he and his mom were driving past the dealership and saw 1987 Banshee. His mom had no idea what he was buying, and he never looked back. He's been riding ever since, and been writing professionally for many years. He has ridden all over North America and been behind the controls of just about every machine out there. And yes, he still has his 1987 Yamaha Banshee.
More by Derrek Sigler
Published March 30th, 2018 11:16 AM
Top Brands
Popular Articles