50 Views
2019 Polaris Sportsman 850 vs. Can-Am Outlander 850: By the Numbers
August 7th, 2018 1:03 PM
Share
We're committed to finding, researching, and recommending the best products. We earn commissions from purchases you make using links in our articles. Learn more here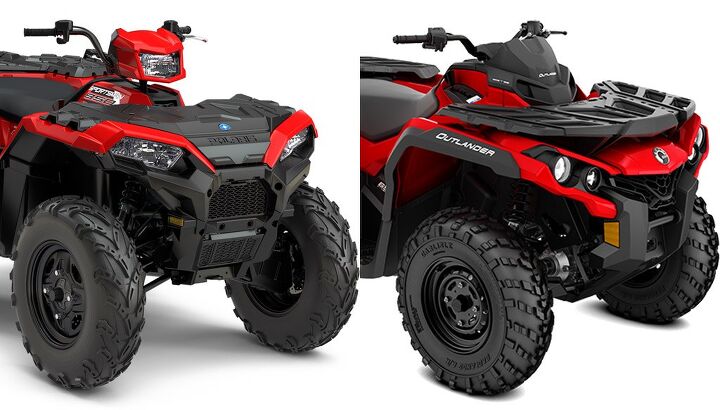 The 2019 Polaris Sportsman 850 and Can-Am Outlander 850 pack value and horsepower into utility machines. Let's see how they compare…by the numbers.
I feel like the old man, sitting in a rocking chair on the covered porch, whittling on a chunk of wood and telling that pesky neighbor kid about the time when a 500-class ATV was considered "big-bore." "Back in my day, if you had a 700, well that was something…" As displacements crept up to the 1,000cc mark, 500-class machines are now considered entry-level and what was the biggest in the land a couple years ago, the 850s, are now the budget big-bores. Gets kind of confusing, doesn't it? Polaris and Can-Am each offer an 850 as a more affordable horsepower option and both would make a great choice for those of us not looking to spend the money that the top machines command. We wanted to see how the 2019 Polaris Sportsman 850 and Can-Am Outlander 850 compare.
The Contenders
Last year, the 2019 Polaris Sportsman 850 was updated to bring it in line with the Sportsman XP 1000. It got the updated body work, enhanced frame and suspension upgrades that made the 1000 a seriously sweet machine. The base 850, which we're using for this comparison, doesn't come with power steering, a feature that keeps the price down. It comes in Indy Red and Sage Green and can be had for $8,899.
Can-Am overhauled the Outlander lineup for 2019, and that includes the "middle-child" 850. Stylistically, the Outlander front end was revamped to add a touch of flair from the X3 UTVs. It's a good look, for sure. The new suspension system and wheels make the Outlander wider and more responsive. The non-power steering base model comes in Viper Red and retails for $8,999 – a lower price point than last year's non-DPS model.
Engines
The 2019 Polaris Sportsman 850 is powered by a 78-horsepower 850cc ProStar twin-cylinder four-stroke. It is fed via electronic fuel injection and runs out through a CVT-style transmission. As you would expect, the Sportsman has Polaris' On Demand all-wheel drive system. I can tell you from experience that the 850 motor doesn't lack for power, and is not far off its big brother in terms of oomph. The power delivery is not quite as smooth as the 1000, as there is a little more noticeable hit in the mid-range. That actually makes it a lot of fun to ride.
No shockers with the Can-Am Outlander 850. It is powered by an 854cc, 78-horsepower Rotax V-twin that has that telltale V-twin purr. It is fed via fuel injection and runs out through a CVT transmission with switchable two- and four-wheel drive with Can-Am Visco-Lok QE locking differential. The Rotax engine is snappy and fun to ride, especially if you're getting hard on the throttle during some aggressive trail stuff. You've got to be careful, though, as the motor can push you to the limits of a non-EPS machine pretty fast. Still, very fun and usable power.
Suspension
For 2019, both machines now come with arched front a-arms. The 2019 Polaris Sportsman 850 has arched rear A-arms, while the Can-Am Outlander 850 has a torsional trailing arm suspension setup. Both systems work well, and selecting one over the other is a matter of personal choice. A-arm rear systems tend to offer a slightly plusher ride, while trailing-arm designs handle rougher terrain better. Both have sway bars to reduce body roll while cornering.
Out front, the Polaris has 9.0 inches of travel along with 10.25 inches of rear suspension travel. The arched A-arms give the 2019 Polaris Sportsman 850 11.25 inches of ground clearance. You can stow 120 pounds on the front rack, and 220 pounds on the rear rack. It will tow an additional 1,500 pounds and comes with the standard, yet slightly baffling 1.25-inch receiver hitch.
The Can-Am Outlander 850 has 9.2 inches of front travel and 9.9 inches of rear travel. It has 11 inches of ground clearance and will take 110 pounds on the front rack and 200 on the rear. Towing capacity is 1,650 pounds and the Outlander has a sensible 2-inch receiver hitch.
These are both sweet machines and the lowered price points makes them a more even match for 2019. If you're looking to get the most horsepower you can get in an ATV without spending more than $9,000, you'd be hard pressed to do better than one of these. Which one is best? Only you can decide that. Head to your local dealer to see them for yourself. Derrek Sigler
Derrek's love for all things ATV started when he was a mere 11 years old, growing up on his family farm. His mom gave him and his sister a choice - get a horse, or a three-wheeler. The sister wanted the horse, and Derrek wanted the ATV. Luckily he won out, and was soon burning up the trails on a Yamaha Tri-Moto 200. By the time he was 14, he had saved enough of his own money by working on the farm and in his folks restaurant to buy a new 4-wheeler. That happened the day he and his mom were driving past the dealership and saw 1987 Banshee. His mom had no idea what he was buying, and he never looked back. He's been riding ever since, and been writing professionally for many years. He has ridden all over North America and been behind the controls of just about every machine out there. And yes, he still has his 1987 Yamaha Banshee.
More by Derrek Sigler
Published August 7th, 2018 1:03 PM
Top Brands
Popular Articles