98 Views
2020 Yamaha Grizzly XT-R vs. Polaris Sportsman 850 Premium LE: By the Numbers
February 24th, 2020 4:43 PM
Share
We're committed to finding, researching, and recommending the best products. We earn commissions from purchases you make using links in our articles. Learn more here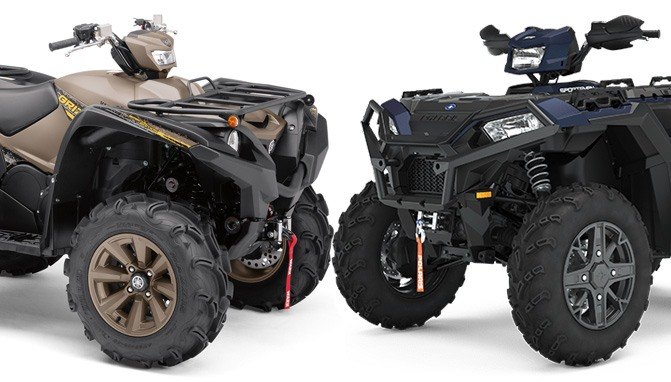 How do these well-appointed Utility ATVs stack up?
The 2020 Yamaha Grizzly XT-R and Polaris Sportsman 850 Premium LE are built on proven platforms and come loaded from the factory with extras. Let's see how they compare…by the numbers.
There's little to be embarrassed about when shopping for a utility-focused ATV. Not everyone needs or wants a lightweight rocket with more horsepower than your author's first car. These types of rigs are just the ticket for buyers who want to get work done around their property but also take off to their cottage on the weekend.
For this model year, Yamaha is adding the XT-R trim to its Grizzly lineup, a unit that comes with a factory-installed winch and aggressive Maxxis tires. Positioned at the top of its ATV lineup, the Yamaha Grizzly XT-R is currently the most expensive utility quad in Yamaha showrooms.
For a point of comparison, the 2020 Polaris Sportsman Premium LE promises a smooth ride after you've finished the day's chores. Packing plenty of horsepower and stout rack capacities, it has the potential to check the boxes for both work and fun.
Which one is right for you? Read on.
Powertrains
With a liquid-cooled twin displacing 850cc slung into its frame, the Polaris Sportsman Premium LE makes an advertised 78 horsepower. This four-stroke is fuel injected, funneling its power through what Polaris calls a 'True On-Demand' AWD/2WD system. The brand's engine braking system is standard equipment as is Active Descent Control. The latter helps you ease down an embankment without breaking a sweat.
New for 2020, the Yamaha Grizzly XT-R plays in the 700 class with an engine displacing 686cc. It is, of course, liquid-cooled and four-stroke. That displacement will be familiar to those who owned Yamaha rigs in the past, after the company walked away from its 708cc engine a couple of years ago. Horsepower for the Grizzly measures in at about 48..
Suspension
Straight dual A-arms give about 9 inches of travel up front on the Sportsman Premium LE, with the same type of setup in a rolled IRS package allows for 10.25 inches of fun at the rear wheels. Tires are 26-inch tall hoops wrapped around 14-inch aluminum wheels which are 8 inches wide in the front and 10 inches wide in the rear. This top-of-the-line Sportsman has electronic power steering.
An independent double wishbone populates the Yamaha Grizzly XT-R on both ends, with the addition of an anti-sway bar out back. Its wheel travel is measured at 7.6 inches up front and 9.1 inches in the rear. Those are 27-inch high Maxxis tires on 14-inch strong and lightweight alloy rims. Like the Polaris, a winch is standard equipment.
Size & Weight
Estimated weight of the Sportsman 850 Premium LE is advertised as 839 lbs. The front rack can bear 120 lbs and the rear rack can handle twice that amount, if you're wondering. That leaves about 220 lbs of payload for the rider. Stanced 47.6 inches wide, this Polaris is a shade over 83 inches long on a 53-inch wheelbase and stands almost 51 inches high. Ground clearance checks in at 11.5 inches.
Yamaha advertises the wet weight of this new ATV at 780 lbs. While its length is within an inch-and-a-half of the Polaris, it rides on a much shorter 49.2-inch wheelbase. Max ground clearance is 11.8 inches for this 50-inch tall machine. Front and rear rack capacities are 110 lb and 198 lb, respectively.
Styling
With a pair of narrowed trapezoidal headlights and a centrally mounted third forward-facing lamp, the Polaris Sportsman 850 Premium LE looks every inch a Polaris. The 850 Premium LE is available in a single color: Matte Navy Blue. Those aluminum wheels build on the base model's four-spoke steelies by adding a few extra styling spats and is all the better for it. Its standard winch is tucked away in front with its clevis sticking out like a saucy child's tongue.
There's no doubt the 2020 Yamaha Grizzly XT-R has an aggressive style with its Titanium Bronze paint and Tactical Black trim. The bronze alloy wheels are a nice upgrade over the stock steel options on the base Grizzly.
Pricing
Polaris starts the Sportsman 850 Premium LE at $10,999 USD. This represents a $2000 walk from the base Sportsman 850, a lighter machine with an equal amount of power but fewer toys and features. Accessories abound, from a tall windshield for $104.99 to a poly plow blade for an ambitious $1400.
The Yamaha Grizzly XT-R is priced identically to the Sportsman 850 Premium LE. Starting at $10,999, the XT-R is on par with its most direct competitor and can be similarly laden with all manner of accessories. Published February 24th, 2020 4:43 PM
Top Brands
Popular Articles