88 Views
2021 Can-Am Outlander 650 DPS Vs. Suzuki KingQuad 750AXi Power Steering: By the Numbers
August 24th, 2020 10:15 AM
Share
We're committed to finding, researching, and recommending the best products. We earn commissions from purchases you make using links in our articles. Learn more here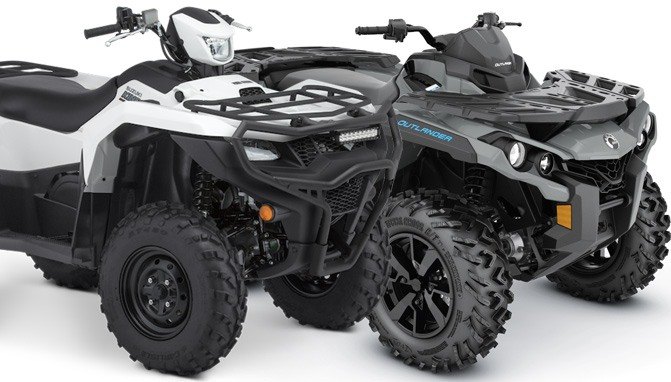 How does Can-Am's Outlander 650 compare to Suzuki's heavyweight KingQuad?
The 2021 Can-Am Outlander 650 DPS and Suzuki KingQuad are a pair of upper-middleweight ATVs designed for both work and fun. Let's see how they compare in our latest "By the Numbers" feature.
Saddling up a no-nonsense and powerful ATV is solidly at the corner of Fun and Work. On one hand, this type of rig should be able to haul gear and crawl over that pile of logs on the back forty. On the other hand, it should also be able to induce a few grins when you pin its throttle to the bar on a straight stretch of land.
This segment of ATV is broadly defined by the amount of work it can do, leaving superfluous details like flashy wheels and bold paint choices to machines parked in the opposite corner of the showroom. Like your buddy's father who won a boxing match or two back in his heyday, these ATVs might look ordinary but are more than capable of packing a surprising punch.
Powertrains
Can-Am offers its range of Outlanders with a couple of different engine choices, but today's post will focus on the 650 class. Cranking out 62 horsepower, the 2021 Can-Am Outlander 650 DPS has more than enough grunt to haul big game out of the woods or power its way out of a mudhole. Its 650cc Rotax V-Twin is liquid cooled with electronic fuel injection and produces a claimed 61.7 horsepower.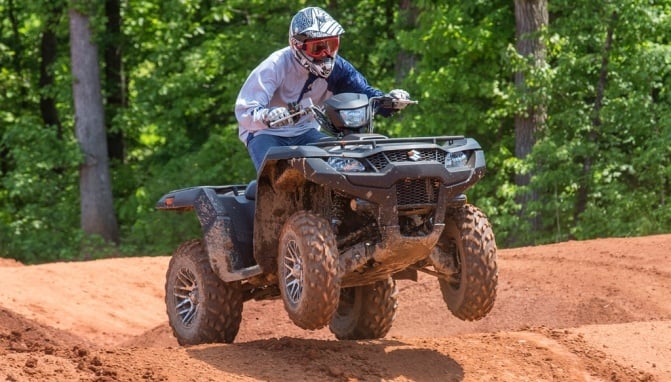 Suzuki plugs a single cylinder 4-stroke into this 750 class of KingQuad, though it has but one cylinder instead of two. Picture a small coffee can rapidly pumping up & down and you've pretty much got the right idea. This ain't no low-tech mill, though, featuring a four-valve dual overhead cam setup and electronic fuel injection. In total, this 722cc mill is rated to deliver just shy of 50 horsepower.
Suspension
The engineers in Quebec are very familiar with A-arm and trailing arms, given their deployment of the same on a wide range of ATVs. Up front, the 2021 Can-Am Outlander 650 DPS has an arched double A-arm configuration with a sway bar, good for 9.2 inches of wheel travel. Anyone who's tried to tiptoe over a mess of rocks will understand the value of arched A-arms, as well. Out back, you'll find a torsional trailing arm independent setup permitting very nearly 10 inches of wheel travel. Power steering makes wrestling this thing through a tight trail quite easy.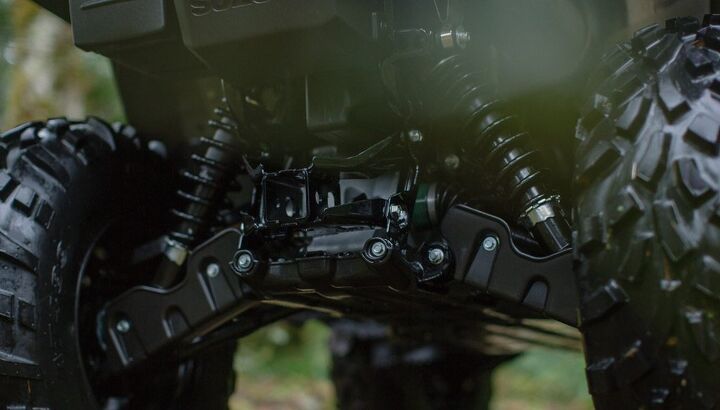 Suzuki KingQuad 750 Rear Suspension
The Suzuki KingQuad 750AXI has a very Honda-esque front suspension, a remark which is intended as a compliment. Independent double wishbones are found up front and in the rear, along with coil springs plus gas charged and oil-damped adjustable shock absorbers. While this setup does generally offer better ride quality than some other configurations, it hampers wheel travel slightly, with this particular KingQuad checking in at 6.7 and 7.7 inches of stretch in the front and rear, respectively. This model's power steering makes for easy manuevering.
Size & Weight
According to the specs, the 2021 Can-Am Outlander 650 DPS is 86 inches in length and 48 inches wide, meaning it will definitely fit in the bed of your pickup unless you've one of those mini kei trucks imported from across the pond. Width is 48 inches, giving it a slightly oversquare stance considering its 51 inch wheelbase. Seat height is a very reasonable 34.5 inches. Dry weight is around 750 pounds.
Overall length of the Suzuki KingQuad 750AXi is 84.6 inches standing on a wheelbase of 50.6 inches. Width is 47.8 inches with total height measured exactly the same as its wheelbase. That square dimension doesn't hurt stability, but you'll always find us fans of a wider stance. You'll be saddling up to a seat height of 36.2 inches on this machine and, if you get it stuck, there will be 725 lbs of curb weight to pluck from the mire.
Payload and Towing
Rack capacity on the Outlander 650 stands at 100 lbs ahead of the rider and double that behind them. This is generous, especially when one considers the machine's 1650-pound towing capacity, so feel free to go ahead and load the thing up with supplies for your hunt camp. There is also a 21.4-liter storage capacity out back.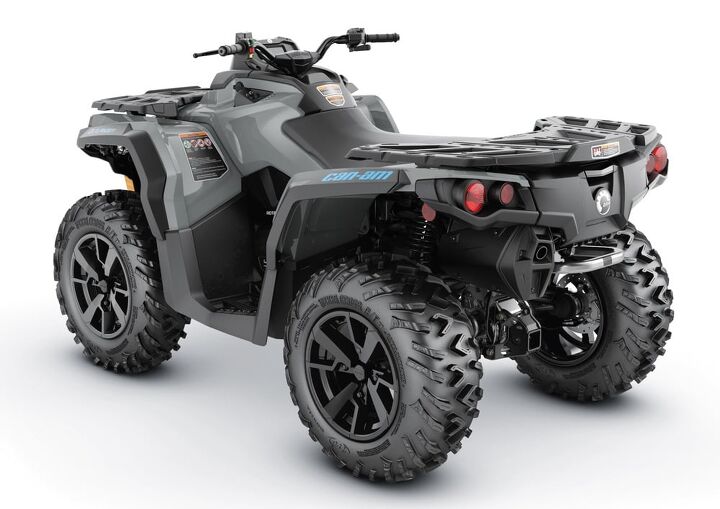 A receiver-type trailer hitch mount makes it easy to hook up the equipment you want to move using Suzuki KingQuad's 1322-pound towing capacity. There is a 4.0-liter storage compartment centrally located at the rear, adjacent to the existing and equally sized left-side compartment. There is a bonus 2.8-liter water-resistant front storage compartment accessed by an easy access screw-on cap.
Styling
Can-Am has gone through several iterations of its styling language over the years and is currently settled on a quartet of round lights up front giving the Can-Am Outlander 650 DPS a spider-like face. Your author thinks it looks best with optional bumpers, especially those painted with an outrageously bright shade of paint.
If there is a set of narrowed headlight headed your way on the trail, as if someone's upset animal had escaped its cargo carrier, chances are you're looking at a Suzuki KingQuad. With black steel wheels, round amber front and rectangular rear reflectors, its side profile is decidedly retro. There's nothing wrong sticking with the classics.
Pricing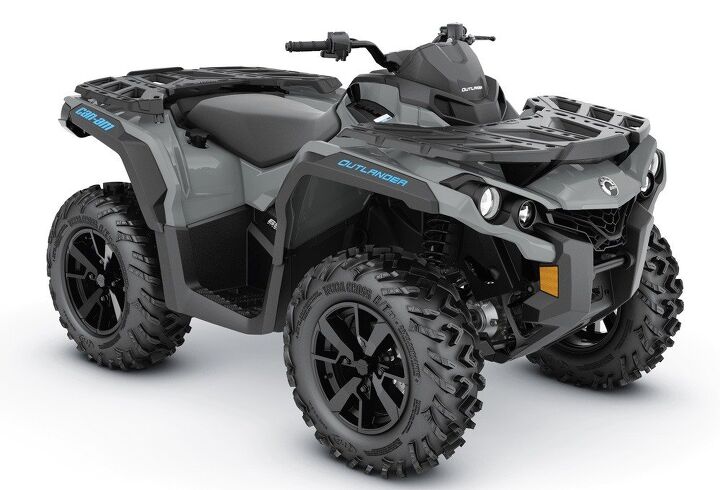 The 2021 Can-Am Outlander 650 DPS is priced at $9,499 while the Suzuki KingQuad 750AXi Power Steering is a few bucks more at $9,749, making this category pretty much a wash. Published August 24th, 2020 10:15 AM
Top Brands
Popular Articles