1 View
2014 UTV Industry Ride Report
June 19th, 2015 3:57 PM
Share
We're committed to finding, researching, and recommending the best products. We earn commissions from purchases you make using links in our articles. Learn more here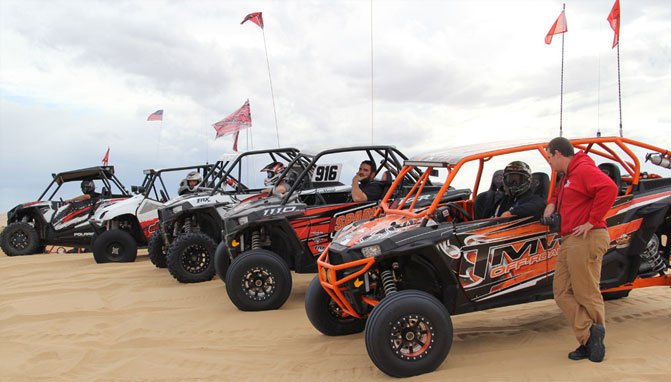 Fun in the sand with industry friends and some souped up RZRs
All work and no play would make anyone a dull boy. In the powersports industry, it's a common tale to hear someone say they started working in the industry because they wanted to do what they love every day. Unfortunately, what most people discover is that working in this industry generally leaves little time to actually get out and have your own fun. Sure you might attend a lot of events, but most people are busy selling, repairing or spending the bulk of their time making sure everyone else is having a good time.
Jon Crowley and Dave Kuskie are two industry insiders who have experienced the same thing and decided to do something about it. Back in 2012, they held the first annual UTV industry ride as a means of getting many of the leading UTV industry companies together for an opportunity to rest, recoup and, of course, have some long overdue fun. It's also a great place to spy out some of the newest products to hit the market as well as see some amazing custom UTVs that the different shops bring out.

The invite-only event has grown in popularity each of the last three years and this year was the biggest one yet with 33 companies making the trek out to the Glamis sand dunes in Southern California. Since the bulk of the off-road community resides in southern California, it makes the most sense to hold the annual event at Glamis. That and the fact that it's the sand toy capital of the world.
Because I was flying in from North Carolina, the trip was a bit of a logistical nightmare. I would be representing JRi Shocks at the industry ride, along with two of my co-workers. While I flew into Las Vegas on Wednesday, they had actually flown into Phoenix the day before to assist with the final installation of a set of new shocks on a special project car being built by TMW Offroad. Once finished, they would join me in Glamis where the UTV would be unveiled as a part of a build-off competition between TMW Offroad and SDR Motorsports. More on that later.
After spending the night in Las Vegas, I connected with the gang from GPS Offroad Products and we caravanned down to Glamis, arriving just in time to tag along on a group ride out to Osborne Overlook and Oldsmobile Hill. While there's no set schedule of events for the weekend, there are a few organized group rides and lots of opportunities to get your vehicle out in front of the cameras. After hanging out at Oldsmobile, we used the last few minutes of daylight to take a few sunset pictures before heading back to camp.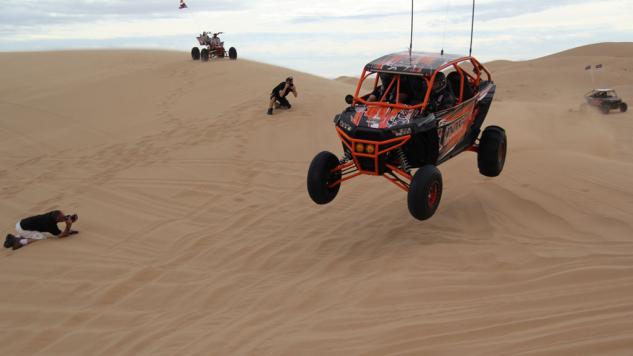 For dinner, Tim Gantz, manager of the Glamis store, took us to one of the local eateries for some amazing BBQ ribs. Hot Rods and Beer doesn't look like much from the outside and if you judge the place by their menu, you might be disappointed. Most nights there's only one item, but I can tell you the ribs were some of the best I've ever had and at $8 a plate, you can't go wrong. After dinner we hightailed it to the hotel for some much needed rest.
The next morning, despite a threat of rain, we met up with the gang from TMW Offroad to take the new project car out for a trial run and some photos. The TMW guys definitely love to jump and seem to have no fear when it comes to airing it out. After shooting some photos I hopped in a UTV and took off on a group ride back out to Osborne.
One of the things I love about riding with this group of people is everyone falls into line and just goes. Typically someone with a lot of duning experience leads the pack and everyone else can just follow along without fear of running off a razorback or hitting a major G-out.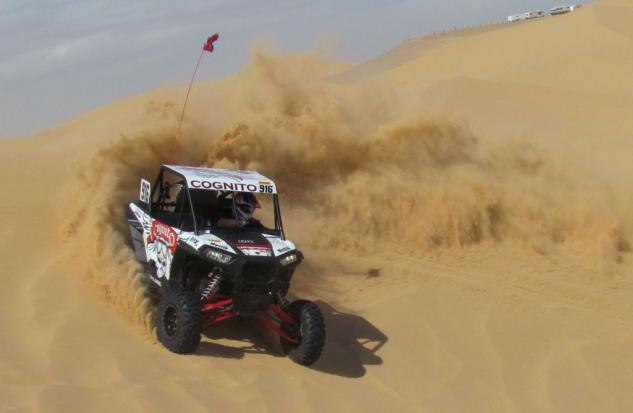 If you've never been to Glamis, the dunes vary a little bit depending on what area you're coming from. Directly behind the Glamis store is what a lot of people refer to as the "baby dunes." Lots of small bowls, razorbacks and fun transitions that you can play on, but nothing too high speed. As you make your way farther west towards the Osborne Overlook, the bowls gradually start getting bigger. To stand and look up at some of them would almost make you wonder if climbing them is even possible, but once you're in the seat of a UTV, it's like the best roller coaster you've been on times ten.
Once we made it back to camp, the skies started to turn grey and the wind began to pick up. Wind at Glamis is never a good thing and the combination of dust and blowing sand pretty much meant that riding for the day was over. Since it was still fairly early we decided to head back to our hotel in Brawley and carefully made our way around the drifting sand on the highway. Believe it or not, we actually passed two snowplows that were blading sand off the highway! Definitely not what I expected to see out in the middle of the desert.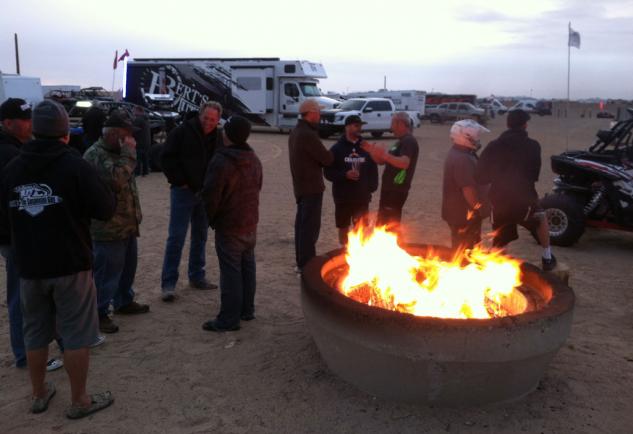 Saturday morning was an organized photo shoot for the two build-off cars so a crew of media folks headed out to set up and shoot group shots and detail photos of the two Polaris XP 4 1000's. TMW Offroad and SDR Motorsports are without a doubt two of the leading custom UTV builders in the world. Each of them has its own unique style and signature design elements and both shops have developed a worldwide following.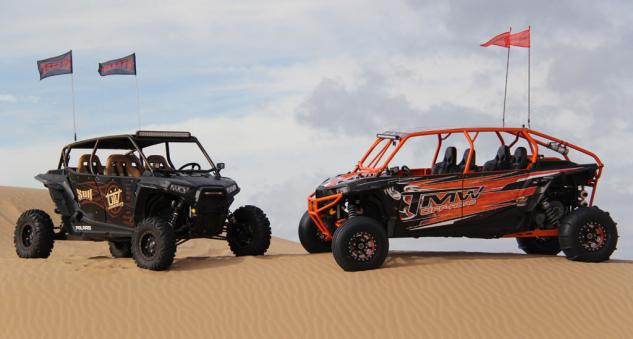 Unfortunately I wasn't able to get behind the wheel of both cars, but I did get some seat time in the TMW-built XP 4 1000 while we were dialing in the electronically adjustable shocks and it was a blast! This was actually my first experience in an XP 1000, 2 or 4 seats, and I just couldn't get enough. I didn't get all of the build specs, but the car looked as good as it drove. It featured a full cage, doors and bumper by TMW Offroad, Sparks racing exhaust, EPI Clutch, Wolf Designs wrap, Triple X seats, Rugged Radios communication system, Hiper Wheels, STU Sand Blaster Tires from Fullerton Sand Sports, Lonestar racing A-arms with JRi Electronically adjustable shocks and a host of lighting and aluminum products by Vision X and Axia Allows. I would love to have been able to do a complete review of the machine, but there were a lot of people itching for seat time in this beautiful vehicle.
By early afternoon the weather once again looked as if it was going to unleash its fury, but after a few rain clouds blew over, the conditions were actually better than ever. I commandeered a Can-Am Maverick and we headed back out to the baby dunes to play around on some small bowls and take a few more pictures for anyone that wanted to tag along. While the new XP 1000 is definitely the most popular vehicle you'll see at the dunes, I still really enjoy the Can-Am Maverick. It has more than enough power to go anywhere you want and has one of the most comfortable cockpits on the market.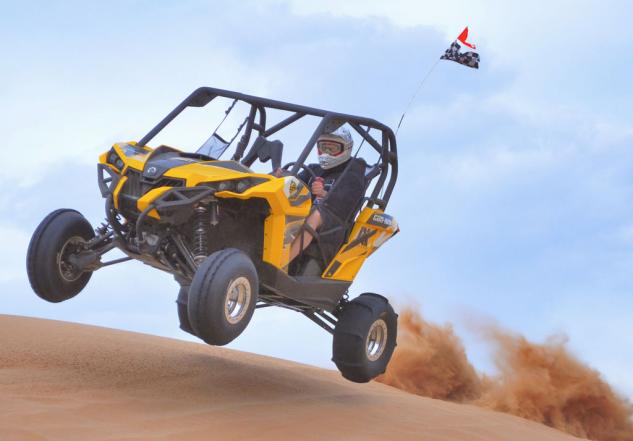 With the sun setting it was time to gather around the campfire and kill some time talking over the weekend's events, close calls, near misses and future projects that different people have in store. It's always amazing to just sit and listen to the conversations that happen when you get this many people together that know so much about this industry.
As a final hoorah, Dave from Fullerton Sand Sports put on an amazing feast for everyone in attendance. The meal was catered by Daddy's Famous foods and featured chicken and carne asada tacos, nachos and for those not counting calories, deep fried Oreo's for desert. It was a perfect way to cap off a great weekend of riding with friends.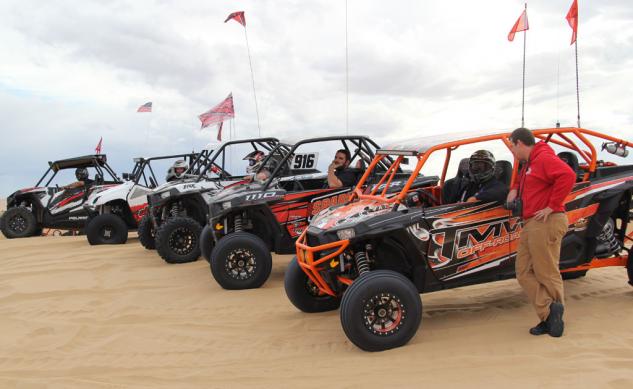 For only its third year in existence, the UTV Industry Ride was a great success and everyone seemed to have a great time. While none of us probably get to ride as much as we would like, it serves as a great reminder of why we all got into this industry in the first place.
Below is a list of all of the companies who were present at the 2014 UTV Industry Ride.
UTVGuide.net
Fullerton Sand Sports
Pro Armor
TMW Off-Road
SDR Motorsports
Queen Racing
Race Proven Motors
ProLine Wraps
Bert's Mega Mall
Triple X Seats
The Pro Shop
Sparks Racing
Muzzys Performance
SSV Works
Cognito Motorsports
Gibson Exhaust
HCR / MCX
Benchmark
GMZ Race Products
GPS Offroad
SSV Works
Wolf Designs
STR8UP Motorsports
Desert Works
Alternative Offroad
GBC Motorsports
Sparks Racing
Factory UTV
OMF Performance
JRI Shocks
XTC Motorsports
FOX
Idaho Dunes RV Park Seth Fargher
Growing up in Oregon, most of Seth's involvement in the powersports world was limited to what he saw in magazines and videos. Following a brief stint in the corporate world, Seth took a flying leap (literally) and moved to California to pursue a career in freestyle motocross. Though short lived, the opportunity immersed him in the industry and is now a well-established off-road writer.
More by Seth Fargher
Published March 11th, 2014 11:56 AM
Top Brands
Popular Articles