1 View
Borich Clinches GNCC Championship
September 28th, 2009 1:46 PM
Share
We're committed to finding, researching, and recommending the best products. We earn commissions from purchases you make using links in our articles. Learn more here
Suzuki's first GNCC title
Rockstar Makita Suzuki's Chris Borich did what no other racer has been able to do in almost a decade. In the rain of the Moose Racing Yadkin Valley Stomp, round 11 of the Can-Am Grand National Cross Country Series, Borich was able to clinch the 2009 series after an intense battle that saw a leader change through almost every turn. Borich was able to narrowly beat FRE KTM's Adam McGill and Nine-time Defending Champion Bill Ballance to take the overall win and the championship.
Ballance presented Borich with his new number one plate on the podium.
"When I started racing, I started out just having fun in the B class," says Borich. "Ballance is a tough competitor. I've been behind him for years and I finally did it. It was a real tight tack out there and I got into seventh place. I didn't know what to do so I just waited for someone to make a mistake."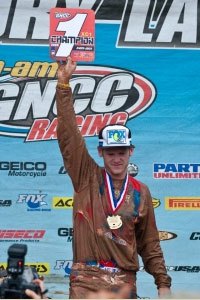 A light drizzle earlier in the morning turned into a heavier rainfall by the time the 1 p.m. race kicked off, making the red clay track slick. Ballance was the first off the line and roared around the first turn to take the holeshot and lead the beginning of the first lap until McGill took his turn at the front. The three were only seconds apart as they battled with Yamaha's Brandon Sommers and Taylor Kiser. Sommers took the lead away from McGill in the second lap and by the third, Borich was back in the lead with McGill right behind. Borich led until the finish with McGill in tow and Ballance just a minute later.
"When I hooked up with Borich I thought, 'Man, I really want to win, but he has the championship if he does,'" says McGill. "I'm really happy for him. The bike worked really good and I'm definitely ready for the next race."
Ballance handed Borich his new number one plate and congratulated Borich for his win. Ballance has won the championship the past nine years although Borich has tried to unseat him for the past few years.
"He's been the number two guy for years," says Ballance. "He rode great. We'll see what holds for next year. I need to think it over a little bit and see if we will go through it again to see if can go out on top."
Kiser, who started in third and fell to sixth, was able to move up to finish in fourth followed by Sommers in fifth. Yamaha's Donnie Ockerman finished in sixth in front of teammate John Gallagher and Jarrod McClure. Warnert Can-Am's Chris Bithell and Ryan Lane round out the top ten in ninth and tenth places, respectively.
In XC2 Pro-Am, FRE KTM's Josh Kirkland was able stop Brian Wolf's win streak. Wolf came in second, followed by Parker Jones in third.
"The race went pretty well," says Kirkland. "I put my head down and tried to do my best."
Jones started the race in first and the three riders battled with Walker Fowler, in his debut race in the XC2 class until Fowler had mechanical issues. Fowler would end up finishing 17th.
Top Amateur Award went to College A class rider Zachary Strong.
In the morning race, FRE KTM's Angel Atwell was also able to tie up the women's championship by taking second place behind her niece, Kristen Atwell, who took home the GT Thunder Amateur Overall Award. Yamaha's Traci Cecco took third.
"It feels awesome," says Kristen. "After having some disappointing races, this feels great."
Tomblin remarked on the 'changing of the guards,' on the podium, as Cecco, a 7-time national championship congratulated Atwell on the podium.
"This women's class is tough," says Cecco. "I'm happy to be a part of it. I remember winning my first championship. It's an amazing feeling."
"I've been working for this for nine years," says Atwell. "It hasn't sunk in yet, but give me a bit and it will. I'm glad to have the team I have to help get this."
Yadkinville GNCC Results
GNCC XC1 Standings
Pos.
Rider
ATV
Pos.
Rider
ATV
Points
1.
Chris Borich
Suzuki
1.
Chris Borich
Suzuki
282 (8 wins)
2.
Adam McGill
KTM
2.
Taylor Kiser
Yamaha
217 (1 win)
3.
Bill Ballance
Yamaha
3.
Adam McGill
KTM
201
4.
Taylor Kiser
Yamaha
4.
Bill Ballance
Yamaha
196 (1 win)
5.
Brandon Sommers
Yamaha
5.
Brandon Sommers
Yamaha
188
6.
Don Ockerman
Yamaha
6.
Bryan Cook
Honda
170
7.
Johnny Gallagher
Yamaha
7.
Don Ockerman
Yamaha
149
8.
Jarrod McClure
Yamaha
8.
Jarrod McClure
Yamaha
135
9.
Chris Bithell
Can-Am
9.
Duane Johnson
Honda
132
10.
Ryan Lane
Honda
10.
Johnny Gallagher
Yamaha
109 Published September 28th, 2009 1:46 PM
Top Brands
Popular Articles