1 View
Borich Clinches Fourth Consecutive GNCC Championship
September 17th, 2012 11:30 AM
Share
We're committed to finding, researching, and recommending the best products. We earn commissions from purchases you make using links in our articles. Learn more here
Suzuki pilot wins ninth win of season at Unadilla
Despite the Can-Am Grand National Cross Country Series' two-month summer break, Chris Borich didn't show many signs of rust at the Unadilla GNCC in New Berlin, NY. The Suzuki pilot earned his ninth win of the season in 10 races and clinched his fourth consecutive XC1 Pro Class championship. Tireballs-backed rider Pat McGuire extended his points lead in the XC2 division after taking a big win over DeRisi Racing's Braden Henthorn.
The Can-Am Unadilla GNCC is one of the most noted stops on the GNCC tour as it incorporates the historic "U1" and "U2" motocross tracks into the loamy dark soils of the New York woods. The race action lived up to the hype as the top XC1 contenders went neck-and-neck for one of the most pivotal races of the year. JG Offroad/FRE/American Honda's Brian Wolf kicked off the afternoon by taking the $250 Motosport.com Holeshot Award and led the pack in the early stages. Right behind Wolf was Precision Motorsports/Lonestar Racing/Moto X Perts' Adam McGill and soon Bowers/Coastal National Guard/Yokley Racing's Jarrod McClure set in behind the leaders. The trio pushed their way out front on the opening lap, where McGill eventually got around Wolf for the lead. However, it didn't take long for Borich to catch up and begin applying pressure for the lead position.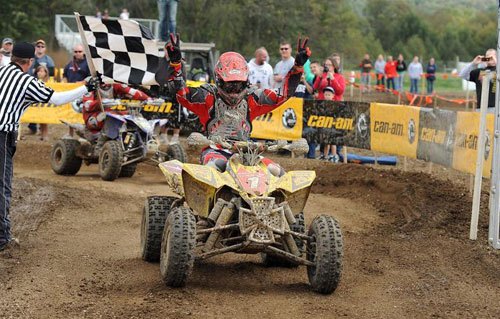 Meanwhile, Ballance Racing Yamaha's Taylor Kiser had his sights set on stopping Borich's championship run, as he needed to finish in front of Borich in order to hinder Borich's chances at a fourth title. However, Kiser didn't get the start he had hoped for and soon found that it wasn't easy to make passes amidst lapped-traffic and other obstacles on the course.
Kiser's Ballance Racing teammate Walker Fowler found himself in a similar position off the start, but the young gun picked his way through the pack and soon entered the lead battle with McGill, Borich and McClure. Just before the two-lap board came out, McGill found himself stranded in the woods while leading a four-way battle for first. Fowler continued to mix it up with Borich and McClure on the final two laps, while McGill was forced catch a tow back to the pits.
"I got a terrible start but you can't start a day like that and expect to be fresh, so I was a little winded," says Fowler. "I caught Chris [Borich] with the two lap board and we started going back and forth, even side by side a few times. I made one mistake and he got away. I made mistakes and he didn't, so he earned it [the win]."
Borich was able to maintain his position out front as he went on to secure his ninth win of the season at Unadilla. Fowler and McClure put in a valiant effort in the final laps, grabbing second and third respectively. McClure's third place finish gave the eastern Pennsylvania rider his first podium appearance since 2011.
"I've been training pretty hard with Borich lately and I felt comfortable riding with those guys today. And nothing major went wrong for me, which is huge," says McClure. "This is my closest race, I consider this one of my home tracks so it's great to be up here, just super pumped right now."
BNR's Kevin Yoho got off to a mid-pack start and wasn't able to make up time on the front-runners, eventually finishing sixth behind Wolf. Waynesburg Yamaha's Jeff Pickens finished an impressive seventh place in his first race back from a wrist injury. GBC/Cernics/HMF/Yamaha's Johnny Gallagher finished eighth place, keeping his top-ten streak alive in the XC1 class point standings. Indiana's Craig Bowman (Honda) followed in ninth, with Ohio's Mark Notman (Honda) rounding out the top ten.
Motoworks/Can-Am rider Chris Bithell made his way into fifth after starting the race just outside the top ten. However, Bithell wasn't able to finish after breaking his machine on Lap 3.
Tireballs-backed rider Pat McGuire took the XC2 Pro Am win over DeRisi Racing's Braden Henthorn, thus extending his lead in the point standings. Henthorn began the race at the back of the pack, but quickly pushed his way to the front, coming in less than two-minutes behind McGuire to take home second place and maintain his second place position in points. DeRisi Racing's Eric Hoyland shot off the start to take the Motosport.com Holeshot Award but wasn't able to hold on after the opening lap. Hoyland secured a spot on the podium with a third place finish, thus gaining valuable points in the overall standings. Greg's ATV & Cycles' Matt Hanna finished fourth, now sitting only two points away from Hoyland in fourth. Indiana's Nathan Wallpe rounded out the top five in Pro Am.
Ohio's Brycen Neal finished an impressive ninth place overall in the PM race taking home the Top Amateur honors, as well as the College A (16-21) class win over Landon Wolfe (Suzuki) and Chad Jones (Honda). The trio plus West Virginia's Brody Livengood battled all afternoon for the top amateur position.
GT Thunder's Dave Simmons continued his perfect season in the Super Senior (45+) with a huge victory in the class, while grabbing yet another morning overall win at Unadilla. Can-Am X-Team's Bryan Buckhannon came out victorious after a hard-fought battle for the 4×4 Open class-win, while also taking second overall for the day. Former ATV Pro Champion Tim Farr tried his hand in the 4×4 Open class, mixing it up with UXC Racing's Michael Swift and Buckhannon up front. Farr edged out Swift on the final lap, giving him a second place finish in the premiere 4×4 division. New York's Gary Chamberlain finished third overall, taking second to Simmons in the Super Senior (45+) division.
In the U2 division, BNR's Robert Smith pressured points leader UXC Racing's Clif Beasley, even passing into the lead on Lap 4, but it was Beasley who came out on top after two hours of racing. Both Beasley and Smith joined Buckhannon atop the 4×4 overall podium. Yamaha Racing's Traci Cecco gained valuable championship points after besting rival Angel Atwell for the Women's class-win. The Women's Class championship point spread is now a mere eight-point difference between Cecco and Atwell with three rounds remaining.
New York's Hunter Hart (COB) took the Youth overall-win in his home state, grabbing his fourth class-win in the 90 Open (12-15) division. Hart currently sits fifth in points after recovering from an early season injury that caused the defending champ to sit out Rounds 3 and 4 this year. Ohio's Cody Collier (Yamaha) finished second in the (12-15) class, followed by South Carolina's Zachary Jones (Apex), who rounded out third in the class as well as the final spot in the overall podium.
The 2012 Can-Am Grand National Cross Country Series returns to action October 6 and 7 for the ITP Powerline Park GNCC.
2012 GNCC XC1 Standings
2012 GNCC XC2 Standings
Pos.
Rider
ATV
Points
Pos.
Rider
ATV
Points
1.
Chris Borich
Suzuki
291
1.
Patrick McGuire
Yamaha
228
2.
Walker Fowler
Yamaha
191
2.
Braden Henthorn
Honda
207
3.
Taylor Kiser
Yamaha
189
3.
Eric Hoyland
Honda
177
4.
Chris Bithell
Can-Am
165
4.
Matt Hanna
Yamaha
175
5.
Adam McGill
Honda
162
5.
Gabe Phillips
Yamaha
174
6.
Jarrod McClure
Honda
145
6.
Blake Kramer
Yamaha
125
7.
Kevin Yoho
Yamaha
135
7.
Michael Lancaster
Honda
116
8.
Brian Wolf
Honda
132
8.
Nathan Wallpe
Honda
104
9.
Johnny Gallagher
Yamaha
129
9.
Josh Merritt
Yamaha
100
10.
Jeffrey Pickens
Yamaha
121
10.
James Green
Honda
85 Published September 17th, 2012 11:30 AM
Top Brands
Popular Articles