1 View
Borich Goes Wire-to-Wire at Ironman GNCC
October 25th, 2010 9:30 AM
Share
We're committed to finding, researching, and recommending the best products. We earn commissions from purchases you make using links in our articles. Learn more here
Wolf wins XC2 championship in thrilling race
Chris Borich claimed his 11th win of the season, leading from start to finish at the Amsoil Ironman GNCC – the 13th and final round of the Can-Am Grand National Cross Country Series in Crawfordsville, Ind.
In one of his most dominating performances of the year, the Yoshimura Suzuki rider grabbed holeshot to start the race and then quickly pulled away as the rest of the field jockeyed for position. After two hours of racing Borich crossed the finish line with over a minute to spare ahead of second place.
"I got a good start and I knew I had the championship all wrapped up so I decided to go out put the hammer down to see what I could pull," says Borich. "It was just an awesome day out there and I was having a ball all by myself."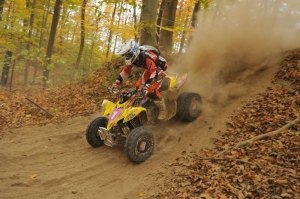 Adam McGill turned in a gutsy performance to come from the back of the pack to finish second. The Warnert Racing Can-Am rider passed teammate Chris Bithell on the final lap to grab second place.
"I got a decent start but I got tagged by a rider before we went into the woods and then we got in one of the fields and I caught a berm and rolled it," says McGill. "I got going again and just charged as hard as I could and moved into second, so it ended up being a good day."
The finish matched McGill's best of the year and solidified his third overall status in the final XC1 standings.
Bithell ran in second place for much of the race but dropped off the pace on the final two laps due to a clogged air filter and eventually settled for third.
"I was running second and they were telling me I was catching Borich – I was riding good and I was feeling awesome," says Bithell. "But then we had some kind of problem. We didn't have any power and Adam passed me in a field and he was tapped out and I was in first gear."
Despite being disappointed with the finish, Bithell was happy to get his third podium in a row.
Taylor Kiser was near the back of the pack when the field rolled through the first turn at the start of the race, but the Ballance Racing Yamaha rider rallied to finish a strong fourth, leaving him sitting second overall in the final championship standings. Kiser finished 18 seconds ahead of Yamaha rider Jeffrey Pickens, whose fifth place finish matched his best of the year.
Nine-time GNCC champ Bill Ballance made his return to racing at the Ironman after suffering a back injury earlier in the year and came home with an impressive sixth after only getting back on the bike a short time ago. Meanwhile, Jarrod McClure put a Polaris into seventh.
Donnie Ockerman changed things up a bit and instead of riding his usual Yamaha, rode a Honda to eighth, finishing ahead of Yamaha riders Brandon Sommers and Johnny Gallagher.
In the XC2 class, HMF Honda rider Brian Wolf claimed the XC2 series title with a hard-fought second place finish behind Ballance Racing Yamaha's Walker Fowler. Wolf needed to finish right behind Fowler to win the title but he had to overcome a bad start and a stripped countershaft sprocket to do so.
"I thought my day was over when I was last going into the woods after the start," says Wolf. "I pushed hard and before I knew it I was up in second but on lap four I had to pit because I had some chain problems. Turns out, my countershaft sprocket was stripped so they tightened my chain up and I came back out in fifth. I had one lap to go and I was in fifth so I thought my day was over again."
Despite his concern, Wolf turned in a scorching final lap, passing Josh Beavers for with one mile to go in the race to take second.
Meanwhile, Fowler claimed holeshot to start the XC2 race and pulled away to claim his fourth win of the year. However, when the final points were tallied, Fowler and Wolf stood tied atop the championship standings with 281 points each. Subsequently, Wolf won the tiebreaker and the championship by virtue of having five wins compared to four for Fowler.
Beavers ended up taking the first podium of his career, putting his KTM into third at the end of the race.
Round eight winner Corbin Knox was fourth on his Honda, while Dustin Canipe was fifth on a Kawasaki.
Mark Notman put his Yamaha into sixth, ahead of Honda rider Nathan Wallpe and Yamaha rider Matt Pierce. Honda riders Steven Golden and Nathan Beyers rounded out the top 10.
In the morning race, Women's class winner Angel Atwell claimed the GT Thunder ATV Amateur $100 Overall Award on her KTM, beating out 4X4 Open riders Richard Cecco and Zachary Zakowski, both riding Can-Ams.
"This season has been tough for us and I wanted to go out good and make these guys proud because they put in so much work," says Atwell. "I also wanted to do this for Josh (Kirkland) because I know he can't be here."
In the Youth race, Westly Wolfe finally put his mechanical woes behind him and took his first win of the year on an APX, beating out Marshal Goings to top the 90 Modified (12-15) division, in addition to winning the overall. Meanwhile, Kirkland Vest rounded out the podium.
In UTV action, Team Starrett took the overall win ahead of Team Rath, while Team Stephens recovered from a second turn roll-over to finish third. All three teams were driving Polaris.
Final XC1 Standings
Final XC2 Standings
Pos.
Rider
ATV
Points
Pos.
Rider
ATV
Points
1.
Chris Borich
Suzuki
376 (11 wins)
1.
Brian Wolf
Honda
281 (5 wins)
2.
Taylor Kiser
Yamaha
309 (1 win)
2.
Walker Fowler
Yamaha
281 (4 wins)
3.
Adam McGill
Can-Am
256
3.
Gabe Phillips
Yamaha
238 (2 wins)
4.
Chris Bithell
Can-Am
226 (1 win)
4.
Kevin Yoho
Yamaha
214
5.
Don Ockerman
Yamaha/Honda
209
5.
Josh Kirkland
KTM
178 (1 win)
6.
Bryan Cook
KTM
164
6.
Corbin Knox
Honda
168 (1 win)
7.
Johnny Gallagher
Yamaha
162
7.
Eric Hoyland
Yamaha
163
8.
Jeffrey Pickens
Yamaha
161
8.
Dustin Canipe
Kawasaki
159
9.
Brandon Sommers
Yamaha
157
9.
Mark Notman
Suzuki
146
10.
Jarrod McClure
Polaris
131
10.
Parker Jones
Honda
137 Published October 25th, 2010 9:30 AM
Top Brands
Popular Articles