1 View
Inside Kawasaki's Production Facility
October 7th, 2010 9:23 AM
Share
We go behind the green curtain for production milestone
Walking down the street in Lincoln, Nebr. you would never think that a major manufacturer has set a production milestone in this small town. Kawasaki Motors Manufacturing Corp. did just that a couple of miles outside the city on a spread of 332 acres that has produced millions of products for today's consumers.
On Sept. 15 Kawasaki sent its three millionth vehicle down the production line and into the record books. A Kawasaki Teryx dressed in bright lime green made its way past the final inspection check point and was dressed for the occasion with ribbons and bows. The facility steadily poured full as over 1,200 employees walked into the warehouse to see the Teryx make its way down the line.
The Lincoln facility originally opened for business in April of 1974. Here are a few statistics that will give you an idea of the impact this plant has had in those 36 years:
Produced in Lincoln
• 36 different models of motorcycles
• 7 different snowmobiles
• 44 models of Jet Skis
• 46 different ATVs
• 44 models of utility and recreational utility vehicles
• 27 models of industrial robots
• 9 types of rail cars (Yes, rail cars, as in trains!)
• 25 million wheels for Kawasaki and customer products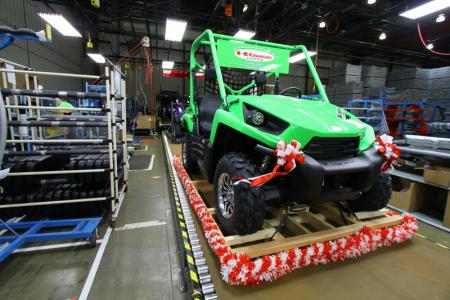 This amount of vehicles stretched end to end would reach to Honolulu Hawaii from the plant in Lincoln or the equivalent of 3,500 miles.
"Over 36 years to reach three million," says Mike Boyle, vice president and plant manager. "We provide the fun on the weekend and our products bring families together."
While attending the groundbreaking accomplishment of the three millionth product being produced from a household name in off-road powersports we were also treated to a tour of almost the entire production area. As we walked through the facility the amount of equipment and products built in this plant was overwhelming.
The ATV line ran smooth as many different versions of Kawasaki fun had to be built piece by piece. The amazing thing about the ATV line alone was the versatility of the employees there. Every other ATV seemed to be a separate model, which required the mechanic to know each and every product almost by heart. The complexity is very impressive as many small features had been implemented just to ensure no improperly assembled ATVs left the line. If a specific tool is required at certain stations it has a light that illuminates just as the unit arrives to the station. If this tool is not used and the ATV begins to move past the entire production line will automatically stop and alarms will indicate that problem. The torque is automatically set in each tool responsible for the tightening of each bolt and nut. There is no mistake that over three million units have been produced with the utmost care in quality control!
Another very fascinating feature of Kawasaki's Production facility is that if a special machine is needed to complete a specific product, Kawasaki does not outsource the engineering – it is built in house! From laser-cutting machines to robotics, there seems to be no limit to Kawasaki's vision.
Walking through the seemingly endless pathways we stopped to watch as a pre-impregnated sheet of fiberglass mat began its journey into a three-story machine that would eventually churn out a hull for one of Kawsaki's personal watercraft models. The Watercraft segment was not the only line running as we watched Mules and more Teryx side-by-sides slowly but surely making their way to the eventual crate deck to be shipped all over the world!
Published October 7th, 2010 9:23 AM
Top Brands
Popular Articles