22 Views
2011 Kawasaki ATV & UTV Lineup Unveiled
June 17th, 2015 4:12 PM
Share
We're committed to finding, researching, and recommending the best products. We earn commissions from purchases you make using links in our articles. Learn more here
What's next from Kawasaki?
Kawasaki has unveiled its lineup of 2011 ATVs and UTVs. Outside of new colors and price changes it pretty much mirrors the 2010 lineup. However, it should be noted that in the past two years Kawasaki has introduced new or updated models later in the year (September/October) so Team Green may not be done with its 2011 lineup just yet.
We'll tackle what we do know for sure first, but at the end of this article we'll speculate a little on what we may see (or at least what we'd like to see) from Kawasaki in the near future.
2011 ATV Lineup
Anchoring Kawasaki's ATV lineup is the always impressive Brute Force 750 4x4i ($8,849). We reviewed the 2010 version in January so we won't go into too much detail, but this unit features one of our favorite ATV powerplants – Kawasaki's liquid-cooled, 90-degree, fuel injected, 749cc V-Twin. Other highlights include dual A-arm front suspension, fully independent dual A-arm rear suspension, and an impressive 1,250 pounds of towing capacity. For 2011 the Brute Force 750 4x4i is available in Dark Royal Red, Woodsman Green, and painted Metallic Ruby Red.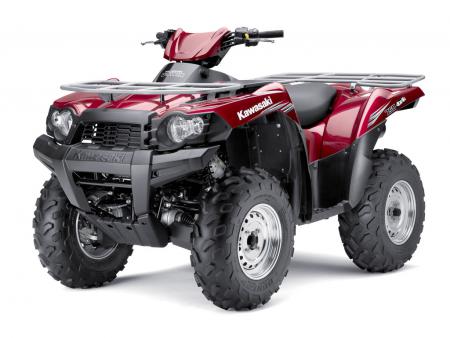 2011 Kawasaki Brute Force 750 4x4i
Also returning for 2011 are the Brute Force 650 4x4i ($8,099), which we reviewed here in 2009, and its price-conscious sibling – the Brute Force 650 4×4 ($7,599). Both units feature a 90-degree, liquid-cooled, 633cc V-Twin engine, but neither is fuel injected. The 4x4i comes with the same independent rear suspension as the Brute Force 750, while the 4×4 has a swingarm rear suspension with a single shock. For 2011 the Brute Force 650 4x4i is available in Dark Royal Red, while the 650 4×4 is offered in Smoky Blue or Super Black.
2011 Kawasaki Prairie 360 4×4 Camo
Rounding out the utility ATV lineup are the Prairie 360 4×4 ($6,149) that we reviewed in 2009, which also comes in Camo ($6,499), and the entry level Bayou 250 ($3,599). The Prairie really is a fun little ride and its air-cooled, 362cc engine, while not overpowering, is peppy enough to keep you entertained and it's a better climber than you'd expect. We haven't had a chance to ride the Bayou 250, but it offers great value for your dollar. Features include a 228cc engine and steel cargo racks that can hold a combined weight of 110 pounds. For 2011 the Bayou 250 and Prairie 460 4×4 are both available in Woodsman Green or Adventure Blue, while the Prairie is also offered in Realtree APG HD camouflage.
On the sport side Kawasaki is well represented by the KFX450R ($8,099). We reviewed Kawi's race-ready quad in December and its 449cc, fuel-injected engine oozes massive amounts of torque. The all-aluminum frame weighs a scant 26 pounds – noticeably lighter than much of the competition – while the shocks offer 20-position adjustability for rebound and compression. All told, this is an awesome sport quad that is equally at home on the MX track or tearing through the woods. For 2011 the KFX450R is available in Lime Green.
2011 Kawasaki KFX450R
Kawasaki hasn't forgotten about the younger sport riders. The KFX90 ($2,699) features an 89cc, four-stroke, single cylinder engine and a fully automatic transmission. Wary parents will be happy to know that they can control the speed of the machine thanks to its throttle limiting screw and a CVT transmission speed limiter. For 2011 the KFX90 is available in Lime Green.
2011 Teryx Lineup
2011 Kawasaki Teryx 750 FI 4×4 LE
2011 Kawasaki Teryx 750 FI Sport
Kawasaki just updated the Teryx lineup in 2010 with a new front end and a hinged, forward-tilting hood that offers improved access to front suspension and the cooling system for easier maintenance. For 2011 the Teryx is available in four versions – the base Teryx 750 FI 4×4 ($11,299), the Teryx 750 FI 4×4 LE ($12,099), the Teryx 750 4×4 FI LE Camo ($12,399), and the Teryx 750 4×4 FI Sport ($12,899).
The base Teryx, which we had a chance to review in November, is one of our favorite side-by-sides. It's built around Kawasaki's fantastic liquid-cooled, 749cc, 90-degree V-Twin engine. Fuel injection was added to the Teryx in 2009 and made an already potent powerplant even better. The engine is set right between the seats and this makes the Teryx, at least in our opinion, the best balanced side-by-side we've ever tested.
Other features include pre-load adjustable, gas-charged Kayaba shocks at all four corners, offering 7.5 inches of wheel travel. Additionally, stopping power is provided by dual 200mm disc brakes up front and Kawasaki's proven sealed, oil-bathed multi-disc rear brake system. For 2011 the base Teryx is available in Sunbeam Red.
Both the LE and LE Camo versions feature a half windscreen, rigid sun top and retractable dual cup holders. The LE model also features automotive-style paint, while the Camo version comes with Realtree APG HD camouflaged bodywork, dash, roof, wheels and bumper. For 2011 the Teryx LE is available in Metallic Nocturne Blue.
The Teryx Sport ( we reviewed a 2009 model) features high-performance cast aluminum wheels that remove approximately two pounds of unsprung weight from each corner. Also, the Sporty UTV comes with aluminum-bodied, gas-charged, piggyback-reservoir shocks at all four corners that are fully adjustable for spring preload, compression damping and rebound damping. For 2011 the Teryx Sport is available in Lime Green or Galaxy Silver.
2011 Mule Lineup
When it comes to utility-minded side-by-sides, Kawasaki's Mule lineup is the deepest in the industry. These machines are all about getting the work done, with a little fun thrown in for good measure.
The Mule 600 ($6,699) is the most affordable in the lineup. It's small enough to fit in the back of a full-sized pickup. Powered by a 401cc, air-cooled engine, the two-wheel drive Mule features a fully automatic transmission, a 400-pound-capable tilting bed, and 1,100 pounds of towing capacity. The next step up is the Mule 610 4×4 ($7,499), which is essentially the same as the base Mule except with selectable four-wheel drive. For 2011 the Mule 600 comes in Dark Royal Red, while the Mule 610 4×4 comes in Dark Royal Red or Super Black.
2011 Kawasaki Mule 610 4×4 XC
If you're looking for a little more performance out of your Mule, check out the Mule 610 4×4 XC ($7,899) and Mule 610 4×4 XC Camo ($8,299). These mules offer a little more trail capability, while still retaining all the utility. The most telling add-ons are the aggressive, 26-inch Maxxis Bighorn 2.0 radial tires – each mounted on a 12-inch wheel. These wheels increase the Mule's track by 1.3 inches and help provide 8.1 inches of ground clearance. For 2011 the Mule 610 4×4 XC s available in Adventure Blue or Super Black, while the Camo version is covered in Realtree APG HD camouflage.
2011 Kawasaki Mule 4010 Trans4x4 Camo
For a Mule with even more kick, look to the 4010 series. The Mule 4010 4×4 ($9,899) features a fuel-injected, liquid-cooled, 617cc V-Twin engine. This Mule also boasts a full-sized chassis, electric power steering, locking rear differential, a tilting cargo bed capable of carrying 800 pounds, and a towing capacity of 1,200 pounds. For 2011 the Mule 4010 4×4 is available in Super Black or Dark Royal Red.
Kawasaki also offers a diesel version of the Mule 4010 4×4 ($11,199), that is based around a three-cylinder, 953cc diesel engine. With the added power on board, this unit can carry 1,100 pounds in the cargo bed. For 2011 the Mule 4010 4×4 Diesel is available in Woodsman Green.
Providing even more versatility is the Mule 4010 Trans4x4 ($10,899). We reviewed this model in February and were impressed by its ability to switch from a two-passenger cargo-hauler to a four-seat people mover in a few easy steps. For 2011 this model is available in Nocturne Blue and Galaxy Silver, as well as Realtree APG HD Camo ($11,299). A diesel version ($12,199) is also available is Woodsman Green.
What's Next for Kawasaki
To be honest, we don't really know what to expect from Kawasaki for the rest of the year – if anything at all. However, we like to speculate as much as anybody and we've got a few guesses as to what Team Green may have in store in the not too distant future.
The most obvious choice is power steering. When it comes to the major manufacturers, Kawasaki is the only one not offering power steering on its ATVs. The Brute Force 750, as Kawasaki's flagship ATV, is a logical candidate for power steering. An EPS-equipped Brute Force would probably cost about $700 more than the base model and we think that is money well spent.
Another possibility from Kawasaki is a 500-class Brute Force. As it stands, Kawasaki has a pretty big hole between the Prairie 360 and the Brute Force 650 models. A 500-class machine would help bridge that gap. And while we're at it, let's make sure it's got independent rear suspension and electronic fuel injection so that it's just like its big brother – the Brute Force 750.
The last thing – and what we'd be most excited to see – is a 250cc sport quad. Yamaha has had great success with its Raptor 250 and there's no reason to think Kawasaki couldn't build a KFX250 (or KFX300) that would be just as capable. As nice as the KFX450R is, it's a race-bred machine and can be a little intimidating for somebody who wants to try out the sport. A 250cc sport quad provides a perfect introduction to sport riding.
Related Reading
2010 Kawasaki Brute Force 750 4x4i Review
2010 Kawasaki KFX450R Review
2010 Kawasaki Teryx 750 FI 4×4 Review
2010 Kawasaki Mule 4010 Trans4x4 Review
2009 Kawasaki Brute Force 650 4x4i Review
2009 Kawasaki Prairie 360 4×4 Review
2009 Kawasaki Teryx 750 FI 4×4 Sport Review
All Things Kawasaki on ATV.com Lucas Cooney
I have been working exclusively in digital media since 1997. I started out with TSN.ca, spending nearly nine years creating and editing content on Canada's leading sports website. I left to join VerticalScope, Inc., one of the world's largest online publishers, to start a number of powersports publications. While at VerticalScope, I've helped create and oversee content for a wide variety of different publications, including ATV.com, Off-Road.com, ArcheryTalk.com, Tractor.com, RVGuide.com, and many more.
More by Lucas Cooney
Published May 27th, 2010 11:24 AM
Top Brands
Popular Articles