1 View
Wienen Sweeps Motos at Spring Creek MX
March 16th, 2016 8:22 PM
Share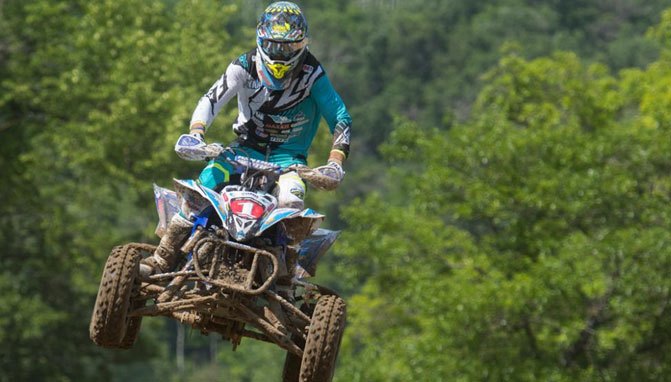 Hetrick, Rastrelli join Wienen on Pro podium
Faced with some of the most challenging track conditions of the season, Chad Wienen showed his championship pedigree by sweeping both motos at Spring Creek MX on Saturday, June 27 for round seven of the 2015 Mtn. Dew ATV Motocross National Championship.
Spring Creek has risen to notoriety by virtue of its rough and physically demanding layout, with such notorious obstacles as the sand whoops, "Holy Schmit" jump and "Mount Martin." These lap-after-lap challenges took their toll on the entire AMA Pro ATV field and ended up claiming championship contender Joel Hetrick with a big crash in practice that left the Hetrick Racing/Corrosion Specialties rider battered and bruised for the motos.
A tremendous crowd was on hand to cheer on the world's fastest ATV riders, and they saw Wienen (Motorsports/Maxxis/SSi Decals/Walsh Race Craft Yamaha ) make the first statement of the afternoon by breaking Hetrick's qualifying dominance in claiming his first ATVRiders.com Fastest Qualifier Award. Prior to Saturday, Hetrick had earned the award at all six rounds of the ATVMX season.
When the gate dropped on Moto 1, Hetrick fought through the effects of his practice crash to earn the SSi Decals Holeshot Award and led the field through the first few corners. However, Hetrick's lead wouldn't last long as Wienen took advantage of a strong start of his own to move into the first on the opening lap and quickly establish a multiple second lead. Hetrick tried to keep pace but was unable to keep Wienen close, allowing the defending champion to cruised to his fourth moto win of the season by just over 14 seconds. Hetrick held on to an assertive second-place finish, while JB Racing/Can-Am/Liquid Wrench's Jeffrey Rastrelli took advantage of a fourth-place start to move past Root River Racing's Josh Upperman into third on Lap 1 and secured the final podium spot. Maxxis Yamaha, powered by Moto-Xperts, rider Thomas Brown finished fourth, followed by Eleven18 Powersports Honda's Tyler Hamrick in fifth.
Hetrick showcased his toughness and resiliency yet again in Moto 2, jumping out to another SSi Decals Holeshot Award for a sweep of the day. As was the case in the first moto, Hetrick's early lead was short lived as Wienen enjoyed another great start as well and got around Hetrick on the opening lap. Hetrick again did his best to keep Wienen in sight, but the Yamaha rider was on a mission and marched his way to another dominant moto win by over 15 seconds. Hetrick easily claimed second again, while Rastrelli solidly earned another podium result in third. Brown finished fourth, with Upperman fifth.
Despite having four overall wins to his credit this season, Wienen's 1-1 moto sweep was his first this year. Hetrick overcame the effects of his crash to finish strongly in the runner-up spot (2-2), while Rastrelli made his anticipated return to the podium in third (3-3).
Wienen's dominant day moved him to a 21-point lead over Hetrick in the AMA Pro ATV standings with three rounds remaining. Brown, who finished fourth (4-4), sits 40 points out of the lead in third, with Upperman fourth (-120) and Nick Gennusa fifth (-132).
AMA Pro ATV Overall Results (Moto Results)
1. Chad Wienen, Galena, Ill., Yamaha (1-1)
2. Joel Hetrick, Seneca, Pa., Honda (2-2)
3. Jeffrey Rastrelli, Palm City, Fla., Can-Am (3-3)
4. Thomas Brown, Sanger, Texas, Yamaha (4-4)
5. Joe Byrd, Union City, Tenn., Honda (6-6)
6. Josh Upperman, Louisville, Ohio, Honda, (8-5)
7. Nicholas Gennusa, Wall Township, N.J., Yamaha (7-7)
8. Tyler Hamrick, Cortland, Ohio, Honda (5-12)
9. Vital Cazenave, Union City, Tenn., Honda (11-8)
10. Sean Taylor, Montezuma, Iowa, Honda (10-11)
AMA Pro ATV Championship Standings
1. Chad Wienen, Galena, Ill., Yamaha – 341
2. Joel Hetrick, Seneca, Pa., Honda – 320
3. Thomas Brown, Sanger, Texas, Yamaha – 301
4. Josh Upperman, Louisville, Ohio, Honda – 221
5. Nick Gennusa, Wall, N.J., Yamaha – 209
6. Jeffrey Rastrelli, Palm City, Fla., Can-Am – 208
7. Ronnie Higgerson, Cutler, Ill., Can-Am – 183
8. Vital Cazenave, Union City, Tenn., Honda – 155
9. Joe Byrd, Union City, Tenn., Honda – 154
10. Brett Musick, Verdunville, W.Va., Yamaha – 145
Published June 29th, 2015 11:45 AM
Top Brands
Popular Articles