1 View
Riding Out a Snow Storm on a UTV
April 6th, 2016 2:15 PM
Share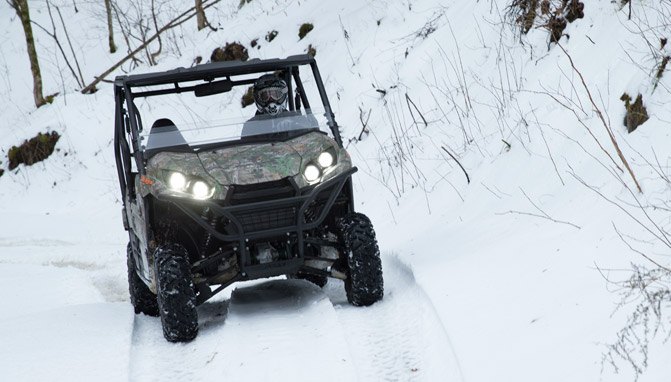 We went riding in West Virginia days after a crippling snowstorm
As the editor-in-chief of ATV.com, I've been lucky enough to attend dozens of ATV and UTV events, but a recent ride with Kawasaki in West Virginia is one I'll remember for many years.
Back in December of 2015 Kawasaki emailed us an invitation to ride the 2016 Teryx on the Hatfield-McCoy trail system. In the days leading up to the event, I started hearing about a massive snowstorm that was slated to hit the region. Rather than cancel the trip, Kawasaki thought it was a perfect opportunity for an off-road adventure. I agreed.
Washington, DC took the brunt of the Winter Storm Jonas, receiving more than three feet of snow in some places. I was supposed to fly through DC, but the airport was essentially shut down and I was re-routed through Chicago before landing in Charleston, WV about five hours later than initially scheduled. This wasn't too bad, considering editors of some other publications couldn't get there at all and one editor had to take four planes before finally meeting up with the rest of us.
We were greeted by plenty of wet snow in West Virginia.
We were staying in Logan, WV and the town had been hit pretty hard by the storm, including a broken water main that affected some local businesses.
2015 Gilbert National TrailFest Report Temperatures were starting to climb by the time we were ready to ride the next day and we made our way to the parking lot of a hardware store in Man, WV. We needed to use the lot as a staging area, as the snow prevented Kawasaki from getting its truck to the trailhead.
Once we got introduced to the new Teryx, it was time for some fun on the Rock House trails. Having been on this trail system this past October during National Trailfest, I was a bit nervous about how the snow would affect things. These trails often ride on the edge of some significant drops down the mountain and I had some worries about safety in the slippery conditions. Fortunately, these turned out to be unfounded.
Kawasaki's big truck couldn't get to the tralhead, so we unloaded the fleet of Teryx UTVs in town and drove them over.
Just before arriving at the trailhead, we were greeted by a parking lot covered in about six inches of wet snow (down from about a foot). Trying to gain traction was proving a little difficult, but setting Teryx in four-wheel drive changed all that. Suddenly the Teryx felt surefooted and confidence-inspiring, so we decided to keep it in 4WD for the rest of the day. We took some pictures and kicked up a bit of snow before being corralled and led to the trails.
Hatfield-McCoy employees led the way and we convoyed through the trees and up and down the mountains. Running a UTV through virgin snow brought out the kid in me. It's just plain fun!
Our guides kept us to the easier Green and Blue trails as we made our way towards Gilbert, WV. Unlike Trailfest, we had the place to ourselves. We stopped for photos and, since the warmer temperatures meant sticker snow, threw a few snowballs and generally had a great time messing around.
The ride to towards Gilbert started out fairly slow, but once the trail opened up a bit and everybody got comfortable with the conditions we ended up having a stellar ride.
Splashing through puddles of melted snow and mud is not a bad way to spend a day.
As a longtime snowmobiler, I came to West Virginia prepared with cold-weather riding gear. However, temperatures peaked around 40 degrees and I was able to keep my big gauntlet-style mitts and fleece-lined balaclava tucked away in the weather-resistant storage bin behind the seats of the two-seat Teryx I was driving.
Rain was starting to fall by the time we arrived in Gilbert. We meandered through town, past the local school that was still closed from the storm, and grabbed an outstanding lunch at Las Brisas Mexican Restaurant.
Luckily, the worst of the rain fell while we were eating and it had cleared up by the time we made the trip back to Man. The return trip went quickly and we put the fleet of Kawasaki Teryx UTVs through their paces on the 24-mile trip.
Upon arriving back at the trailhead in Man, we took turns whipping around in the snow-covered parking lot. It was like turning a bunch of kids loose in the park as we drove every which way and did all we could to flatten down every bit of snow in that lot. I'm surprised nobody hopped out to make a snow angel before leaving. Maybe next time.
While a big snowstorm can cause havoc for communities not used to seeing much of the fluffy white stuff, if you've got an ATV or a UTV it can be a recipe for a heck of a great time. Let everybody else stay cooped up at home and complaining about the weather. While they're busy moaning, you can go for a ride and make some great memories.
If you are ever in West Virginia, you need to check out the Hatfield-McCoy trail system. Not normally a winter wonderland, this system and the surrounding communities will have you coming back again and again.
Published February 3rd, 2016 9:44 AM
Top Brands
Popular Articles