22 Views
Honda Talon Turbo: First Ride Review
August 23rd, 2019 4:20 PM
Share
We're committed to finding, researching, and recommending the best products. We earn commissions from purchases you make using links in our articles. Learn more here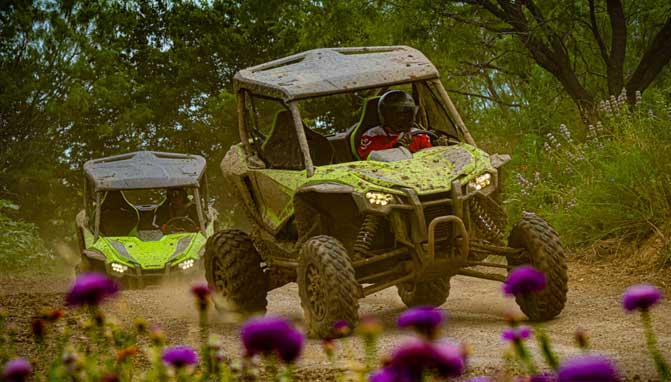 More punch, more fun! We drive the new turbo-equipped Honda Talon
At Honda's unveiling of the Talon sport side-by-side lineup earlier this year, the engineers were adamant about telling the media that the aftermarket would be in charge of developing any kind of engine modifications, or specifically a turbo, for the Talon UTV lineup. We got the feeling that these engineers were up to something, though, because they were quite coy about the fact that a turbo for the Talon was inevitable. Even with the little hints, they wouldn't confirm anything. So, to our surprise, Honda unveiled a factory-approved Turbo accessory kit for the Talon lineup at this year's 2020 model reveal. And we got to take this Honda Talon Turbo for a spin!
Let's get the Honda Talon Turbo facts straight… For those of you wondering, this is not a factory accessory. The full Turbo kit is made by Jackson Racing, which is an aftermarket company that Honda has worked with on many of its race vehicles and special projects in the past. The Turbo kit was, indeed, developed with the engineers at Honda doing a majority of the testing on the package. The Turbo kit will be sold through dealers, and depending on your financing approval, American Honda financing will allow you to lump in a Turbo kit into your overall financing of a new Honda Talon 2-seater. And, yes, the kit will be available for the two-seat Honda Talon 1000X and 1000R at the moment, but you can count on the fact that Jackson Racing will release this kit for the four-seat Honda Talon lineup, soon.
At the press launch, Jackson Racing went over a bit of the installation process with this Honda Talon Turbo kit, and it is actually fairly simple. They wanted to develop a kit that didn't require opening up the engine – a simple bolt-on application was imperative. The kit does just that, and from what we could see at the introduction, this kit doesn't require any heavy modifications to your plastics or overall vehicle. Bolt on, test, go!
Of course, it had to produce some serious upgrades in the horsepower department, too! That it does, with an approximate 60% increase in power at just 8psi of boost. Doing the math, 104 stock horsepower turns into about 166 Turbo'd horsepower with that 60% increase. Depending on how the government regulates this kit when CARB approval is given (the team is currently still working on CARB approval, and they will be done and approved before the kit goes on sale in the Fall), the number could be a bit more or a bit less.
The Honda Talon Turbo kit itself is made from some seriously high-end components. The turbocharger is an all-new, high efficiency unit from Garrett Motion. Jackson Racing produced a CAD-designed intercooler, which features cast aluminum end tanks and a Garrett core. Combined with a SPAL fan, this intercooler is made for efficiency and durability. An aluminum intake, stainless steel turbo manifold, factory ECU reflash designed for use with 91-octane fuel (this ECU also includes different DCT – Dual Clutch Transmission – shift schedules for turbo performance and feel), and a rethought air intake system complete the clean and precise package.
It's a heck of a clean installation, and get ready for some surprises when you fire it up! If you stick with the stock exhaust, you best be ready… The Turbo-equipped Talon is a sleeper! This is evident from the first engine cycle – it sounds just like a stock unit. Those with more race-inspired ears will love a race exhaust on this vehicle, but, personally, I'd keep this as one of the ultimate sleeper side-by-sides… There is no word on a factory-approved uncorked exhaust for this kit, but we are quite sure there will be exhaust options being made as soon as possible.
Obviously, there is no point in installing a Turbo on a side-by-side if the performance isn't there to back it up. With around 170 horsepower pumping out of this kit at the crank, I can tell you that this kit amps up the fun factor of the Talon by tenfold! Yes, the gracious folks at Honda did allow us to drive a 1000R with the Turbo kit installed…
Not only is the bump in power noticeable, but the best part is how the additional horsepower and torque is delivered through all four wheels. You could already short-shift the Talon with its smooth and precise Dual Clutch Transmission (DCT), and this driving technique is only enhanced with the Turbo. The bottom end is so much better, beginning right off idle. For example, coming out of the corners on Texplex's short course was a thrill ride in third or fourth gear as the surge of power really came on at around 2000 RPM and kept pulling all the way up to at least 8000 RPM. The linear power curve is easily modulated, and you can make full throttle upshifts smooth with the DCT transmission, especially in full manual mode. Those top areas of the RPM range is where the additional horsepower is very welcomed. The stock engine signs off at the top end of the rev range, but the turbo's performance enables this engine to keep on pulling almost all the way to redline.
At the end of the day, you need to know how smooth the power delivery is with this Turbo system attached to a Talon. There are no disadvantages to having the turbo, and this isn't always the case with other UTVs on the market. Adding a turbo can introduce power lag issues and a heightened tendency to have a more on-off power band instead of a smooth power band. This Honda Talon Turbo system exhibits none of those characteristics – it's smooth, well packaged, and provides a very usable and excellent feeling power increase to an already great machine.
Durability concerns are always present when we look at adding more horsepower and performance to a stock machine. Per Honda's extreme durability standards and excellent build quality, the stock Talon 1000R that we drove didn't skip a beat. But, we only got two laps in it around Texplex… The engineers commented that they couldn't make their long term test units show any signs of additional wear with the turbo attached. So, you're clear for takeoff!
After driving this Honda Talon Turbo, the big question is this – would I buy the Talon with this kit?!
Is that really even a question?! Well, yes, it actually is, because I wouldn't recommend the Turbo kit for everyone. If you're mostly taking your Talon (or future Talon…) to the sand dunes or wide open desert, or maybe even the open mountain fire roads, the Turbo kit is absolutely well worth your money. If you're going to be trail riding your Talon on tight, technical terrain, the stock unit has more than enough horsepower and capability to get you to your destination and back. As far as I can tell, there are no drawbacks to durability or capability, especially when you factor in the smooth power delivery. I look forward to testing out the kit more and really putting some miles on it, though…
Here's another thought for you… I was able to drive the Talon 1000R with the Turbo. If you're looking for a recommendation on which Talon to buy with the Turbo – either the 1000R or 1000X – I would recommend getting the full potential of the chassis, powertrain, and turbo package with the 1000R. This model gives you the full potential out of this package.
The other big question is this – how much hard earned money will the Honda Talon Turbo kit take out of your wallet? In the USA, the kit will retail for $5799.99. And, for those wondering, it is estimated that the kit will be available in the fall of 2019. Jackson Racing is waiting for CARB approval, and then it will be available at Honda dealers nationwide. Published July 26th, 2019 3:47 PM
Top Brands
Popular Articles