1 View
Is a Kawasaki Teryx 1000 Coming Soon?
August 28th, 2019 1:49 PM
Share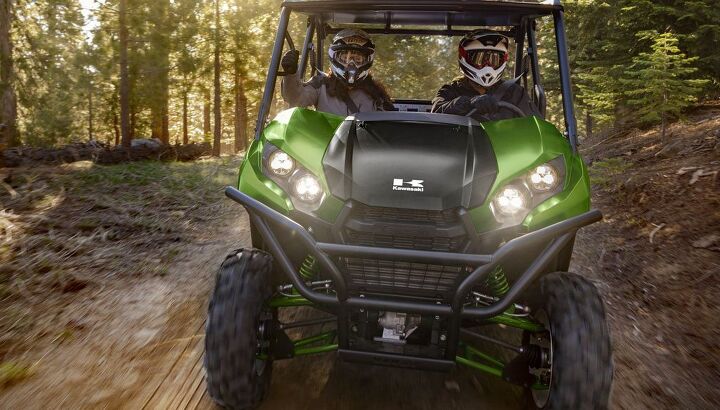 If we are right, this new Teryx will have a 999cc engine that produces 112.6 horsepower
While we've all been waiting patiently to lay eyes on Kawasaki's new Sport UTV, we've stumbled upon some other interesting news from Team Green. It looks like we may be seeing a Kawasaki Teryx 1000 in the near future.
According to documents released by the California Air Resources Board, Kawasaki has submitted emission testing results for a vehicle with the model name KRF 1000AL. While we initially thought this might be the new Sport UTV Kawasaki has been teasing, the KRF letters belonged to the Teryx lineup. In fact, we think the new Sport UTV will be called the KRX.
Check out KRXForum.com
The documents, which you can see here, reveal the engine in the KRF 1000AL is a 999cc mill, which is big news in itself. That's far and away the biggest engine Kawsaki has ever put in a four-wheeled vehicle. Even more interesting is that the possible Kawasaki Teryx 1000 will produce 112.6 horsepower!
Assuming this really is a Teryx, that is absolutely class-leading horsepower. For comparison's sake, the current class leader for horsepower is the Polaris General, which produces about 100 ponies.
To continue on with our speculation, we would also guess that this is the engine that will appear in the new Sport UTV. But the question is will the power output be the same? We'd assume the Sport UTV engine will be tuned to be a bit more aggressive, but will Kawasaki squeeze some more horsepower out of it? Or will there be a turbo option?
We suspect we will be learning a whole lot more on October 7, when the cover officially comes off the Kawasaki Sport UTV. Hopefully we will also get some confirmation about the Kawasaki Teryx 1000 as well.
Of course, we could be completely wrong and this could simply be the engine and horsepower information for the new Sport UTV. The good news is we don't have to wait too much longer to find out.
In case you haven't seen it yet, here is a quick teaser video Kawasaki put together about the release of the new Sport UTV, which we think is going to be called the Kawasaki KRX. Can't wait to find out for sure!
{ "id": "8846751", "alt": "", "title": "", "video_link": "https://www.youtube.com/embed/Kfz57WHnku0", "youtube_video_id": "Kfz57WHnku0" }
{ "width": 634, "height": 357, "showRelated": true }
Published August 28th, 2019 1:49 PM