1 View
2016 Polaris ATV and UTV Lineup Announced
July 31st, 2015 1:45 PM
Share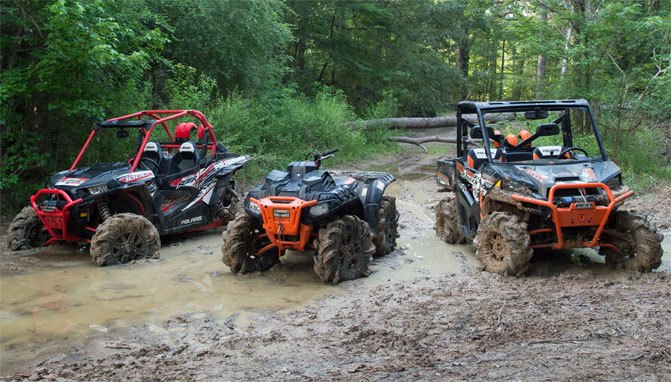 Host of new ATVs and UTVs added to Polaris' off-road family
Polaris has beefed up its off-road lineup a pair of new RZRs, four new Ranger models, three new Sportsman ATV offerings, and an expanded ACE family.
RZR
144-Horsepower 2016 Polaris RZR XP Turbo EPS Unveiled For model year 2016, Polaris is offering up a pair of new RZR models, along with improving comfort and making other enhancements to the majority of the RZR line.
The big news for 2016 is the all-new RZR XP Turbo EPS ($24,999), which pumps out an industry-leading 144 horsepower. You can read all about the new turbo-powered RZR here, including its new 925cc ProStar Turbo engine.
Along with the all-new RZR XP Turbo EPS, Polaris also is introducing the RZR S 1000 EPS ($17,999). The 60 in. RZR S 1000 EPS features a 100-horsepower ProStar 1000 engine, dual A-arm rear suspension with FOX 2.0 Podium X Shocks, High-Performance, True All-Wheel Drive System, standard Electronic Power Steering (EPS), bolstered seats, space-optimized footrests, factory-installed quarter doors. More than 90 Polaris Engineered Accessories are available.
2016 Polaris RZR S 1000 EPS
Other enhancements to the 2016 RZR line include what Polaris calls an optimized driver position on the RZR 1000 EPS, RZR 900 EPS, RZR S 900 EPS, RZR XC 900 EPS, RZR 4 900 EPS, RZR XP 1000 EPS, RZR XP Turbo EPS, RZR XP 4 1000 EPS, and non-EPS vehicles featuring a new seat angle that brings the driver's elbows closer to the body providing less arm fatigue and a more natural driving position. The RZR XP 1000 also will have adjustable seatbelt sliders.
Ranger
Polaris' Ranger family continues to grow for model year 2016 with two new full-size and two new two-seat vehicles, along with power upgrades and enhancements on existing models.
2016 Polaris Ranger 570 EPS Full Size
Up first is the new Ranger 570 Full-Size, which retails for $9,999. Features include a 60 in. wide three-seat chassis, tubular ROPS, 44-horsepower ProStar 570 engine, 1,500 lbs of towing capacity and payload, and 800 lbs bed capacity. This model is also outfitted with Independent Rear Suspension, tilt steering, bench seat for three occupants, and optional Speed Key that allows the operator to limit the vehicle's speed to 25 mph when desired.
To master the mud, the new Ranger XP 900 EPS High Lifter Edition Stealth Black ($18,499) is the industry's first three-seat mud riding machine. Similar to its RZR XP 1000 High Lifter Edition ($23,499) cousin, this UTV features reduced gearing for more mud-specific torque with an added a heavy-duty reverse chain, high engine air and clutch intakes and outlet, arched lower A-arms, 28 in. High Lifter Outlaw II tires, standard EPS, and an improved drainage skid plate. Specific to Ranger, the vehicle features a Pro-Lock On-Demand All-Wheel Drive for quicker four-wheel drive engagement to muscle through the mud. To get you out of a sticky situation, this UTV is equipped with a 4,500 lbs winch with integrated in-dash switches, specially-designed front bumper that provides higher winch access, and rear bumper. Finally, standard half doors provide protection from branches and brush.
2016 Ranger XP 900 EPS High Lifter Edition
One of the first vehicles resulting from Polaris' partnership with Brammo Inc., the two-seat Ranger EV Li-Ion Polaris Pursuit Camo ($22,999) offers more than three times the total battery lifespan of traditional acid batteries, and more than twice the range (claimed 50+ miles) on one charge. To complement the Lithium-Ion battery technology, this model features a single 48-volt, high-efficiency, AC-induction motor. The new system also features a Battery Management Controller which continuously monitors battery usage for a more accurate representation of battery life. A Vehicle Control Module (VCM) allows for a new digital gauge with speedometer and improved accessory integration. The vehicle also is equipped with on-vehicle diagnostics for easier servicing.
2016 Polaris Ranger EV Li-Ion
Also new to the two-seat line is the addition of the Ranger 570 EPS Hunter Edition Polaris Pursuit Camo ($12,599). Built specifically for the demands of hunting, this UTV features Polaris' Active Descent Control (ADC) system for more controlled descents, making it ideal for hunts in mountainous terrain. Other features include Pro-Lock On-Demand All-Wheel Drive system, a 3,500 lbs winch, and dual Lock & Ride Gun Scabbards.
2016 Polaris Ranger 570 EPS Hunter Edition Polaris Pursuit Camo
More power also comes to the Ranger line with the addition of high output ProStar engines to the Ranger Crew 900-5, Ranger Crew 900-6 models, Ranger 570 and Ranger Crew 570-6. The Ranger Crew 900 models will now boast 68 horsepower, similar to the Ranger XP 900 models, and the Ranger XP 570 and Ranger Crew 570-6 will now feature 46 horsepower.
Enhancements to the Ranger line include an updated hood design with a new look for the Ranger XP 900 and Ranger XP 570 and Crew vehicles. Both the Ranger XP 900 EPS and Crew 900 painted models are now equipped with Pro-Lock On-Demand All-Wheel Drive.
Sportsman
For Model Year 2016, the Sportsman line adds three new models, including two for the mud lifestyle, in addition to several improvements and new color choices.
2016 Polaris Sportsman 850 High Lifter Edition
Polaris has partnered with High Lifter to offer two ATVs made for the mud, the Sportsman XP 1000 Stealth Black High Lifter Edition ($13,999) and Sportsman 850 Orange High Lifter Edition($9,999). With 85 horsepower and 78 horsepower respectively, Polaris says these are the most-affordable mud units in their classes.
To ensure the power plants breathe, the units feature shielded high engine air and clutch intake/outlets as well as high mounted vent lines. For cooling, both vehicles have been equipped with a relocated, rack-mounted radiator with inverted dual fans, an industry-exclusive design that pulls clean air through the bottom of the radiator for improved cooling and reduced clogging. For more mud-specific torque, both units are equipped with a High and Low transmission with lower gearing. The XP 1000 benefits from the Polaris High Performance, Close Ratio Front Drive, which provides quicker On-Demand four-wheel drive engagement to handle the toughest mud holes. Both units come with 29.5 in High Lifter Outlaw II tires and a redesigned suspension featuring stiffer springs for higher ground clearance, exclusive front and rear high-arched, constant radius dual A-arms, and new articulating rear suspension.
2016 Polaris Sportsman XP 1000 Stealth Black High Lifter Edition
Additions found specifically on the Sportsman XP 1000 High Lifter Edition include custom paint and graphics, aluminum wheels, EPS, and an industry-first handlebar-mounted mud bar. The vehicle also features custom color matched, high-mounted front and rear bumpers, factory-installed Polaris 3,500 lbs winch with sealed handlebar switch and front tow hooks.
For the entry-level consumer, Polaris also is introducing the new Sportsman 450 H.O., which delivers more power and performance for $5,999. The Sportsman 450 H.O. features ProStar engine delivering 31 horsepower. The vehicle shares many of the same features found on the Sportsman 570, including Polaris' On-Demand, True AWD, MacPherson Strut front suspension, IRS, and Lock & Ride accessory integration.
2016 Polaris Sportsman 450 H.O.
Improvements to the existing models for 2016 include 50 percent stronger front half shafts and improved driveline on all 850cc and 1000cc models. The Sportsman 850s also will have a new CST aggressive trail tire that works as great as it looks. Sportsman 450 H.O. and 570cc models will feature a new seat with more comfortable foam, durable seat base, new, more-powerful 660 watt stator to run more accessories, and added exhaust pipe shielding. The full line of Sportsman and Scrambler vehicles also receive a new, high capacity, high-flow air filter for improved air flow and dust filtration to the engine.
ACE
Polaris has given its ACE family a new high-powered flagship – the ACE 900 SP ($11,499). This model features a 60-horsepower ProStar 900 engine with both Electronic Fuel Injection and Electronic Throttle Control.
2016 Polaris ACE 900 SP
Along with more power, more comfort comes to the ACE 900 SP with Polaris' EPS system. For optimum control, Polaris says the front stabilizer bar improves handling. The vehicle also features new dual rate rear springs as part of the its Independent Rear Suspension. Paired with the 25 in. tires and Polaris' High Performance Close Ratio On-Demand All-Wheel Drive, this is the most capable ACE ever.
Youth
Polaris' Youth line up will include four 2016 ATV youth models, the Phoenix 200, Outlaw and Sportsman 110 EFI, and Outlaw 50 based upon the Specialty Vehicle Institute of America's (SVIA) ATV categories. Polaris also will offer the 2016 RZR 170 EFI as a Youth Side-by-Side model.
Published July 28th, 2015 2:38 PM
Top Brands
Popular Articles