20 Views
2014 Can-Am Renegade 1000 vs. Polaris Scrambler 1000 – Specs Shootout
June 18th, 2015 2:36 PM
Share
We're committed to finding, researching, and recommending the best products. We earn commissions from purchases you make using links in our articles. Learn more here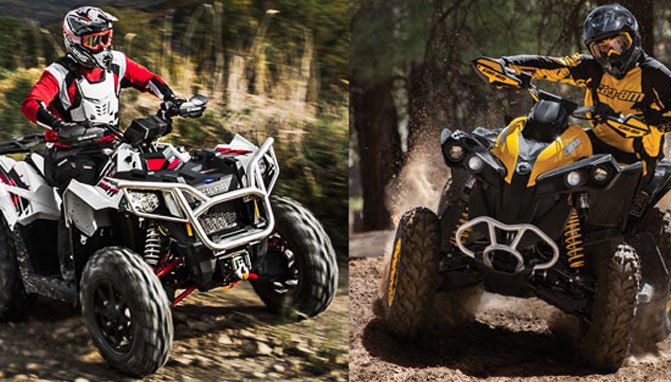 Comparing the two heavyweight Sport-Utility ATVs
In this day and age when it feels like everything new seems to come with a roll cage and bucket seats, it's exciting to see two OEMs appeasing thrill seekers with a propensity for high horsepower without the confines of a cockpit. At over 680 pounds each, it's difficult to classify the Can-Am Renegade 1000 and Polaris Scrambler 1000 as purely Sport models, but there is no denying they were developed them with performance in mind.
Discuss this at our Can-Am Maverick Forum
The Renegade has been part of the Can-Am lineup since the 2007 model year. Its original competitor was the Kawasaki KFX700, but that disappeared in 2010. Polaris came to market in 2013 with the Scrambler 850, aimed directly at the Renegade 800R, and one year later took on the Renegade 1000 with the Scrambler 1000 XP.
Heavyweight Sport-Utility Specs Comparison
Polaris Scrambler 1000
Can-Am Renegade 1000
Price
$13,299
$11,049 ($13,549 for X xc model)
Wheelbase
53.0 in
51.0 in
Width
48.6 in
46.0 in
Dry Weight
767 lbs
687 lbs
Front Tires
Carlisle 489 II, 26×8-14
ITP Holeshot, 25×8-12, 6 Ply
Rear Tires
Carlisle 489 II, 26-10-14
ITP Holeshot, 25×10-12, 6 Ply
Ground Clearance
11.5 in
10.5 in
Fuel Capacity
5.25 gal
5.4 gal
Horsepower
89
82
Engine
952cc Twin
776cc Twin
Fuel System
Electronic fuel injection
Electronic fuel injection
Seat Height
35.0 in
34.5 in
Suspension
Front and rear dual A-arm with Fox Podium X 2.0 shocks
Dual A-arm front/Tortional trailing arm rear with Fox HPG shocks
Suspension Travel Front / Rear
9 in / 10.25 in
9 in / 9.5 in
Brakes
Single Lever 4-wheel hydraulic Disc with Hydraulic rear foot break
Dual Hydraulic Disc with Independent front and rear brake controls
Lighting
LED
Halogen
Instrumentation
Digital guage, Speedometer, Odometer, Tachometer, Two Tripmeters, Hour Meter, Clock, Service Time, Diagnostic Indicator, Gear Indicator, Fuel Guage, Hi-Temp/Low-Batt Lights, DC Outlet
Digital guage, Speedometer, tachometer, odometer, trip and hour meters, fuel, gear indicator, 4×4 indicator, diagnostics, clock, auto shutoff
Towing Capacity
1,500 lbs
1,300 lbs
Driveline/Differential
Shaft drive PVT with on demand AWD / 2WD
Shaft Drive CVT with selectable 2WD / 4WD with limited slip differential and differential lock
Rack Capacity
25 lb / 50 lb
N/A
Power Steering
Standard
Available on X xc model only
For two competing vehicles from two opposing brands, the machines share a number of unique characteristics. For starters both feature dual A-arm front suspension providing 9.0 inches of travel with the Scrambler offering 10.25 inches in the rear over the Renegade's 9.5. Fuel capacity is nearly identical with 5.4 gallons for the Renegade and 5.25 gallons for the Scrambler.
Read our review of the 2014 Polaris Scrambler 1000 XP
Both machines feature dual hydraulic disc brakes and the more Sport-oriented riders will appreciate the selectable 2WD/4WD transmission. Digital displays come standard on both models while the Scrambler features LED headlights and the Renegade uses halogen lamps.
In the motor department, both feature fuel injected single overhead cam Twin cylinder engines that crank out some big numbers. The Scrambler is at a slight advantage with 89 horsepower, seven ponies more than the Renegade's 82. That's no real surprise, however, since the Scrambler was designed specifically to compete with the Renegade which was already in production. It will be interesting to see if Can-Am increases the horsepower in the near future.
Seen here in its base trim, the Can-Am Renegade 1000 was been unchallenged in the heavyweight Sport-Utility segment before Polaris unleashed the new Scrambler.
Weight is a big factor that can affect the performance of the vehicle and this is probably the Achilles heel of the Scrambler. At 767 pounds it weighs 80 pounds more than the Renegade; a considerable difference for a vehicle that's meant to be a direct competitor.
Read our comparison of the 2014 Polaris RZR 800 vs. Arctic Cat Wildcat Trail
To help control that much weight traveling at speed down a trail, Polaris gave the Scrambler a larger footprint with a two-inch longer wheelbase and over 2.5-inch wider stance. It also offers an extra inch of ground clearance, due in part to the larger 26-inch tires over the Renegade's 25-inch meats. Polaris' 14-inch wheels may be partly to blame for the added weight, but certainly aren't the only cause.
As for capacities, the Scrambler can tow an impressive 1,500 pounds, compared to 1,300 for the Renegade. As well, the Scrambler's front and rear racks can carry a combined 75 pounds, while the Renegade doesn't come with any racks.
The Polaris Scrambler 1000 XP boasts more towing capacity, as well as front and rear racks for extra storage possibilities.
At $13,299, the Scrambler is a hefty $2,250 more than the base Renegade 1000; however, electronic power steering and Fox Podium 2.0 shocks are standard issue on the Polaris. The base model Renegade has no power steering and comes standard with Fox's HPG (High Pressure Gas) shocks, but the Renegade 1000 X xc ($13,549) includes the same Fox Podium 2.0 Shocks as well as Can-Am's Tri-Mode Dynamic power steering. The jump to the X xc model also includes beadlock wheels, which the Scrambler does without.
Read our preview of the 2015 Can-Am ATV and UTV Lineup
If you add up the costs of EPS, comparable shocks and beadlock wheels, the price jump to the Renegade 1000 X xc from the base Renegade 1000 is worthwhile. That being said, it's nice to have options for those people on a budget and BRP has done well by offering two Renegade models at different price points.
Can-Am's X xc package for the Renegade 1000 includes Tri-Mode Dynamic Power Steering, Fox Podium 2.0 shocks and beadlock wheels with color-matching rings.
Regardless of which vehicle you choose, we're just glad to see OEMs continue to bring new levels of innovation to the sport. Competition between manufacturers ultimately means more options for the consumer, which gives every rider the opportunity to find something that suits their specific style. Now we'll just have to wait and see if any other manufacturers decide to throw their hat in the big bore Sport Utility ring! Seth Fargher
Growing up in Oregon, most of Seth's involvement in the powersports world was limited to what he saw in magazines and videos. Following a brief stint in the corporate world, Seth took a flying leap (literally) and moved to California to pursue a career in freestyle motocross. Though short lived, the opportunity immersed him in the industry and is now a well-established off-road writer.
More by Seth Fargher
Published June 11th, 2014 5:49 AM
Top Brands
Popular Articles