67 Views
2014 Polaris RZR 800 vs. Arctic Cat Wildcat Trail – Specs Shootout
June 18th, 2015 4:26 PM
Share
We're committed to finding, researching, and recommending the best products. We earn commissions from purchases you make using links in our articles. Learn more here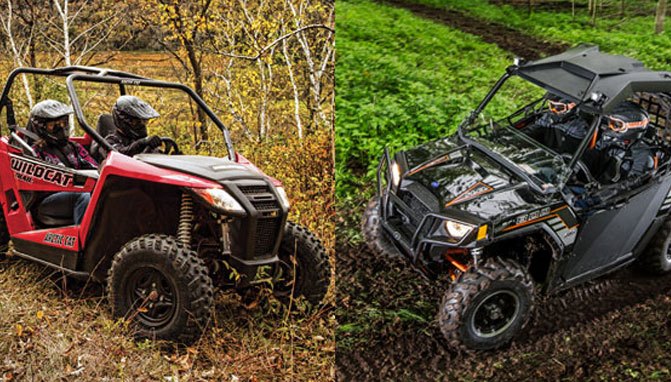 How do these 50-inch UTVs stack up on paper?
Bigger isn't always better and while it seems like most of the UTV world is focused on higher displacement and more suspension travel, a growing number of hard core trail enthusiasts have been making their voices hear and the OEMs are starting to take notice. Enter the 50-inch Sport Side-by-Side class – the Polaris RZR 800 and Arctic Cat Wildcat Trail. These "Trail" models are not just scaled down versions of their larger relatives, but are specifically engineered to excel in tight terrain.
These two machines are designed specifically for the throngs of people that want to enjoy our nation's thousands of miles of trails from the comfort and protection of a UTV.
Read our review of the Polaris RZR 800
Read our review of the
Arctic Cat Wildcat Trail
Because we all have our own unique preferences, we thought we'd make it easy on you and provide a side-by-side comparison of some of the key technical specs of each machine. Whether you're adamant about a certain level of ground clearance or you're just concerned with being able to fit it inside your toy hauler, we want to give you as much information as possible to help you make an informed decision.
50-inch Sport UTV Specs Comparison
Polaris RZR 800
Arctic Cat Wildcat Trail
Price
$11,499
$10,999
Wheelbase
77.0 in
84.6 in
Overall Dimensions L x W x H
103 x 50 x 69 in
110.5 x 50 x 64.3 in
Dry Weight
993 lbs
990 lbs
Front Tires
Ancla 25×8-12, 6 Ply
Carlisle Trail Pro 25×8-12, 4 Ply
Rear Tires
Ancla 25×10-12, 6 Ply
Carlisle Trail Pro 25×10-12, 4 Ply
Ground Clearance
10.6 in
10.0 in
Fuel Capacity
7.25 gal
7.4 gal
Horsepower
53.2
62.9
Engine
760cc V-Twin
700cc V-Twin
Fuel System
Electronic fuel injection
Electronic fuel injection
Suspension Travel Front / Rear
9 in / 9.5 in
10 in / 10.5 in
Shocks
Dual A-Arm with Anti Sway Bar and ZF Sachs Shocks
Dual A-Arm with Fox Shocks
Brakes
Four-Wheel Hydraulic Disc with Dual-Bore Front Calipers
Hydraulic Discs
Lighting
Halogen 55W low/ 60W high
Halogen with LED Tail lights
Instrumentation
Digital Gauge, Speedometer, Odometer, Tripmeter, Tachometer, Coolant Temperature, Volt Meter, Hour Meter, Service Indicator, Clock, Gear Indicator, Fuel Gauge, Hi-Temp Light, Seatbelt Reminder Light, DC Outlet
Digital Gauge, Speedometer, Odometer, Tachometer, Coolant Temperature, Hour Meter, Service Indicator, Clock, Gear Indicator, Fuel Gauge
Towing Capacity
1,500 lbs
1,500 lbs
Driveline/Differential
On-Demand True AWD/2WD
2WD/4WD with Eletronic Dif Lock
Bed Capacity
300 lbs
300 lbs
Transmission
Automatic PVT
Rapid Response CVT
By the numbers these two vehicles are actually quite similar, with identical tire sizes, towing capacity and cargo bed capacity. While they also share the same 50-inch wide stance, the Wildcat Trail's 84.6-inch wheelbase is over seven inches longer than the RZR's. Not unlike the Wildcat 1000, it almost seems as if Arctic Cat is making the longer wheelbase somewhat of a trademark. It makes sense on the Wildcat 1000 model that's designed for the dunes and desert as the longer wheelbase helps it absorb bumps and remain stable at high speeds, but on a machine built specifically for the trail, high-speed performance isn't necessarily a high priority. The longer wheelbase could also make it somewhat of a challenge on really tight trails.
More horsepower and longer suspension travel are hallmarks of the Wildcat Trail.
Upping the horsepower on a machine while at the same time lowering the price almost seems too good to be true, but that's exactly what Arctic Cat did with the Wildcat Trail. At 62.9 horsepower, the Wildcat Trail has nearly a 10-horsepower advantage over the RZR 800. Again, one can ask the question, just how fast do you plan to thrash down the trail with all that extra power? Still, many people are constantly on the hunt for more horsepower so the 10 extra ponies might just be the selling point and at $10,999, the Wildcat Trail will let you keep an extra $500 in your pocket compared to the $11,499 RZR 800.
When Arctic Cat first released the Wildcat 1000, engineers made sure the kitty offered the most suspension travel in its class. True to form, the Wildcat Trail's 10 inches of front suspension travel and 10.5 inches of rear travel is an inch more than the RZR 800. However, the RZR provides an extra half-inch of ground clearance. A half-inch might not seem like much, but when you're crawling through a rock field in a place like Moab, Utah, it can be the difference between enjoying your day on the trail or getting high-centered and in need of a tow.
Ground clearance and its compact size set the RZR 800 apart.
There's little doubt that Arctic Cat designed the Wildcat Trail as a direct competitor to the RZR 800. As a new model, the Wildcat Trail has some impressive numbers that might give it the edge on paper over the RZR 800. However, the RZR 800 is a tried and tested machine with a longstanding history as the first purely Sport Side-by-Side. Over the years Polaris has been able to fine-tune the machine and currently offers several different models with additional features, including several special edition versions with electronic power steering and upgraded shock packages.
Whether you favor the proven reliability of the RZR 800 or prefer the added horsepower and lower sticker price of the Wildcat Trail, it's great seeing OEMs answer the call of the marketplace and creating some healthy competition while providing users with more options to meet their specific needs. Seth Fargher
Growing up in Oregon, most of Seth's involvement in the powersports world was limited to what he saw in magazines and videos. Following a brief stint in the corporate world, Seth took a flying leap (literally) and moved to California to pursue a career in freestyle motocross. Though short lived, the opportunity immersed him in the industry and is now a well-established off-road writer.
More by Seth Fargher
Published April 2nd, 2014 1:17 PM
Top Brands
Popular Articles