1 View
2015 Polaris Sportsman 570 EPS vs. Can-Am Outlander L 500 DPS
September 10th, 2015 11:46 AM
Share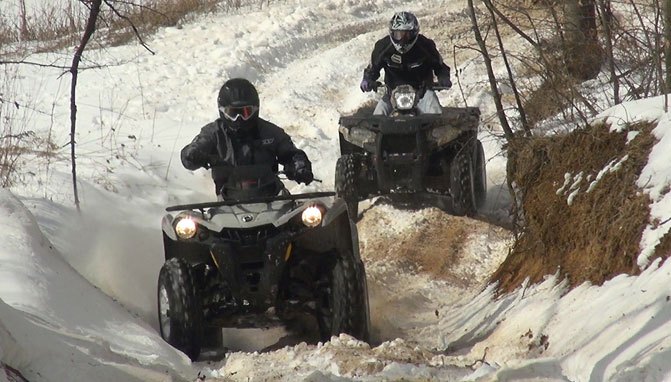 Value 4x4 ATV Shootout
Hidden in the background behind headline-grabbing 120-horsepower Side-by-Sides and 1000cc ATVs are two machines that offer more bang for your buck than perhaps any other in our industry's history – the Polaris Sportsman 570 and Can-Am Outlander L 500.
The Polaris Sportsman 570 evolved from the best-selling ATV of all time, the Sportsman 500. Polaris replaced the old 500's engine with the Pro Star 570 in 2014, increasing its power by 22%. The new engine allowed the midsection to be slimmed by 3.25 inches, improving ergonomics. Remarkably, the base Sportsman 570 is offered at the same price as the Sportsman 500 was back in 1996 – $6,499.
The Can-Am Outlander L 500 DPS (left) and Polaris Sportsman 570 EPS (right) are fighting it out to see which offers the best package of value and performance.
BRP aggressively went after Polaris' price-point dominance with the 2015 Outlander L 450 and 500 family of ATVs. The L 500 received the proven and recently updated Rotax 500 V-Twin engine, housed in a slightly revised version of Can-Am's Generation 2 chassis. With an extremely attractive price tag and an industry-leading five-year warranty, the Outlander L 500 was clearly a contender for the Sportsman 570's crown as Value King.
Eager to see which value-priced ATV would reign supreme, we secured both models for a long-term test and comparison.
Setting the Stage
Our shootout took place at Haspin Acres Off-Road Park in Laurel Indiana. Haspin's 750 acres feature trails ranging from wide open and fast to technical and rocky, there is even a sand section with a little short course we used for lap times. Over four days of testing we encountered dry dirt, slick muddy trails, and virgin snow. Our test riders included Joe Hunt, a novice who stands 5'11" and weighs 185 pounds; Damon James, a beginner level ATV rider who stands 6'2" and weighs 125 pounds; and Rob Ray, a highly skilled rider who stands 5'8" and weighs 210 pounds.
Indiana's Haspin Acres Off-Road Park was our testing ground for this comparison and it provided a bounty of challenging terrain.
For our shootout, Polaris outfitted us with a 2015 Sportsman 570 EPS ($7,499) dressed in Polaris Pursuit Camo, while Can-Am sent us a 2015 Outlander L 500 DPS ($7,899).
Engine Performance
The 567cc, fuel injected, ProStar 570 engine powering the Sportsman features a four-valve, double-overhead-can design and puts out 43.7 horsepower. The Outlander's fuel-injected, 499.6cc, Rotax V-Twin features four-valves and single overhead cams per cylinder, producing 45.6 horsepower. That is the same claimed horsepower as the Yamaha Grizzly 700. Both the 500 and 570 possess more horsepower than any other machine in their class, regardless of retail price.
Polaris' ProStar 570 engine offers impressive low-end power.
The Sportsman 570 delivers low-end power that will make most big-bore, single-cylinders jealous. It easily takes the win in low-end power, and remains competitive in the midrange, but the engine struggles to gain to build speed in the upper 50 mph range. Both machines feature responsive transmissions. The Polaris' low range seems geared lower, helping get a heavy load moving, but offering less versatility on the trail. Polaris took top honors in engine braking due to its notably stronger stopping force which comes in handy while loaded or towing. In ride-ability, the 570 edged out the Can-Am, due to its immediate low-end power delivery.
COMPARISON: Read our review of the 2014 Polaris Sportsman 570 EPS
The Can-Am's low-end power delivery is smooth, but feels a bit lacking compared to the Sportsman. Midrange power comes rushing in with a smooth sport-quad like quality. The 500 seems to pull harder through the midrange and seems willing to rev endlessly. Combined with its wider powerband, our riders found its low-range was more versatile for the trail riding and work. Although its engine braking wasn't as powerful, the riders preferred its lighter, smoother engagement. Overall ride-ability suffered a bit as the V-Twin's midrange and top-end oriented powerband require you to rev the engine more and ride harder to match the off-idle punch of the Polaris.
While it lacks a bit of low-end punch, the Rotax 500cc V-Twin has top end power for days.
Looking at the scores, the Outlander wins by a hair in the engine category.
| | | |
| --- | --- | --- |
| Engine | Can-Am Outlander L 500 DPS | Polaris Sportsman 570 EPS |
| Low-end Power | 6.5 | 9.17 |
| Midrange Power | 8.33 | 7.5 |
| Top-end Power | 8.83 | 6.67 |
| Transmission Effectiveness | 8.67 | 7.33 |
| Enging Braking | 8.0 | 8.5 |
| Overal Ride-Ability | 8.33 | 8.5 |
| Total Score | 8.11 | 7.94 |
Drivetrain Performance
Both models offer shaft drive to all four wheels and the ability to operate in two-wheel drive and four-wheel drive.
It's difficult to fault Polaris' all-wheel-drive system. It works well nearly everywhere on the trail, locking in and providing predictable four-wheel control in sand, snow, or deep mud. We found a couple of instances where the AWD system faltered and they were mainly apparent because we rode the Sportsman back to back with the Outlander L.
Overall Polaris' AWD system is a strong performer, but it struggled somewhat on rocky, technical climbs to keep forward momentum going when the rear wheels would lose traction.
The first was climbing a two-stepped rock ledge where the rear wheels would break traction for an instant while the front wheels engaged. This costs a bit of momentum, while making traction and handling a little less predictable.
The 570's drivetrain works flawlessly for pulling or pushing heavy loads, although there was some front end push while pulling a loaded trailer since the front wheels wouldn't engage to help pull the front end through the turns.
The Outlander L 500 had no issue finding traction in sand, mud, or snow, but seemed to excel in situations that challenged the Polaris. Working its way up the rock ledges, the Outlander's continuously driving front end helped pull it up and over with more consistent traction, making this obstacle easier to overcome. Steering was more predictable when pulling a loaded trailer on the Can-Am's since its continuous front wheel drive helps pull you through turns.
The upgraded Quick Engagement Visco-Loc engagement on the Outlander offers very consistent traction that impressed our test riders.
The Visco-Loc Quick Engagement front differential found in the 500 DPS locks in quickly and smoothly when one front wheel loses traction and begins spinning. It's worth noting that if you are interested in the base model Outlander L, it lacks the upgraded Quick Engagment Visco-Loc system and will take a little longer to engage both front wheels.
Our riders unanimously preferred the four-wheel-drive engagment and effectiveness of the Can-Am giving it the win in drivetrain performance.
| | | |
| --- | --- | --- |
| Drivetrain | Can-Am Outlander L 500 DPS | Polaris Sportsman 570 EPS |
| Four-Wheel-Drive Engagement | 9.33 | 6.83 |
| Four-Wheel-Drive Effectiveness | 9.33 | 7.83 |
| Total Score | 9.33 | 7.33 |
Suspension Performance
To put it simply, the Sportsman 570's suspension just works well. On small bumps it's not quite as plush as the Can-Am, but not harsh by any means. On larger bumps, jumps, and G-outs, the Sportsman feels bottomless in comparison to the Can-Am. In uneven bumps, the Polaris tracked straight and didn't wander. In whoops it got beat up a bit in the ratings because Rob pushed it hard enough till it kicked out. However, if we simply looked at the suspension's ability to absorb bumps it would win the suspension category.
Our testers like the way the Sportsman handled itself on uneven bumps. As well, its plush suspension showed no signs of bottoming on larger bumps.
With its rear shocks in the softest setting they were firm enough for all the work and play we dished out, but couldn't be softened up enough to make them as plush as the Can-Am. The front shocks are not adjustable.
Can-Am's Outlander L is the king of plushness. Cruising along it does a superb job of sheltering you from the small bumps. In rock gardens, chop, and uneven bumps, the Can-Am can get a little busy feeling at speed. We softened up the rear shocks all the way, which helped the 500 track better. On big hits the front shocks will find their limits first and the Can-Am bottoms notably easier than the Polaris. We ran the front shocks one notch from full stiffness to offer more bottoming resistance and reduce body roll. The feeling of the Outlander's shocks rated higher in the whoops, but the Can-Am was framing out on the faces of some whoops which we wouldn't want to do for long on a machine we just purchased. For work we firmed up the Outlander's shocks all the way, with very good results.
Adjustable front and rear shocks set the Outlander apart in the eyes of our testers.
The Can-Am is plush, but can be firmed up enough. The Polaris' firmer ride can't be softened up, so while it's not extremely clear cut, the adjustability of the Can-Am's shocks brought home the win in Suspension.
| | | |
| --- | --- | --- |
| Suspension | Can-Am Outlander L 500 DPS | Polaris Sportsman 570 EPS |
| Small Bumps | 8.33 | 7.33 |
| Large Bumps | 7.17 | 8.17 |
| Uneven Bumps | 7.17 | 8.33 |
| Whoops | 7.67 | 7.0 |
| Tune-Ability | 8.33 | 5.53 |
| Total Score | 7.73 | 7.27 |
Handling
Steering on the Outlander L is quick and precise. For most riding situations the Tri-Mode Dynamic Power Steering worked best in its low-assist setting, providing ample assistance while minimizing the Outlanders nervous feeling at high speeds. The 500 isn't unmanageable at high speeds, it just keeps you on your toes more than the Polaris. Our test riders did appreciate the power steering's medium and high-assist settings for slow speed rock crawling, or when hauling a heavy load on the racks.
Due to its narrower stance and softer suspension, the Outlander was not as stable in the corners as its competitor.
Cornering stability suffered a bit on the Can-Am due to its narrower width and softer suspension, which allowed for more body roll. Stiffening up the front shocks and softening the rear helped flatten the machine out some in the turns, but it still requires more body English to ride aggressively. The Can-Am is only a bit lighter than the Polaris, although it feels noticeably lighter and more nimble. Fast steering at high-speeds, a bit less stability, and suspension that lets the machine wander a bit detract slightly from the Outlander's good steering accuracy.
COMPARISON: Read our review of the 2015 Can-Am Outlander L 500 DPS
The Sportsman's handling is rock solid and stable. While it doesn't steer as responsively as the Can-Am. Its excellent cornering and high-speed stability give the Polaris the edge in steering precision. The 570's wide stance and firmer suspension settings provide flatter, more stable cornering. When riding fast, the Sportsman feels solid and predictable over flat or rough terrain. Its power steering gave up a bit in score due to its lack of adjustability, however its single setting may have been better than any one setting on the Can-Am.
According to our test riders, the Sportsman offers rock solid handling and impressive stability at high speeds.
The Sportsman feels bigger and heavier than the Can-Am. While it feels less nimble the 570 seems less reliant on rider input in most situations. Its suspension, which sags less and uses less travel on most bumps, gives the Sportsman a far greater advantage in ground clearance than its specifications indicate.
The Sportsman scored higher in handling among all our test riders. Scoring significantly higher in cornering and high-speed stability, undoubtedly helped the 570 take the win in steering precision.
| | | |
| --- | --- | --- |
| Handling | Can-Am Outlander L 500 DPS | Polaris Sportsman 570 EPS |
| Steering Precision | 7.17 | 7.83 |
| Power Steering Effectiveness | 9.0 | 7.33 |
| Cornering Stability | 7.33 | 8.67 |
| High-Speed Stability | 7.5 | 8.67 |
| Weight Feel and Balance | 8.5 | 8.0 |
| Ground Clearance | 7.5 | 8.67 |
| Total Score | 7.83 | 8.19 |
Brakes
The Sportsman 570 has good stopping power, but it takes a little more pressure than the Can-Am to achieve the same results. It also gives up a little feel to the Can-Am. The 570's single lever brakes seem biased toward the rear wheels, which results in the rear end locking up too easily for our tastes.
When it comes to stopping power, the Outlander brakes offer better feel than those on the Sportsman and stop the ATV faster and with more control.
The Outlander's brakes provided superior feel and took less pressure to slow the machine. The single lever braking seemed a lot more biased toward the front wheels. You stop faster with less unwanted skidding on the Can-Am by using the handlebar-mounted lever and the rear brake pedal together. Lighter rear braking bias also means you can get out of trouble easier when baking down a steep hill.
More power, better feel, and better braking bias were enough to make the Can-Am a unanimous favorite when it comes to braking performance.
| | | |
| --- | --- | --- |
| Brakes | Can-Am Outlander L 500 DPS | Polaris Sportsman 570 EPS |
| Front Brakes | 8.33 | 6.67 |
| Rear Brakes | 8.33 | 7.67 |
| Total Score | 8.33 | 7.17 |
Fit and Finish
To measure fit and finish we asked our riders to rate the machines on ergonomics, control operation, and lack of vibration.
An intrusive shift lever and less comfortable seat set the Sportsman back in the Fit and Finish category.
The Sportsman is a comfortable machine, although its bars are a bit tall and the seat isn't as plush as the Can-Am's. It seems to fit larger riders better. The long shift lever can be intrusive when riding aggressively and you can crack yourself in the knee shifting it into park if you're sitting too forward. Although the 570 emits the power of a big thumper, its vibration levels aren't an issue. Dated ergonomics and controls cost the Sportsman in this category.
The Outlander's ergonomics make it feel like a big, plush, Sport ATV. Its lower bars and slimmer midsection make the 500 easier to move around on, which is good as the Can-Am benefits most from rider input. The seat is stupid comfortable! Yet, it is easy to move around on. Everything including the bars, brake levers, thumb throttle, and low-profile gated shifter feel modern, comfortable, and refined. With a smooth running V-Twin engine, the 500's vibration levels are minimal.
The Outlander is comfortable and easy to move around on and its controls feel modern and refined.
Favored by all of our test riders, in each category, the Can-Am takes a big win in fit and finish.
| | | |
| --- | --- | --- |
| Fit and Finish | Can-Am Outlander L 500 DPS | Polaris Sportsman 570 EPS |
| Ergonomics | 9.5 | 7.0 |
| Control Operation | 9.17 | 7.33 |
| Lack of Vibration | 9.0 | 8.33 |
| Total Score | 9.22 | 7.53 |
Utility Performance and Best Utility
For this test we stuffed each machine's onboard storage with all the cargo it could hold. We attached 300 pounds of sand bags, made suspension changes if necessary, and drove each machine. With the two units specs listing them within 10 pounds of each other, we let them take turns pulling each other on a trailer that weighed around 350 pounds.
The Polaris has composite racks with exposed tubular steel sections for attaching tie-downs. Its combined rack capacity is rated at 270 pounds. The Can-Am features tubular steel racks. Its combined rack capacity is rated at 360 pounds. As for towing, the Sportsman is rated to haul 1,225 pounds compared to 1,300 pounds for the Outlander. We look at these numbers more as guidelines than rules, as we loaded the Polaris racks down with 30 pounds more than they were rated to hold.
Can-Am and Polaris both make a lot of cool, easy-attach accessories for their racks, but as for who can get the most work done the easiest without spending additional money, the Can-Am's racks rule. Their tubular-design means that tie-downs can be attached at any point and cinched down hard. The tubular design also created more concentrated contact points with your cargo. This and the rough durable powder-coat finish help keep your cargo in place more securely.
Our testers were impressed with the storage racks on the Outlander and how easy it is to tie down cargo. However, it offers only minimal onboard storage.
The Outlander's engine in no way struggles with a load, but when it comes to working, low-end power is king, and the Can-Am has a bit less. Its versatile power steering's high-assist setting helped its handling rating while loaded. The Can-Am was squatting a bit under the load, coming closer to reaching the limits of its suspension.
Although it doesn't have the grunt of the Polaris, the Outlander's low-range works well, making its engine feel capable when getting a load moving. All agreed that the Can-Am's four-wheel drive system gave it the edge in handling while towing as it actively pulled the front end through turns, pushing less than the Polaris.
With way more than twice the onboard storage, and a rear storage box that can be accessed while loaded, the Polaris dominates in onboard storage. However, it loses a lot of traction when it comes to its racks. Secure tie-sown points are hard to come by and they're much broader, flatter, less abrasive surface lets your load shift around more.
Thanks to its awesome low-end power, the Sportsman 570 feels largely unaffected by extra weight on its cargo racks. It is also performs really well while towing heavy loads.
With its monster low-end power, the 570 feels unaffected by the additional 300 pounds of cargo. Its handling feels nearly as unaffected, providing rock-solid handling at our moderate testing speeds. Its single power-steering setting held it back a touch when loaded and driving at a snail's pace. It was by no means difficult, though. The Sportsman's suspension held up to the additional weight with minimal sagging, allowed for minimal body-roll, and the rear preload was left in the softest setting. It seems that with some accessories, the Polaris could hold up to a lot more weight than we strapped to it.
With so much low-end torque, the Polaris launches off the line pulling he Can-Am and trailer spinning all four tires. For pulling or pushing the torque of the Sportsman is awesome! There is a hint of front end push as the rear wheels don't break traction while pulling, allowing the front end to help pull you through turns like the Can-Am.
The Polaris takes top honors it in storage, engine and suspension while loaded, and in towing performance, allowing it to surpass the Can-Am as best Utility.
| | | |
| --- | --- | --- |
| Utility | Can-Am Outlander L 500 DPS | Polaris Sportsman 570 EPS |
| Storage Use and Capacity | 5.67 | 9.5 |
| Rack Ease of Loading | 9.0 | 7.33 |
| Engine While Loaded | 9.0 | 7.33 |
| Handling While Loaded | 8.17 | 8.0 |
| Suspension While Loaded | 8.17 | 8.33 |
| Towing Performance | 7.87 | 8.33 |
| Total Score | 7.87 | 8.39 |
The Winner Is…
It wasn't unanimous, but the Can-Am Outlander L 500 DPS was named the winner of our Value 4×4 ATV Shootout.
As expected, this was a close call. Of our three testers, Rob and Joe both said they would buy the Can-Am, while Damon said he would purchase the Polaris.
As scores go, the Can-Am Outlander L 500 won five out of seven categories and was rated higher by all three riders with an average of 8.34 points. The Polaris Sportsman 570 EPS was close behind with an average score of 7.69.
| | | |
| --- | --- | --- |
| Total Score | Can-Am Outlander L 500 DPS | Polaris Sportsman 570 EPS |
| Engine | 8.11 | 7.94 |
| Drivetrain | 9.33 | 7.33 |
| Suspension | 7.73 | 7.27 |
| Handling | 7.83 | 8.19 |
| Brakes | 8.33 | 7.17 |
| Fit and Finish | 9.22 | 7.75 |
| Utility | 7.87 | 8.39 |
| Total Score | 8.34 | 7.69 |
To further complicate things, we pitted the machines against each other in a drag race and a woods moto. The Outlander eked out a win in the drag race (winning two of three), while the Sportsman won the woods moto with an average time of one minute, 50 seconds – three seconds ahead of the Outlander.
In the end, we could forget the final score, as both machines really do offer great performance for at this price point. We could simply go buy the one with the performance and features that fit us best and have no big regrets. Of-course, if we didn't purchase an extended warranty for the Polaris and it suffered a major mechanical failure after six months, we'd have some regrets then.
The Can-Am Outlander L 500 won by 6/10 of a point, but we think its standard five-year warranty clearly makes it the king of value in the 4×4 class.
Published April 8th, 2015 2:18 PM
Top Brands
Popular Articles