98 Views
2019 Can-Am Outlander MAX 6×6 DPS 450 vs. Polaris Sportsman 6×6 570 Big Boss: By the Numbers
October 3rd, 2018 4:43 PM
Share
We're committed to finding, researching, and recommending the best products. We earn commissions from purchases you make using links in our articles. Learn more here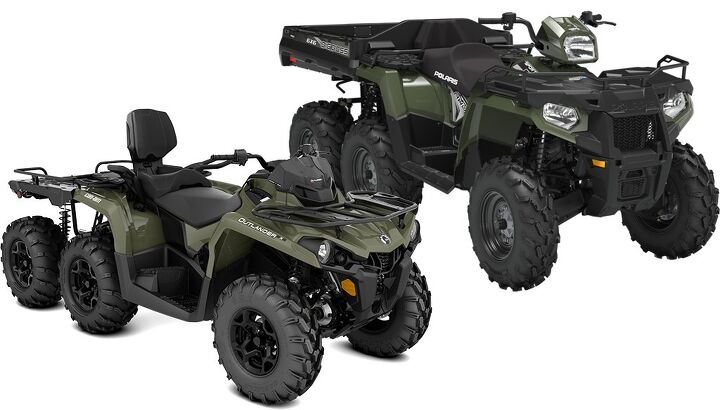 The 2019 Can-Am Outlander MAX 6×6 DPS 450 and Polaris Sportsman 6×6 570 Big Boss are designed to handle anything you can throw at them. Let's see how they compare…by the numbers.
The rivalry between Can-Am and Polaris continues to grow with two middleweight six-wheel drive machines geared toward working hard and getting things done. Let's see how the rivalry plays out with a closer look at the 2019 Can-Am Outlander MAX 6×6 DPS 450 and Polaris Sportsman 6×6 570 Big Boss.
It feels pretty familiar to have Can-Am and Polaris square off in a direct comparison of machines these days. The two companies seem locked in a battle to see which will take top honors and bragging rights.
While the bigger Wport UTVs and even the 1000-class ATVs get the glory as the two brands vie for top horsepower and handling claims, two six-wheel machines aimed at the utility market seem ready to square off on the sales floor. Polaris has had the Sportsman 6×6 570 Big Boss on the market for a couple of years now and it has proven to be a useful and handy machine. Now Can-Am commits to that same sales space with the all-new 2019 Can-Am Outlander MAX 6×6 DPS 450. Which one do you want? Let's help you decide by the numbers.
Wait a Minute?
Polaris Sportsman 6×6 570
I know what you're thinking – One of these machines is a 570 and the other is a 450. How is that fair? They really are closer than you'd think. The Sportsman is powered by a ProStar 567cc, four-stroke, DOHC, single-cylinder engine rated at 44 horsepower. It is fed through electronic fuel injection and runs out through a CVT transmission. The 570 is one of Polaris' flagship motors and they use it in several platforms across their entire product line. In the Big Boss, it is a great motor with enough power for most tasks. Having spent a lot of time on one of these machines, I can say that it is a great engine for this machine. The only downfall I've come across in my tests is that there is significant heat that comes out hitting your right foot. A small gripe, but you do notice it when you ride.
Can-Am has had a couple of bigger 6×6 Outlanders for a while, but the 450 is closer to the Sportsman than any other. As you would expect, the motor is a 427cc Rotax single-cylinder. While the Rotax is 140cc smaller than the ProStar, the horsepower ratings are not far off, with the Can-Am having 38 ponies on tap. It is also fed via electronic fuel injection and runs through an automatic CVT transmission. Experience with other Rotax engines has taught me that there is no shortage of power from the 450 motor, as long as you know what you're getting when you ride it. It's not a huge motor, so don't ride it like one. Knowing that, it'll do whatever you need it to.
So… Six, Huh?
Can-Am Outlander MAX 6×6 450
Why go with a 6×6? What advantage is it, really? The 6×6 market is limited, meaning that they are being produced and sold for a very targeted group. Adding a second set of rear drive wheels allows for an increased load and a larger rear cargo area. So, you can easily haul more stuff. In both machines, you get full six-wheel drive, too. That's a big deal. On some land I use for testing, there is a deep sand section with loose, silty sand. Every machine I've ridden there, whether it was a 500, 750, or even a 1,000-class ATV had trouble getting across the soft sand section without excessive wheel spin, even in four-wheel drive. A 6×6, though, floats across with ease. The mass and weight is spread out over a greater area, and having an extra set of moving wheels will let you go through terrain you would otherwise find harder to pass.
The 2019 Can-Am Outlander MAX 6×6 450 uses double torsional trailing arms out back with an all-new rear cargo bed that is capable of hauling 350 pounds of stuff. There are cargo bed extenders for securing your stuff better, as well. It has a quick-release sway bar, too. This is a cool feature for those times when the terrain gets really uneven. Being a MAX model, the Outlander has a rear passenger seat with foot wells and a nice backrest. The Can-Am is rated to tow 1,650 pounds.
The Sportsman has a dumping cargo box that takes Lock-N-Ride accessories and will hold 600 pounds of stuff. There is also a rear passenger area with foot wells and hand holds. The hand holds also serve as grip bars for 5-gallon buckets. Suspension comes from two sets of rear A-arms and gas shocks with 9.5 inches of travel. The Sportsman will tow 1,500 pounds and comes with a 2-inch receiver hitch, something all Sportsman models need.
Get Six Wheelin'
If you're looking for a hard-working machine with versatility and ease of use, and need something that can dig in when traction is at a premium, you'd be doing well to check into one of these machines. The Polaris Sportsman 6×6 570 Big Boss comes in any color you want as long as it its green. It carries a suggested price of $10,999 and is available at your local Polaris dealership. The 2019 Can-Am Outlander MAX 6×6 450 comes in a slightly different shade of green and rolls on slick aluminum wheels, a nice touch. It is available at your local Can-Am dealership and has an MSRP of $9,999. Go check them out today and see which one fits you best. Derrek Sigler
Derrek's love for all things ATV started when he was a mere 11 years old, growing up on his family farm. His mom gave him and his sister a choice - get a horse, or a three-wheeler. The sister wanted the horse, and Derrek wanted the ATV. Luckily he won out, and was soon burning up the trails on a Yamaha Tri-Moto 200. By the time he was 14, he had saved enough of his own money by working on the farm and in his folks restaurant to buy a new 4-wheeler. That happened the day he and his mom were driving past the dealership and saw 1987 Banshee. His mom had no idea what he was buying, and he never looked back. He's been riding ever since, and been writing professionally for many years. He has ridden all over North America and been behind the controls of just about every machine out there. And yes, he still has his 1987 Yamaha Banshee.
More by Derrek Sigler
Published September 21st, 2018 2:51 PM
Top Brands
Popular Articles