1 View
2015 Can-Am Outlander L 500 DPS Review
September 10th, 2015 11:49 AM
Share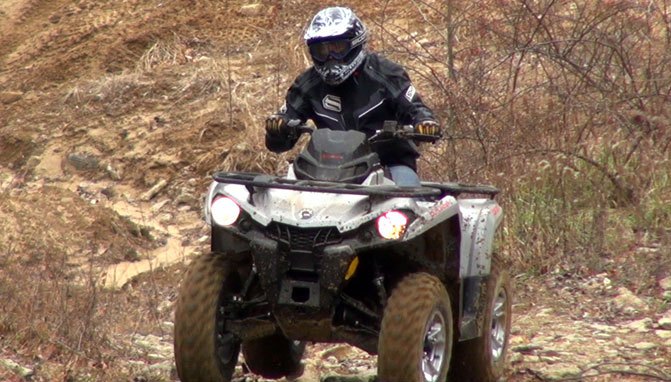 Setting a new standard in ATVing
Winner 2014 Value 4×4 ATV Shootout
BRP's new 2015 Can-Am Outlander L 450 and 500 models are the result of the Canadian manufacturer's historic focus on performance combined with a new focus on value.
With the arrival of the 2015 Can-Am Outlander L models, the company historically focused on performance started to show an interest in gaining market share by building machines that offer real value. The Outlander L models feature a bit of trickle-down design, combined with some of the company's latest technology, to achieve a price point for its 500 V-Twin model that's only $500 more than the comparable Polaris Sportsman 570. The power steering equipped Outlander L 500 DPS ($7,899) we're testing retails for $1000 less than Can-Am's own, premium, Outlander 500 DPS model.
Can-Am is not only looking to gain a greater share of buyers shopping for new ATV, it is looking to entice those shopping for used machine to buy a new Can-Am. For many consumers shopping for a car or truck, the difference between buying a slightly used or brand new vehicle comes down to having the security of a manufacturer's warranty. Can-Am realized this and gave the Outlander L models a mind-blowing five-year warranty that is unrivaled in the industry.
Breaking Down the Outlander L 500 DPS
BRP built the Outlander L around the G2 chassis, introduced back in 2012. Constructed of steel, the G2 frame was designed to significantly improve strength and rigidity.
Five-way preload adjustable shocks work with dual A-arms up front and Can-Am's unique trailing arm rear suspension. The trailing arm design was simplified just a bit, although suspension travel numbers are competitive at both ends, delivering 8.8 inches of travel out back and nine full inches of travel up front. Caster was reduced on the L models, which lessens steering effort, especially on the non-power-steering equipped models. Reducing caster also makes an ATV's front end steer more responsively. The G2's revised rear geometry lowered the trailing arm's mounting points, promoting rear end squat under acceleration for improved traction and handling.
The trailing arm rear suspension doles out 8.8 inches of travel, controlled by preload adjustable shocks.
Powering the 500 L is a 499.6cc, V-Twin Rotax engine with four-valves and single-overhead-cams per cylinder. Fuel injection delivers air and fuel to the top end via a 46mm throttle body with two injectors. This engine was updated two years ago, where power output was increased by 5.2 horsepower to 45.6. That's 1.8 horsepower more than the impressive Sportsman 570 and only four horsepower less than the Kawasaki Brute Force 750!
The fully automatic transmission features High and Low forward range, in addition to Neutral, Reverse, and Park. Engine braking is standard equipment on all L models. Selecting between the transmission's ranges is done by a low profile, right side-mounted, gated shifter.
COMPARISON: Read our review of the 2014 Polaris Sportsman 570 EPS
Another Can-Am hallmark found on the Outlander L models is its Visco-Lok QE four-wheel drive system. The switch by your right thumb selects between two- and four-wheel-drive. When in four-wheel-drive, the Visco-Lok operates like a limited-slip front differential, allowing for easy steering.
Our DPS model features Can-Am's Tri-Mode Dynamic Power Steering system. Like most power steering systems, it uses the vehicle's speed along with sensors to measure torque placed on the steering from the rider and from impacts with trail obstacles to help determine the amount of assistance needed to reduce steering effort and bump feedback. What makes the DPS system unique is that it offers three different levels of assistance to suit your use or riding style.
Dual hydraulic disc brakes up front and a single hydraulic disc brake in the rear slow the Outlander L 500. The brakes feature 214mm rotors, dual piston calipers, and steel braided brake lines at both ends.
DPS models feature centerless, cast-aluminum wheels, designed to dress up looks and reduce rotating mass; base model Outlander Ls feature black steel wheels. Wrapped around all Outlander L wheels are 25-inch Carlisle Trail Wolf tires.
For work duties, the Outlander L can tow 1,300 pounds with its ball-mount-equipped rear tongue. Steel racks are rated to hold a generous 120 pounds up front and 240 pounds in the rear and feature attachment points for Can-Am's Linq quick attach accessory system. A box located in the canter of the rear rack provides 2.9 gallons of dry storage.
Front and rear steel racks can hold a combined 360 pounds.
Dimensionally, the L measures in at 46 inches wide with a 51-inch wheelbase – one of the longest in the class. It has a seat height of 33.8 inches and 10.5 inches of ground clearance. Its 703-pound claimed dry weight is 10 pounds less than the equally appointed Sportsman 570 EPS.
Other details include the Outlander L's backlit digital instrument display, intelligently mounted in front of the bodywork in front of the handlebar. This allows the rider to easily swap out to an aftermarket handlebar.
Riding the Outlander L 500
No matter the price or the warranty, the Can-Am Outlander L would not be no big deal if its performance was lacking. We will put our cards on the table right now – this is an impressive ATV!
The 500cc engine is effective, but very different than any other machine in its class. Compared to the brutish low-end power of the Polaris Sportsman 570, the Rotax 500 engine delivers low-end power in a smooth and mellow manner – never feeling like it is going to overwhelm you in tricky situations when you stab the throttle. A little more low-end torque could come in handy for wheelies over obstacles or attacking super steep climbs with little run at the bottom. On the flip side, its smooth delivery makes the most of available traction on slippery rocks and slick wet creek banks.
Low end power comes on smoothly from the Outlander L 500's V-Twin engine.
Midrange power on the Outlander L is abundant, feeling almost like a Sport ATV with its broad surge of power. When you're racing through the woods, the midrange hit lets you rip out of corners and its top-end feels like its willing to rev forever on long straights. This is a mid-bore motor that could give some big bores a run for their money on the trail.
COMPARISON: Read our review of the 2014 Can-Am Outlander 500 + Video
Some riders will always want the option of locking in their machine's front differential. However, our test riders found the Visco-Lok QE pretty hard to fault. We challenged a number of slick trails, in addition to repeatedly climbing a gnarly rock climb. We felt the system worked as advertised. Unlike the old Visco-Lok system, which took noticeably longer to lock in when needed, the new QE system is so much more responsive, you hardly notice it; you simply have traction when you need it.
Steering on the Outlander L is sharp and responsive, working well on tight switchback trails. Responding well to handlebar input allows you to attack tight corners aggressively, or just cruise along casually without wearing yourself out cranking on the handlebar. At high speeds the responsive steering makes the front end feel a little twitchy. Switching to the Low assist setting helped reduce the front end's nervous feeling at high-speeds, while the High assist setting was preferred for rock crawling, hauling, and aggressively attacking the tight, twisty stuff.
We found steering to be responsive, performing well on tricky terrain.
Cornering is predictable and stability is good with a small amount of front end dive in turns. Powerslides are a little challenging when traction is abundant, due to the mellow low-end power, but are possible if you are aggressive enough to time your corner entry with the engine's midrange hit.
On climbs the Outlander is well behaved. Its longer 51-inch wheelbase and smooth low-end power help you keep the front wheels in contact with the ground, maintaining traction and control. The ATV descends nearly as predictably as it climbs.
Suspension performance is plush, yet responsive. The preload adjustable shocks came in the middle setting from the dealer. We added one notch to the front shocks to reduce body roll in corners and add just a bit more bottoming resistance. We then went down one to two notches on the rear shocks depending on the weight and speed of the rider. Softening the rear shocks helps the back end squat down more easily under acceleration, lowering the ATV's center of gravity and allowing you to drive harder out of corners.
After some adjustments, the suspension proved to be plush and able to handle everything we dished out.
Our new settings allowed us to push harder on fast trails and improved traction during rock crawling, and balanced suspension front to rear. The Outlander's shocks offer the supple feeling you want from a big 4×4 at slow speeds. Traversing chop, small whoops and rain ruts at speed, the Outlander's chassis and suspension seem happiest when you're out of the saddle on and on the gas keeping the front end light and driving the rear end into the bumps.
While heading downhill, the brakes offer a good amount of stopping power. We found the brakes to offer good feel and excellent progression through both the hand lever and rear brake pedal. The brakes do, however, take a bit more pressure to stop in a hurry than the outstanding binders on the Grizzly 550, 700, or even the Polaris 570. Engine braking performs superbly.
COMPARISON: Read our review of the 2013 Kymco MXU500i
The Outlander's ergonomics drew rave reviews. If Sport riding is your thing, the Outlander L 500 is pretty easy to move around on. The handlebar is well within reach and its bend and height feel spot on. The wide, raised, serrated footpegs also got high marks, as did the seat, which was soft without allowing you to sink in to hamper movement.
Overall fit and finish seemed pretty good. The dual 35 watt lights were sufficient for night riding. One rider felt the orange backlit digital dash could offer a bit more contrast at night.
Cost Cutting Tactics
So what, exactly are you giving up with the Outlander L 500 compared to the Outlander 500? BRP eliminated its D.E.S.S. digital security key system and used a standard keyed ignition. Rear trailing arms were simplified in design, which led to a half-inch loss in rear suspension travel (we didn't miss it). The 26-inch tires on the Premium Outlander 500 were traded in for 25-inch tires on the Outlander L. Tire and suspension changes result in a half-inch loss in ground clearance and seat height was lowered by 0.7 inches. Composite racks were traded in for older-style steel racks and top-mounted rear storage box, which offers a bit less storage space. However, the steel racks are rated to haul 20 pounds more up front and 40 pounds more out back and you can hook a tie-down strap to them anywhere. Finally, the premium Outlander 500 has four headlights, while the Outlander L 500 has two, but it wasn't enough of a difference to send us packing when the sun went down.
Ride the Can-Am Outlander L 500 and you might be wonder why it costs $1000 less than the premium Outlander 500.
Honestly, if we didn't have the premium models' specs to compare to, we wouldn't feel like we were giving up anything with the Outlander L…besides a larger price tag.
Conclusion
The Outlander L 500 is a great performing ATV. It can work hard but we were most enamored with its spirited playful nature. It may be the sportiest machine in the 500 to 600cc Utility class.
Both the base model 500 and 500 DPS will set you back $500 more than an equally appointed Sportsman 570, which it was built to compete with. We would expect to pay a bit more for the Outlander L than the Polaris Sportsman due to the Outlander's more complex and expensive V-Twin engine and recently designed chassis. We feel its performance and price alone are enough to make prospective Polaris buyers take a second look. The five-year warranty takes it to another level. For reference, a five-year warranty will set you back $950 for the Polaris Sportsman 570.
While the Ourlander L 500 is half the size of the latest big bores to hit the market, we think it's one of the biggest deals to come along in a very long time.
Published January 12th, 2015 4:08 PM