59 Views
2008 Honda TRX700XX Review
June 17th, 2015 4:37 PM
Share
A sport quad for the utility ATVer
It's been a while since Honda has introduced a completely new ATV. Like most of you, ATV.com heard rumblings about a new big bore sport quad with independent rear suspension a while ago, so when Honda invited us to test out its brand new TRX700XX we jumped at the chance.
After hopping on a flight to Las Vegas, Honda drove ATV.com and some other media types about two hours southwest to the Dumont Dunes, which are about 30 miles north of Baker, Calif.
Far from being just a beefed up version of the very successful TRX450, Honda's new machine is brand spanking new from the ground up. People are going to want to make comparisons to Yamaha's Raptor 700 or the Polaris Outlaw 525, but this is a unique ATV and it's difficult to pigeonhole it into one category or class.
At first glance, this seems like a vehicle that could appeal to a lot of people, thanks to some unique features that we'll go over in detail shortly. Honda, however, surprised us a little when it said the key target group for the 700XX is utility quad owners who are looking for more sport.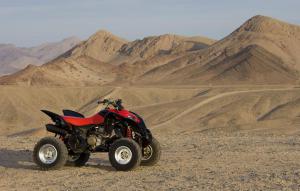 That's not to say that Honda expects anybody to take the 700XX out on a hunting expedition, but it is a bit of a crossover vehicle taking some characteristics of a utility quad and putting them into a sport quad.
According to Honda, the three keys it focused on for its new ATV are power, handling and comfort – we'll start with power.
With the wide array of high-displacement engines currently available on utility quads, it's unlikely many of those owners would be attracted to a typical 450cc engine. Honda solved that problem by adding a purpose-built 686cc dry sump, liquid-cooled SOHC four-valve single-cylinder 4-stroke engine to the 700XX.
Purpose-built is key here, as it means that Honda didn't just rip an engine out of one of its dirt bikes and slap it in an ATV. This engine, though based on Honda's XR650R off-road motorcycle, has been completely redesigned and built to handle the additional weight of an ATV and the stress and rigors that come with it.
Utility ATV owners will be pleased to know that this engine is the most powerful in Honda's ATV lineup, edging out the 675cc 2008 FourTrax Rincon. To put that in perspective, ATV.com has put together a little one-question quiz to stir up some of those SAT memories: What do you get when you put an engine with more power than a Rincon in an ATV that weighs 143 pounds less than a Rincon? Since we like you, we won't even ask you to fill in your answer with a Number 2 pencil, because there is only one answer – a hell of a lot of power.
All that power, which is channeled through a five-speed gearbox with reverse, is something you can feel as soon as you start it up. We tested this vehicle in completely stock form, including tires, but it ripped through the sand dunes with no problem. Some of the dunes were hundreds of feet high, but there wasn't anything we pointed it at that it didn't climb with relative ease. This quad really has high-end torque to burn. Sand tires certainly would have helped a little when trying to climb from a dead stop, but they're not a necessity.
Outside of the sand, we couldn't find a lot of flat, smooth stretches to open things up and pin the throttle in fifth gear. That said, after flying across the gravelly area that leads up to the dunes, ATV.com can confidently say that this quad is plenty fast. Nobody, thankfully, had a radar gun on hand, but if we had to guess top speed, we'd say 'fast enough'. Surely the aftermarket will find ways to squeeze out more horsepower and top speed, but this quad has more than enough oomph to keep a smile on your face for a long time.
As much as we love the engine and all its speed and power, it wasn't our favorite when crawling along at low speed. For those who like to inch across big rocks and other more technical terrain – and utility ATV riders often fall into that category – this is worth noting.
We found that the engine seemed to have a little trouble breathing at low speed and would occasionally stall if it wasn't given enough gas. This could simply be because the vehicle we were riding didn't have enough break-in time and it could potentially be fixed with a little fine tuning.
The bottom line is this engine is aching to go fast, and, despite the minor issue we have, it still gets a huge 'thumbs up' from us.
Now that power is out of the way, let's look at the handling of the 700XX. Honda took a couple of big leaps in this department, namely independent rear suspension (IRS) and a centered chain drive system.
IRS and the centered chain drive system go hand in hand on this bike. Honda scrapped the idea of using a centered shaft-drive system, like the one used on the previously mentioned Rincon, for a couple of reasons. Reason No. 1 is weight, since a shaft drive and its differential are heavier than a simple sprocket-and-chain drive. Since this is a high-performance machine, Honda wanted something a little more on the lean side. Reason No. 2 is power and Honda says a shaft-drive system isn't as efficient at transmitting power.
Ultimately, a chain drive system made more sense to Honda for this vehicle, but since the company also wanted double-wishbone IRS, another problem made its way to the forefront. Basically, Honda wanted to make the upper and lower A-arms as long as possible for improved control and to minimize camber changes as the suspension travels up and down. Ideally, the A-arms should be as close to the center-point of the vehicle as possible, but a typical large sprocket and chain ring would get in the way.
Thoughts turned to centering the chain drive system, so Honda had to find a way to move the drive sprocket from the traditional left-side position towards the center of the ATV. We won't get into too many details on how this was accomplished, but the result saw the drive sprocket end up just 33mm to the left of the 700XX's centerline. The rear disc assembly sits an equal distance to the right side of the centerline, which allowed for equal length shafts and A-arms and a lighter drive train. Also, since the chain isn't on a swing arm, there is less chain slack and stretch.
With equal length shafts and A-arms, Honda claims the 700XX won't pitch to one side. Another huge benefit of this system is the whopping 10.2 inches of ground clearance.
All this looks great on paper, but the proof is in the ride and the 700XX definitely provides a unique ride experience for a sport quad. Handling and stability at high speed were pretty impressive. Thanks to the IRS, as well as the dual single-rate springs up front, all four wheels like to stay on the ground, which keeps the rider stable.
On one long, narrow whoops section the 700XX really shows its worth. You could attack the whoops at a much higher speed than you'd normally attempt in a sport quad. Sure, you'd catch a little air from time to time, but it was incredibly stable and it always felt like you were in control.
Also, this bike can go places that vehicles like the Honda TRX450 simply can't follow – at least without risking damage. With the ground clearance of a utility quad, large rocks really weren't a big concern. You can look at the shortest distance from point A to point B without worrying about deep ruts, roots or fallen branches that might be in the way.
Earlier we pointed out how well this ATV climbs in the dunes, but it's just as good on steep, rocky, technical climbs. Admittedly these climbs are a touch simpler with the continuously variable transmission you'd find in a utility vehicle, but the suspension and handling are just as good on this sporty model.
We even had some opportunities to roll through a fairly shallow, rocky stream and the 700XX was more than up to the challenge. As long as it was getting enough gas, it powered us over and through everything, including rocks we couldn't really see under the water.
Really, the only issue with the handling we came across was in the dunes. In our quest for cool looking photos, many of us editors were trying to take hard turns in the dunes to kick up a wall of sand. The 700XX, though, didn't really like to slide all that much in the back end and it felt like the wheels were really grabbing hold of the sand and locking in instead of sliding.
When your only complaint about the handling is that all four wheels like to stay in contact with the ground…well that's not too bad.
Being the adventurers that we are, however, we were able to find a spot where we could force the issue and get all four wheels off the ground simultaneously. A natural tabletop in the sand provided the launching pad and the editors were all willing pilots.
When you get airborne in the 700XX the first thing you notice is how well balanced this machine is. It was never a problem straightening out after takeoff and controlling it mid-air was surprisingly easy – not that we were attempting back flips or anything. Landings were also nice and smooth. With 10.5 inches of travel up front and 9.3 inches in the back, the suspension soaks up most of the impact. Despite hitting the jump at least a dozen times over the course of the day, shoulder and wrist fatigue never really set in. Both the piggy-back reservoir rear shocks and dual single-rate springs up front have adjustable preload, so you can set it up to suit your size and riding style.
Traditionally, comfort has not been a major hallmark of sport quads, but it was a certainly a focus of Honda's in order to attract the utility owners. Landing jumps is not too hard on the body and hitting ruts and rocks on the trail doesn't send crazy vibrations through you and the bike.
During our day of testing, one of the other editors mentioned that the 700XX felt like it was a little shorter than he was expecting. After looking over the specs, it turns out he wasn't hallucinating. As a matter of fact, it's shorter and narrower than the TRX450. Where the TRX450 is 73.3 inches long and 46.3 inches wide, the 700XX is 71.5 inches long and 45.9 inches wide.
This is fairly surprising, considering the bigger engine and beefier suspension, but Honda was quick to point out that this quad was not built off the TRX450 or anything else in its lineup. Since Honda basically started out with a blank page, the frame and most everything inside it was built from scratch and didn't have to conform to any preexisting design or platform.
Beyond power, handling and comfort, there are a couple of other features worth pointing out. Let's start with starting. We had no trouble getting the engine to jump to life thanks to the fuel injection system and pushbutton electric starting. As for stopping, dual hydraulic 174mm discs up front and a single hydraulic 200mm disc in the rear were up to the task.
One small feature Honda added to the bike that we really like is the removable mud scrapers on the rear rims. If you like to ride in the mud and dirt, the scrapers can help keep the rims a little cleaner and a lot lighter.
Looking at the spec sheet, one thing that stands out is the weight. Honda lists the 700XX with a curb weight of 505 pounds. At first glance, that seems quite high, considering the Yamaha Raptor 700 has a listed dry weight of 396 pounds. That number, however, becomes lot more reasonable when you consider the Raptor 700 is weighed without any fluids, while Honda's weight includes all standard equipment (including the battery), required fluids and a full tank of fuel. Though no measuring has been done, that is likely at least 50 extra pounds, which closes the gap considerably. The Raptor is still a fair bit lighter, but outside of engine size these are two very different vehicles.
Now that the wait is over and consumers can actually get out there and see the 700XX in the dealerships, it will be interesting to see the reaction. It will also be interesting to see if Honda was correct in assuming that utility ATV owners were looking for something sporty without sacrificing performance and comfort on the trails.
The TRX700XX has an MSRP of $7,899 and comes in metallic black and red and metallic black and silver.
Related Reading:
2008 Honda TRX700XX Preview
2007 Raptor 700R SE Review
Published March 28th, 2008 1:15 PM
Top Brands
Popular Articles