11 Views
2011 Honda TRX250X Review
June 17th, 2015 4:28 PM
Share
We're committed to finding, researching, and recommending the best products. We earn commissions from purchases you make using links in our articles. Learn more here
A solid transitional ATV with an outstanding transmission
So your child is beasting the yard up on the mini quad and looks like a giant ogre riding a praying mantis every time he shifts his weight gently to the rear. We'd say it's at that time you would need to consider a new larger scale, rider friendly ATV. Honda's 2011 TRX250X has plenty of room for the growing sprout in your family. As long as he is 16 or older, according to Honda, this is a great step up in riding growth.
Since the sporty yet less race-inspired 250cc world came to life many changes have been engineered into the machines that make them friendly to younger and less experienced riders. The Honda TRX250X is no different. These machines serve to get a rider, who has confidence enough to move up in ATV size, a good platform to continue to inspire them to ride more. And even if some inexperienced adults in the family feel the need to start riding they too can use the Honda TRX250X to get a new life outdoors on a roll.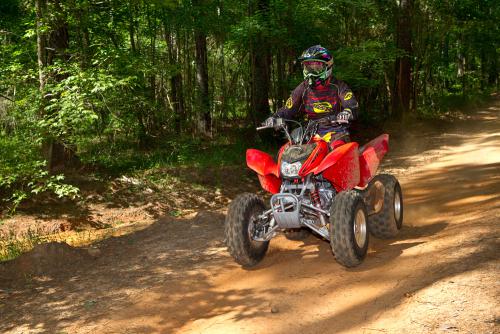 The Honda TRX250X is perfect for the younger rider who has outgrown his Youth ATV, but isn't quite ready for a high-horsepower 450.
Honda's 229cc powerplant is a single-cylinder firebox that is naturally aspirated. As with most Honda engines you can bet this thing will be almost bulletproof as long as you take good care of it. The push-button start spins the four-stroke one lunger to life while the 22mm carburetor sends the proper mix of fuel and air into the combustion chamber. Of course all of this ingested air is pre-filtered by a reusable/washable foam filter. The longitudinally mounted engine is not only easy to work on, but this position also allows for better transfer of power to the rear wheels.
Powering the TRX250XX is a 229cc, single-cylinder, naturally aspirated engine. It's not a powerhouse, but it's got enough grunt to keep most people entertained.
Dual A-arms up front offer 5.9 inches of travel, but don't feature any adjustability. Adding aftermarket shocks down the road is something to consider.
The transmission is another key to success for the TRX250X as it enlists the new sport clutch feature developed for the learning rider who wants to use a manual clutch, but is still in the early stages of comprehension. This slipper-style clutch lets a rider use the dreaded clutch lever but without the possibility of stalling the ATV while learning the finer points of clutch engagement. This is where the beginner, young or old, will love the Honda Technology.
Another must-share feature in the transmission department is the reverse capability of the TRX250X. This is probably the best feature for a learning rider as well as experienced riders who have no clue where they want to go. Twist the reverse lever and tap downward on the gear shifter to find a way out of almost anything you can get yourself into. Five forward gears and a neutral are also available in the Honda's transmission.
Suspended beneath the frame are dual A-arms out front boasting 5.9 inches of total travel while the single swinger solid axle is following in the rear. The swing arm out back only travels 5.7 inches, but for a transition machine this should do just fine. The shocks on this machine are coil-over non-adjustable, so tuning the ride is out of the question. Adding a better and adjustable shock down the road is suggested if you want to get more performance out of the 250, but the simple stock springs keep the price down.
Stopping the beast are dual hydraulic calipers up front squeezing twin 174mm discs, while an old-school old drum brake setup slows the rear to keep the quad in check.
The Honda TRX250X takes its looks from the TRX400EX and TRX450R for the most part and it has the sleek sporty feel that turns on the racer in anyone who eyeballs it. This machine is offered in the red/black combo for 2011 – a Honda staple.
We spent our time on the TRX250X riding tight wooded trails with many ups and downs as well as a couple of high berms way out in the acreage. There was a short beginner motocross track that we used for a brief time as well just to get to know the machine in controlled corners and in the air.
Unlike Youth ATVs, larger riders won't look like out of place on the TRX250X.
Starting up the TRX250X was a snap and in the 95-degree heat it seemed to manage its temp very well, even though we were suffering. Constant starting and stopping during our ride made me wonder just how hot the engine would get before showing signs of failure. Lucky for us this was never revealed as the air-cooled mill worked flawlessly. This motor is not a powerhouse, but we don't think it has to be. This ATV is made for enjoying the trail and if a burst of mild power is what you need, you're well covered.
We didn't love the rear tires, which were not confidence-inspiring in the corners.
Ergonomics on the TRX250X are spread out, so even a larger rider can get comfortable and with a plush seat it was also easy to trail ride for hours. In the control station (aka handlebars) we found that the Honda goes where it is pointed and the spec tires up front seem to grab the trail with little pushing. Steering is light and lends itself to day-long rides. We did, however, find the balloon-style tires on the rear of our Honda to be hard to get along with. These tires make the rear of the Honda bouncy while also making the rear really tight in sharp turns. This leads to bicycling or two wheeling in sharp, fast corners, which can be a problem for less-experienced riders. Without an air pump we couldn't try changing the tire pressure to see if that might help this, but it's certainly possible. A final note on the tires – the 2012 TRX250X has been upgraded Maxxis Razr Vantage tires, which may solve the issues we had with the 2011 model.
Far and away our favorite feature on the TRX250X is the sport clutch technology. The sport clutch allowed us to use the manual clutch to rev the motor into submission while cornering, while still preventing stalling in the really tight stuff. We feel this will inspire confidence in riders and like we said earlier it is a great way to get a beginner off to an adventurous start.
We can't say enough good things about Honda's sport clutch, which allows riders to get used to operating a clutch without the fear of stalling.
Another nice feature of the TRX250X is that it is really quiet. The motor just purrs along and it's really nice to be able to hear yourself think while you ride.
Riding in the quiet North Georgia mountains is a way to unwind. It brings us peace and happiness without much cost. The world of 250cc ATVs lets each and every family member enjoy this very same thing with a boatload of adventure to boot. Riding this 250 allowed us to rewind to a simpler time when power wasn't an issue and racing was just a thought of a new tomorrow. In our opinion, this type of riding is where the most fun really is.
When it comes to transitional ATVs, Honda's TRX250X is tough to beat.
Get out and ride and if you're ready for a new trail tamer try the 2011 Honda TRX250X ($4,399) on for size. Honda is even offering financing for as low as 4.99% apr (at time of publish).
Related Reading
2012 Honda TRX450R and TRX250X Unveiled
2008 Honda TRX700XX Review Published September 9th, 2011 8:57 AM
Top Brands
Popular Articles