1 View
2008 Kawasaki KFX450R Review
June 17th, 2015 4:37 PM
Share
Adding Two More Wheels to Tested Kawasaki Technology
2008 may very well be remembered as the Year of the Kaw for much of the ATV racing and sport community as Kawasaki's new 2008 KFX450R quad attacks the 450cc class ATV arena with tested two-wheeled championship winning engine technology. All this is wrapped in a nicely packaged yet attractively priced race-ready quad.
Straight out of the box, the KFX450R is a serious threat to the rest of the racing competition because of its state of the art race technology combined with proven reliability and power. Designed and engineered to race, this late comer to an already competitive class of ATV racing has made clear its intention to be taken seriously.
The KFX450R is not just for racing either. Its super light weight and precision handling make it a dream to ride, and Kawasaki gives you the stability and control you'll need to own the trail like no other quad before it. It clearly gives new meaning to the term 'point and shoot' when you come out of a corner and nail the throttle.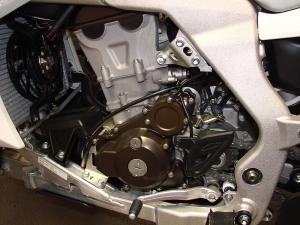 This race-proven engine cut its teeth on two wheels.
Kawasaki's attention to detail in the KFX450R provides the rider with everything he or she needs to compete on the track or on the trail, and its all built to fit the average person's ATV budget. From its race proven KX450F 4-stroke motocross engine aspirated by a digital fuel injection system to the highly adjustable and extended suspension, the KFX450R wants to eat up the other guys and never look back.
Kawasaki stepped it up a notch when designing the new KFX450R, providing a great start in tuning and performance when unleashing this beast. The polished ports have a coating of some sort of 'special sauce' which helps provide better response to throttle inputs, and the large volume air box lets it breath. A lighter weight high-performance titanium exhaust header contributes to low and mid-range throttle response. Couple that with the low restriction exhaust system and its revvy 11,000 RPM red line and you've got a serious ATV that gives you great bang for the buck.
Adding to the finely tuned air and fuel system is a torque delivery system that considerably helps you grab nobbies full of dirt without losing traction. In addition, the torque curve was developed precisely to deliver a more stable range of power.
The KFX450R is low to the ground, providing a very stable ride.
Getting to Know the Kawasaki KFX450R
The feeling you get while sitting on the Kawasaki KFX450R will probably be a bit different than anything you're used to. It's quite low compared to most other members of the 450 class and it provides a very stable link between the rider and the ATV. If you ride it hard, it will respond with an incredible amount of feeling and response and almost demands to be ridden harder.
The lower rider position provides a much better feel and lots more confidence when taking it to the edge – and you probably will. Moving around on the KFX450R seat is pretty easy and really helps when it comes time to tap the rear brake in order to make it around that hairpin. The lighter weight makes the Kawasaki more controllable and easy to turn and stop, while the gearing brings it all together to get you off the line quickly to grab that hole shot.
The Good. The Bad. The Ugly.
It's easy to move around on this race-style seat, but it's not exactly comfortable.
As luck would have it, spending a lot of time riding a quad hard means you're on your feet a lot, and in the case of comfort when it comes to the KFX450's seat, that's probably a good thing unless you're a true Iron Butt. While it's easy to move around on the KFX450R seat, when you actually find time to sit in it, even for a short time, it can be a real pain in the posterior. Don't get me wrong, it was designed to move around easily and to be functional and it does an excellent job at that. However, if you plan on spending much time in the saddle, you might want to consider a bit of extra padding.
One of the biggest downsides we found with this quad, besides its unwillingness to start when it gets hot and a gouged rear brake rotor, is its all aluminum frame with a longer single box tube front A-arm. Longer A-arms, while providing more travel and better traction in corners and on the bumps, are weaker than the standard front suspension. Even though the box construction is a better designed for rigidity, metallurgical integrity can only go so far. If you land it too hard or bump it the wrong way you might find yourself with more damage than you know what to do with.
Despite some slight vibration in the the front end, handling is crisp and precise.
We also noticed a slight vibration in the front while in sand or soft dirt. The source of the vibration never revealed itself, but I am attesting it to the longer A-arms and aluminum and titanium construction. Not to worry, the vibration did little or nothing to detract from the otherwise thrilling ride.
Finally, the 08 Kawasaki KFX450R comes with an optional kick start system, and was designed to accommodate motocross style racing where lighter weight is a high priority. This commitment to racing shall not be over-shadowed by the addition of the afore mentioned extra weight involved with the reverse gears on a race quad.
The Bottom Line
In a highly competitive, world class field of race-based 450cc quads at attractive prices, the Kawasaki KFX450R gives you bang for the buck. Whether you're in it to win it, or just blazing the trails, you'll find just about everything you could want right out of the box.
KFX450R Specs
Engine
Liquid-cooled, four-stroke single, DOHC, four valves per cylinder
Displacement
449cc
Bore x stroke
96 x 62.1 mm
Fuel Injection
32-bit digital, 42mm Keihin throttle body
Ignition
Digital AC-CDI
Starting
Electric
Transmission
Five speed, reverse
Final drive
Two-wheel drive, chain
Frame type
Aluminum double cradle, racing type
Front suspension / wheel travel
Dual A-arms, coil-over shocks / 8.5 in
Rear suspension / wheel travel
Swing arm, piggy-back reservoir shock, dual-rate spring / 10.0 in
Front tires
AT21x7-10
Rear tires
AT20x10-9
Front brakes
Dual 163mm discs, two piston calipers
Rear brake
200mm petal-type rotor, single piston caliper
Overall length
71.1 in
Overall width
46.0 in
Overall height
41.9 in
Seat height
30.9 in
Wheelbase
49.4 in
Ground clearance
4.3 in
Lighting
Dual removable headlights
Dry weight
364 lbs
Fuel capacity
2.6 gal.
Foot pegs
Sport-style serrated
MSRP/Color Choices
4.3 in
Ground clearance
$7,399 Lime Green/Super Black, Bright White/Super Black




$7,599 Super Black
Published May 9th, 2008 10:43 AM