7 Views
2011 Kawasaki KFX450R Project – Woods Warrior [Video]
July 3rd, 2015 12:00 PM
Share
We're committed to finding, researching, and recommending the best products. We earn commissions from purchases you make using links in our articles. Learn more here
We turn the KFX into the ultimate woods macine
Having spent a great deal of time on Kawasaki's KFX450R, we can say with a fair amount of certainty that it is one of the best 450s on the market for the woods. Its strong and nimble chassis, smooth power with excellent low end, and flexible transmission with reverse gear make the KFX a cool ride for dodging trees. Don't get us wrong, the Green Machine is no slouch on the track, but at 46 inches wide it is most at home speeding down trails.
Of course, improvements are always possible. We decided to take what we have learned about Kawasaki's high-performance machine and add a handful of essential hop-ups to get the most out of the KFX for woods warriors, and cross country racers getting their feet wet.
Get the Flash Player to see this player.
Power Up!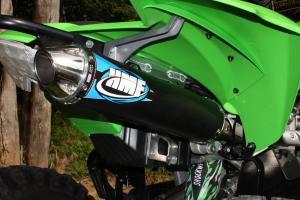 Our HMF Competition Series exhaust allows you to switch between three different end caps for different levels of performance and sound. We kept Kawasaki's stock titanium head pipe to save some money.
Before you build performance, you must first get rid of restrictions. We replaced the super quiet, yet restrictive stock silencer with a slip-on HMF Competition Series exhaust. The Kawasaki features a titanium head pipe stock, so we decided to leave it in place and save a few bucks. The Competition Series exhaust features HMF's Tri-Max Core design, which allows you to switch between three different end caps to increase or decrease noise output. This would give us the flexibility to open up the exhaust for racing or quiet it down for use on public land. The exhaust looks well constructed and bolted right on with no bending or prodding required.
Opening up the exhaust demanded an increase in fuel. To solve this issue we installed an HMF Fuel Optimizer, which comes pre-programmed for HMF's exhaust and the airbox lid removed. The optimizer allows you to easily add or remove fuel from different parts of the RPM range to fine tune the base map or in case you add other engine mods in the future. There's no need to carry your laptop computer around with you to tune the HMF optimizer. You can simply tune it with the buttons built into the unit.
Off came the airbox lid for dry days. The stock filter was ditched and on went a Twin Air air filter in its place. Adding a Fuel Customs intake adds significant power to any KFX and would be our next engine upgrade going forward.
Improved Handling
The Pro Series Steering Stabilizer from Precision Racing Products helped tame the front end of the KFX450R.
During our extended 2011 KFX450R test we spent a lot of time dialing in our machine's suspension. Check out our 2011 Kawasaki KFX450R Review for suspension settings. Having maxed out the capabilities of our stock shocks, the KFX's most pressing handling issue is its super responsive, somewhat twitchy steering. Rather than slow down the machine's aggressive steering with a caster adjustable upper arm like the one manufactured by Teixeira Tech, we decided to try and control the twitchiness and take advantage of the front end's aggressive steering manners by installing a Pro Series Steering Stabilizer from Precision Racing Products.
The Pro Series features a different housing then Precision's original groundbreaking model. Upgrades include a built in reservoir to allow for thermal expansion. The new linkage, stem clamp and lever are claimed to be stronger as well. It offers the same individual damping controls for the center, and outer thirds of the stabilizer's movement, allowing users to tune straight line and cornering manners individually.
We ditched the stock rubber and installed a set of Kenda Kutter XC 6-ply tires, designed specifically for woods riding.
Before we completed the stock KFX450R's test, we tossed the stock tires and installed a set of 6-ply Kenda Kutter XC tires – 21×7-10 front and 20×11-9 rear. Kenda claims these tires were designed to meet the demands of the toughest GNCC terrain. An extra wide foot print was incorporated for additional traction.
Custom Cockpit
The Kawasaki emits a bit more vibration then most other machines in the 450 class, due to its rigid one piece aluminum frame with removable subframe. To reduce vibration and add a bit of cush to the bars for uneven bumps, we installed Precision Racing's Shock & Vibe handlebar clamp. The clamp is said to reduce vibration and allows your bars to pivot side to side nearly three inches at the ends. You can stiffen or soften the clamp's action by removing the caps on the clamps, removing the rubber elastomer and adding or removing shims.
Precision's Shock & Vide handlebar clamp reduces vibration, while Spider's SLT grips also feature a vibration-damping inner core.
While we like the Kawasaki's stock grips, we also like Spider's Slim Line SLT grips. The SLT grips feature Spider's dual layer technology, with a vibration damping inner core. The outer gel layer relies on its tacky compound to provide traction for your hands, instead of a waffle or other pattern that might create pressure points, increasing the likeliness of blistering. These grips feature a dual color design with a black palm area and various colored ends available.
Built to Last
We outfitted the KFX with a full set of DG skid plates to protect the underside of our ATV from rocks and other trail debris.
Stock plastic ATV slid plates are adequate for casual trail riding where you can carefully pick your way through rocky sections or over logs, but when you are pushing hard with your friends or racing it's hard to have the self control to let off the gas.
To Beef up our KFX we installed a mix of components from DG Performance. DG Performance constructs its aluminum components with 6061 or 5052 aircraft grade aluminu. DG has been around longer then any aluminum manufacturer we are aware of and its products are commonly stocked by ATV dealers nationwide.
To defend the front of the machine we replaced the sparsely protective stock bumper with DG's V-Pro bumper, powder coated black. The frame and swingarm skids were replaced with DG's much stronger Baja Series skid plates. Fat Series A-arm skid plates were installed, protecting the arms from dings, dents, and the usual weed wear which leads to ugliness. The stock rear grab bar was replaced with a DG Alloy Series grab bar in black. The Alloy Series grab bar includes a whip flag mount for dune riding; however, we believe a National Series bar, which includes number plate mounts, would be best if you plan on taking your KFX racing.
Nerf bars are one of he first two or three items we add to any sport ATV. For this project we wanted something strong and stylish that wouldn't break the bank. DG's Fat Series nerf bars are made of larger 1 1/2-aluminum tubing, compared to the usual 1 1/4 used on most nerf bars. Slightly ovalized bolt eyelets allow you to line things up pretty easily.
DG's Fat Series nerf bars were easy to install and offer the rider an added sense of security. We saved some money by using stock pegs and heel guards.
Installation on all of DG's products was painless – free of the horror stories we have heard of with some brands.
The Test
We took our project Kawasaki back to the woods track where we shot part of the stock machine test, giving us a familiar environment in which to evaluate the machine's progress.
A power upgrade from HMF's Competition exhaust and Fuel Optimizer was definitely noticeable. The KFX benefits from a clear gain in power from bottom to top, most notably in the bottom and midrange. We tried all three different inserts in the Competition Series exhaust and could tell a significant difference in both sound and power with each one we installed. The smallest insert wasn't much louder then stock, although the machine still seemed to run better thanks to ditching the airbox lid and the extra dose of fuel the Optimizer provided. With the quietest exhaust insert, decibels are claimed to run from the low to mid 90s.
Once we hit the trails with the build complete, an increase in power was readily apparent.
With the stage two insert the power picked up with the sound, which is claimed to run from the mid to upper 90s. Adding the least restrictive insert should have you running from the upper 90s to lower 100 decibels, and an additional boost in power we can confirm. There was a decent size step-up jump right out of a corner that we had to jump in second gear with the stage two insert installed that we managed to clear in third with the least restrictive stage three insert. When installed together on the KFX450R, the Competition Series exhaust and Optimizer add power and provide a great deal of flexibility for different riding situations. As well, the exhaust has a sweet and modern appearance to it.
Precision's steering stabilizer helped keep our front wheels planted and in control.
While the exhaust and fuel manager made a noticeable difference, we must point out that the Kawasaki suffers from a restrictive an intake as much as it does from a corked up exhaust in stock trim. Yanking the airbox lid helps, but adding an aftermarket intake system like the one made by Fuel Customs will yield a power increase as dramatic as adding the pipe and optimizer all over again.
While the KFX remains a quick turning machine, it's now far more manageable. As the stabilizer filters out impacts from being felt through the handlebars, it does so by keeping the front wheels' direction from being diverted by oncoming bumps. This makes the front end less susceptible to being knocked off line, especially in rough, high-speed sections..
We set our stabilizer up with the recommended settings for cross country racing, but wound up backing off on the damping on the sides to allow the rear end to come around easier in turns. That's right, you can affect how much or little your machine slides through turns by increasing or decreasing side damping, which makes it harder or easier for the rear end of the ATV to pivot around the front. We wouldn't have believed it either if we hadn't proven it to ourselves. The rear Kenda tires offer a ton of side bite, so we needed to free the rear end up somewhat.
Backing off the damping in the steering stabilizer allowed the rear end of the KFX to come around easier in turns.
The Kutter XC tires also aided greatly in improving the handling characteristics of the Kawi. The front tires helped provide more predictable steering, going where they were pointed and rarely pushing. The rear tires also offered exceptional traction in turns. If you like to rail, this is a good tire choice for you. Straight-line traction was also quite good accelerating hard in both loamy and hard-packed conditions. Their traction on wet slimy creek banks was also decent despite their wide footprint. More rubber on the ground in the dry can also mean less knob penetration in wet and low traction conditions.
Their beefy construction and high traction cornering characteristics make the Kutter tires feel a little heavier then some XC tires we have used. They worked great on our 450, and should be a good choice for riders with larger displacement machines, but riders with 400cc and below machines might have better luck with a freer spinning tire like the Kenda Klaw.
We're quite happy with the performance of the Kenda Kutter XC tires. They provide excellent traction in the corners.
The combination of vibration and nervous steering can get your hands tingling after a while. Dave Trimble, who tested our stock Kawasaki and rode for us on this project as well, said "the Precision Shock & Vibe clamps and Spider grips got rid of the tingling sensation he experienced with the stock machine." The bar clamps definitely offer movement to absorb shock, but you never really fee l that they are there because your bars bend never changes like suspension handlebars do. They also raise the bars around a half inch, adding a bit more room and comfort to the cockpit.
DG's hard parts added style to our machine, better protected our investment and made the machine safer and easier to manage. The Fat Series nerf bars feel pretty solid when you step on one of the tubes. Just knowing the nets are there to catch your foot in the event you lose a peg allows you to ride with more confidence. We saved enough money by getting the Fat Series nerfs and retaining the use of our stock foot peg and heel guard to pay our way into several races!
With DG's Fat Series nerf bars installed, we had plenty of confidence to let the KFX fly.
The V-Pro front bumper not only offers a lot more protection and style than stock, it also provides much better handholds in the event that you get stuck in a mud hole or simply want to pick up the front of your ATV.
We like the extra strength of the frame and swingarm skid plates, but we wish the Baja chassis skid covered more then the engine and immediately surrounding fame rails. DG covers the entire underside of the frame on most models. The A-arm skid plates were a great addition as well, adding durability and protecting our machine's resale value. While we like the looks of the black components, the same components in silver will stay looking newer longer, in spite of DG's durable powder coat.
The Verdict
Although you could go a lot further with the KFX, we chose to accentuate many redeeming qualities and improved greatly upon its few flaws with only a handful of bolt-ons. This KFX is faster, better handling, and can be ridden harder for a longer period of time with less fatigue. All of that translates into a KFX450R that's even more fun to ride. Add a kill switch and you could take it cross-country racing and do pretty well. Published December 7th, 2011 2:37 PM
Top Brands
Popular Articles