1 View
The King returns for 2007
June 17th, 2015 4:23 PM
Share
Suzuki KingQuad has power to spare
Suzuki is a solid player in the ATV business, producing sport-ute bikes that do everything well. The company reserves its KingQuad moniker for very special models, and 2007 is no exception. We have been visiting various US state and national forest trails in north-central Minnesota to evaluate the latest beast from the inventors of the 4-wheeled ATV, and came away impressed—in fact, exhilarated. The fuel-injected 2007 KingQuad 700 delivers handfuls of smooth power and is loaded with useful features for the trail rider or hunter. It also comes at an exceptional price.
The biggest, newest offering from Suzuki is a Tour de Force of some of the best design engineers in the business. The KingQuad is powered by a fuel-injected single-cylinder 695cc dual-overhead cam, wet sump engine. Plasma-spray coated cylinders improve the longevity of this package. The v-belt CVT transmission has engine-braking built in with low and high forward gears plus reverse. Suspension is provided by double-A-arm front and rear with a rear swaybar cleverly hidden in front of the rear diff. The KQ has disc brakes in front and an enclosed fluid-shear brake in the rear. First introduced by Kawasaki, this style of rear brake is one of those nice technology progressions that ATV enthusiasts have been enjoying in recent years. The KingQuad has two bumper-mounted and one handlebar-mounted headlights and a rear-mounted 4.6 gallon gas tank. First impressions reveal best-in-class fit and finish. Everything from the body plastic to the electrical panel under the seat is very clean and well thought out.
Take it to the trails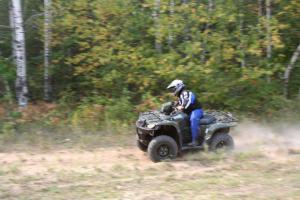 The KingQuad left the factory with front spring settings too soft for me. A simple adjustment to their 5-way adjusters using the tool provided in the tool kit allowed me to adjust the spring tension for my 200-lb weight and riding style. Making the front springs a little stiffer made the cornering characteristics better. Once on the trails, the overwhelming message delivered by the KingQuad is power, power and more power. It seems there is a bottomless well of power with this engine for nearly all trail-riding conditions. The power is very linear and delivered silky-smooth. Well-executed counterbalanced single cylinder powerplants like that found on the King make the supposed advantages of twin-cylinder engines to be almost a moot point. In addition to smooth power delivery, the exhaust note emanating from the premium stainless steel exhaust adds a pleasing background cadence to the riding experience.
Northern Minnesota experienced a historic drought this summer, and all of the mud-holes were dry. However, I have a lot of experience with the on-demand 4-wheel-drive and mechanical front locking differential that the Suzuki boasts, and it is an excellent system. The KingQuad also has excellent ground clearance and surmounting obstacles is no problem. Mud protection is truly outstanding and the CVT clutch air intake is ducted through a length of flexible hose routed upward, then downward in the front—a great feature for keeping water out. The KingQuad has all the makings of an awesome mud conqueror.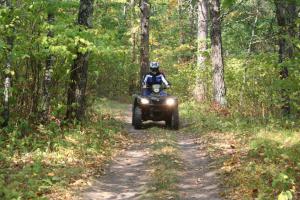 The Quad corners reasonably well. With the low sticker price and all the power available, it might be advisable to invest in an aftermarket upgrade to really bring out the full potential in this area. The independent suspension at all four corners soaks up trail chatter. Engine braking is calibrated just right and is very effective. There is a slight amount of noise coming from the CVT when engine-braking is active, but it is not enough to really notice. The clutch calibration and backshifting behavior is dialed, while plenty of acceleration is available in the power band at any speed. Starting the engine is easy—the push button starter activates if the transmission is in neutral, or if you squeeze a brake lever to keep the bike from taking off in gear. I did not get the chance to test cold-starting—but with Suzuki's engine development expertise, the EFI should be a big plus in the cold.
The King feels light and nimble while riding. Seat comfort is good. It is clear that Suzuki wanted to have enough foam to make the rider comfortable while not increasing the saddle height excessively. There is ample heat protection between the rider's legs and the engine compartment. With such a high-horsepower engine, this is a mandatory feature and Suzuki did it flawlessly.
The 25-inch Dunlop tires on the KingQuad are adequate for most riding conditions and at 2 out of 3 stars are competitive with the standard offerings from most of the other major ATV builders. The composite under-armor helps reduce weight and fully covers the bottom side of the frame.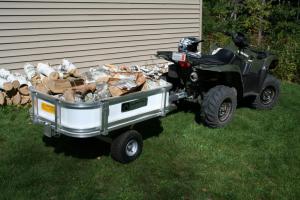 Utility and hunting use
When it comes to a hunting ATV, ground clearance is of great importance and the KingQuad delivers in spades. The switchable 4 wheel drive with locking diff will make getting through the rough stuff easy. Racks are steel tube (still my favorite for hunting purposes) and easy to tie down to. For hunting accessories, Suzuki offers a Kolpin gun boot and a universal GPS mount at reasonable prices. Suzuki-branded hunting accessories are in short supply. Could we see more hunting accessories from Suzuki in the future? The company certainly has a great ATV platform here to support it. For now, hunters will have to look at the aftermarket for more specialized hunting add-ons. Overall though, the King is an outstanding hunting vehicle. I utilized it to deliver bait to my bear-hunting area and to carry some small tools for cutting limbs and hanging stands. The power from this 700 makes getting to the hunting area as much of a rush as the hunting itself.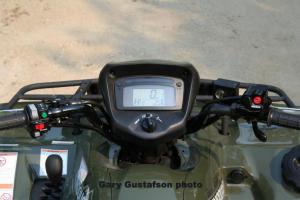 With its semi-aggressive tread and non-differential back end, the KQ is not something you'd want to use on a golf course, but for rugged utility use this bike would be a great choice. I used it to pull an ATV trailer for a couple of small jobs. The fuel-injected 700 engine and low-gear transmission capability make this machine a great workhorse. If you've never thought of an ATV as a utility tool before, I can tell you this: once you unlock the utility capability of an ATV for the first time, you will never go back!
The digital instrumentation is the standard, top-notch fare we have come to expect from most Japanese manufacturers. The large digits are easy to read at cruising speeds. There are steel-tube racks front and rear which are texture-powder coated—a premium feature that should be standard on everyone's steel racks. They look great and wear very well. Rack extensions are available as an accessory. A waterproof storage container provides about a quart of capacity on the front right fender (just right for your wallet and maps), and a non-waterproof storage bin resides in back. A 12-volt receptacle and three-quarter inch-stem rear hitch mount are standard. As always, the King has separate levers for the front and rear brakes, with a brake-locking lever on the left hand side.
Maintenance and durability
The quad I rode was dealer-prepped by my local Suzuki dealer, Lakeland Motor and Sport of Bemidji, MN. Although I did not operate the bike long-term, I have ridden it for more than 100 miles so far with absolutely zero problems. The are CV shields front and rear. The lubricant drain plugs are reasonably easy to access and routine maintenance should not be hard to carry out. Suzuki made extensive use of sealed bearings and sealed ball joints to reduce maintenance time. At first, the flexible cabs and footwells gave me a cause for concern because I thought they were too thin to endure hard off-roading, but I experienced no problems and the flexibility may even provide improved durability over time because they will flex under pressure rather than trying to hold their shape firmly. Overall impression is that this bike is well-built and you should be able to spend your time riding it not repairing it.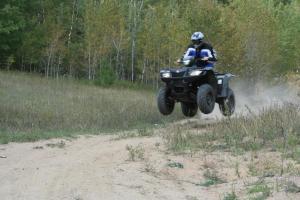 The 2007 Suzuki KingQuad will let you reign over any trail system with authority. It is a go-anywhere, do-anything ATV. It is loaded with features, it's got white-knuckle power, and the price makes it perhaps the best value in this entire segment. The KingQuad in stock form will hang with or surpass the biggest-cc models from all the other manufacturers on trail rides and the cost is so much less than most of these models that you could afford some aftermarket mods if you want to absolutely out-run and out-ride any sport-utility ATV made.
Related reading:
2007 Suzuki Quadracer R450
Riding with the King
2008 Suzuki KingQuad 450



Published November 20th, 2006 6:56 PM
Top Brands
Popular Articles