49 Views
2007 Suzuki KingQuad 450 Review
June 17th, 2015 4:23 PM
Share
We're committed to finding, researching, and recommending the best products. We earn commissions from purchases you make using links in our articles. Learn more here
Riding with the King
On a surprisingly hot November day, ATV.com visited Carolina Adventure World to test out the Suzuki KingQuad 450.
After meeting Columbia PowerSports Center owner Wayne Wilkes at his store in Columbia, SC, we hit the road with three 2007 KingQuads in tow. The 2007 models are mechanically identical to the 2008 vehicles—the only difference being that 2007 was the last model year Suzuki offered the KingQuad in black.
After about a 45 minute drive north, we reached Carolina Adventure World in Fairfield County, SC. It is a privately owned facility with 100 miles of ATV trails and plenty of other things to do. But we were there to ride.
With Wilkes leading the way, we hopped on the quads and drove towards the trails. All the trails were well marked and we started off on some of the easier routes to get used to the vehicles.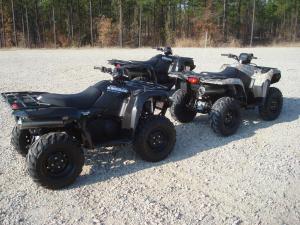 The trails run right through a heavily wooded area. The ground consisted mostly of loose soil and since this particular part of South Carolina hadn't had much rain in the weeks before our ride, a lot of dust was being kicked up. This wasn't a big problem if the lead rider was far enough ahead, but everybody was pretty much covered in dirt by the end of the day.
The KingQuad 450 was certainly the right vehicle for our purposes. Though the KingQuad 750 is Suzuki's flagship ATV, the extra power wasn't necessary on these trails. It was fairly narrow and twisty, even on the easier trails, so there was not much opportunity to open up the throttle if you didn't want to crash into a tree.
This is not to say that the 450 lacks power, because it has plenty. The 454cc, single-cylinder, liquid-cooled engine powered the vehicle to more than 45 mph in the straights and it had no trouble climbing up all the hills we could find.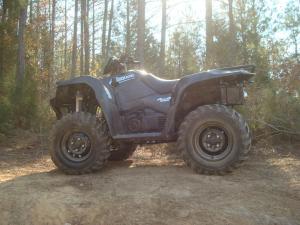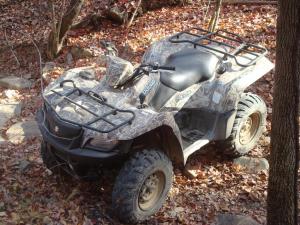 Because it was so dry, we never had the pleasure of playing in the mud. Working out of deep, muddy holes would have been an ideal way to gauge just how much power the KingQuad 450 possesses, but there is no reason to think it would have been a problem for this well-equipped machine.
Quick acceleration was much more important than overall power on these trails. The KingQuad 450 comes standard with electronic fuel injection, and it was noticeable. Because of all the tight turns, there was a lot of slowing and accelerating, and the throttle response of the 450 was excellent.
With its three different drive modes, there is not much the KingQuad 450 can't handle. Most of our time was spent in two-wheel drive, but four-wheel drive kicks in at the push of a button. The most interesting option, however, was the differential-locked four-wheel drive. In this mode, power is sent equally to both front wheels when you need serious traction. Since it was so dry, the conditions were never that tough, but it was nice to know the option was available in case we ran into anything unexpected.
We took full advantage of the independent front and rear suspension on and off the trails. Most of the trails had large ruts from countless ATV wheels and we could really feel the 8.1 inches of front suspension when steering out of those ruts at any kind of speed. The five adjustable spring settings should be enough for just about any conditions or rider size.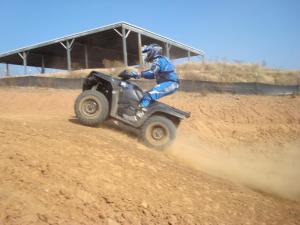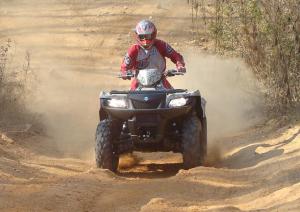 Just before grabbing some lunch, we headed over to a motocross track in the facility and did a few laps. With a dry weight of slightly more than 600 pounds, the KingQuad 450 4X4 was hardly intended to go airborne off tabletops, but we decided to give it a try. We certainly weren't flying around like a motocross bike, but it was a ridiculous amount of fun when all four wheels were off the ground. Controlling the utility ATV in flight wasn't the easiest thing to do. However, the suspension was plush enough to handle a little air without bottoming out.
We then headed to some more difficult trails with even more sharp turns and steeper hills. Though we didn't run into many intimidating descents, Suzuki's advanced engine braking system was a nice luxury. The system minimizes free-wheeling, which helps reduce downhill speed without using the hand brakes. It was nice not to worry about breaking down a hill when the focus should be on steering around the corner at the bottom.
It was obvious that Suzuki put a lot of thought into the handling of the 450 as it was pretty easy to maneuver around the tightest corners. The center of gravity is low enough that tipping over while cornering wasn't a big concern so long as you were driving at a reasonable speed and shifting your weight into the turn.
The disc brakes worked well enough, but it is fairly easy to apply too much front brake when stopping in a hurry. Trying to apply the proper amount of front and rear braking took some getting used to. Ultimately, using the right foot brake proved easier than the right hand brake when stopping in a hurry.
Beyond its solid trail performance, the KingQuad 450 is also a comfortable ride. The T-shaped seat is easy to move around on and provides plenty of support. There is also lots of room for your feet with full floorboards and raised foot pegs. The raised pegs add a surprising amount of comfort and give the vehicle a sportier feel.
The LCD display was easy to read, even when it was covered in dust, so we could always see how fast we were riding, how far we had gone and how much gas was left in the tank. That's hardly groundbreaking technology, but it's appreciated when you are deep in the trails.
Related reading:
2008 Suzuki KingQuad 450
2007 Suzuki Quadracer R450
The King returns for 2007 Lucas Cooney
I have been working exclusively in digital media since 1997. I started out with TSN.ca, spending nearly nine years creating and editing content on Canada's leading sports website. I left to join VerticalScope, Inc., one of the world's largest online publishers, to start a number of powersports publications. While at VerticalScope, I've helped create and oversee content for a wide variety of different publications, including ATV.com, Off-Road.com, ArcheryTalk.com, Tractor.com, RVGuide.com, and many more.
More by Lucas Cooney
Published December 10th, 2007 2:16 PM
Top Brands
Popular Articles