7 Views
2015 Suzuki KingQuad 500 AXi Review
September 18th, 2015 11:51 PM
Share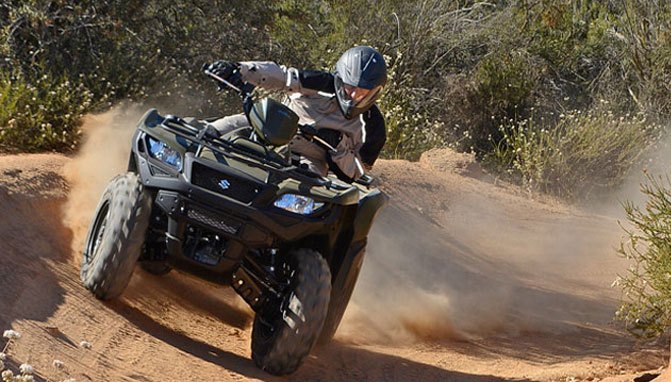 A do-anything middleweight Utility ATV
While not
Suzuki
's flagship Utility ATV, the
KingQuad 500
AXi still impresses with state-of-the-art Suzuki technology, and it is a capable 4×4 ATV, able to take you wherever you may roam.
he KingQuad 500 AXi benefits from a few key updates for 2015, starting with its 493cc, SOHC, single-cylinder, liquid-cooled, four-stroke engine. While the bore and stroke remain the same at a slightly oversquare 87.5mm x 82.0mm, Suzuki engineers shaped power curve to emphasize midrange and top-end performance. Suzuki also left the compression ratio unchanged at 10.0:1, but the 2015 model receives a new dual sparkplug-equipped four-valve cylinder head to give each incoming fuel charge a more complete burn, which equates to greater combustion efficiency. The KingQuad 500 AXi boasts a sportbike-derived chain-and-gear camshaft drive system that also allows a shorter/narrower cylinder head design for reduced overall engine height.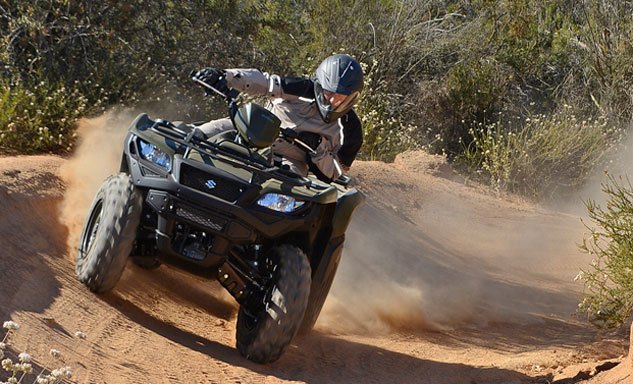 Suzuki also fitted the 500's 37mm throttle body with a new multi-hole fuel injector for 2015. The injector is claimed to deliver a much finer spray than the previous injector, again improving efficiency and throttle response.
On the exhaust side, the KingQuad 500 AXi received a new Pulsed-secondary AIR-injection (PAIR) system and new catalytic convertor to reduce emissions. At the same time, the inner structure of the muffler has also been updated to be less restrictive with the goal of helping the engine run smoother throughout the rev range, especially at mid- to high-rpm.
Thumbing the KingQuad 500 AXi's electric start button instantly brings the machine to life when cold, and throttle response is instantaneous right from the get-go. Then it is simply a matter of selecting the proper drive mode via the KingQuad's fender-mounted, gate-type shifter – High for normal speeds, Low for crawling speeds, or Reverse.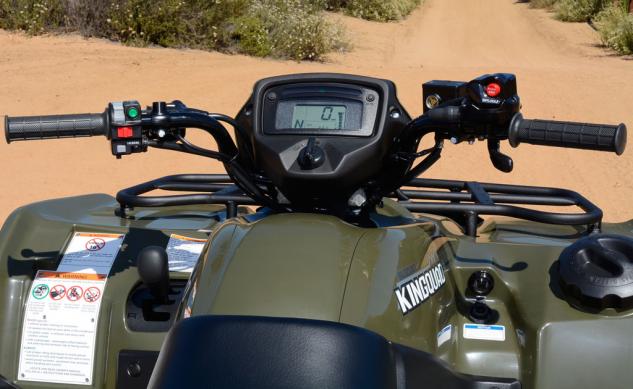 With only 493cc of displacement, the KingQuad 500 AXi is hardly a brute down low, and we did not expect it to impress us with stump-yanking torque at the first hit of the throttle. It didn't, but true to Suzuki's design goals, its mid-range performance shines, and it doesn't fall on its face as it transitions into the upper revs. Overall, we would characterize its power delivery as robust yet user-friendly. But if you want more low-end grunt, you're going to need to look at the KingQuad 750 AXi.
Even so, the KingQuad 500 AXi is able to get with the program thanks to its efficient QuadMatic CVT belt-type automatic transmission, which always selects the proper gearing to maintain forward momentum. We especially like the fact that the system doesn't freewheel when the rider backs off the throttle, thanks to an engine-braking system that helps to control the machine during steep descents.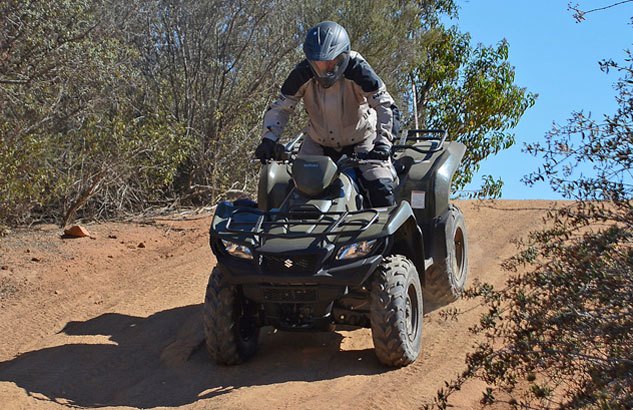 We had a great time putting the King Quad 500 AXi through its paces at one of our local Southern California ATV parks. What this particular park lacks in land area it more than makes up for in motocross-like whoops, deep rain ruts and steep, challenging hills. It was all child's play for the 500, which features selectable four-wheel-drive and a front differential lock option in case you should really get cross-rutted and hang a front wheel in the air like we did. Simply thumb the Diff Lock switch on the right handlebar and the Suzuki can pull itself out of just about any low-traction situation. We also appreciate how well the 500 can dig its heels in on steep downhills when the transmission is set in Low mode. When ascending steep uphills with the 4WD engaged in Low, the KingQuad is a veritable tank, able to climb any terrain that offers enough traction for its toothy Maxxis tires.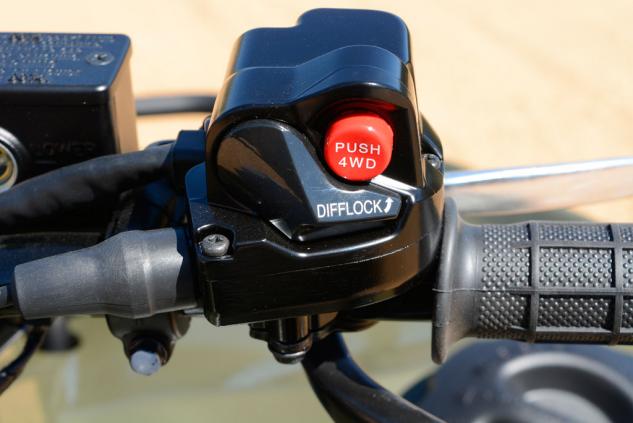 A capable engine and transmission are useless if they're planted in a poor-handling chassis, and, for the most part, the KingQuad 500 AXi's tubular steel chassis exhibits very good steering characteristics and excellent stability from its 50.6-inch wheelbase. Suzuki engineers worked hard to ensure a low center of gravity for the 676-pound machine, taking care to cant the engine's cylinder 48 degrees and lower its 4.6-gallon fuel tank to improve handling.
Our test unit was not equipped with Suzuki's optional electronic power steering, but even without it the KingQuad steers with minimal effort and reasonable precision when grunting over obstacles or through deep ruts. However, traveling in 4WD mode requires considerably more muscle to point the KingQuad where you want it to go, and going into Diff Lock mode makes steering even harder when crawling. Riding at faster speeds over rough terrain also left us wishing for the power steering, which goes a long way to minimize deflection when the front tire contacts a rock or a stump.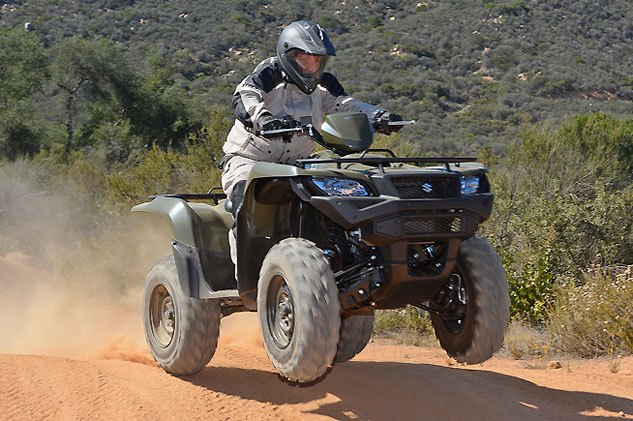 Suspension on the KingQuad 500 AXi is fully independent front and rear, consisting of tubular front A-arms and an A-arm/I-beam rear setup with shock absorbers at all four corners. The adjustable shock absorbers offer five preload settings to tailor the ride for terrain or vehicle load. Suspension travel is 7.1 inches up front and 7.9 inches out back. We're generally happy with the compliance of the KingQuad's suspension, which is most effective at lower speeds but can be a tad bouncy at high speeds in rough terrain – keeping in mind that we're discussing a Utility ATV that tips the scales at over 675 pounds. Around the farm on tight trails, the Suzuki should deliver a plush, controlled ride every time.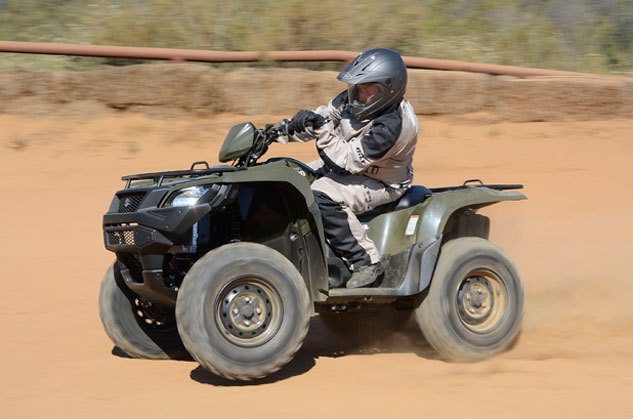 Stopping power comes courtesy of dual hydraulic front disc brakes and a sealed, multi-plate rear brake system, with a clutch-type design that is claimed to be durable, reduces unsprung weight, and requires very little maintenance. The rear brake is also sealed for better protection when riding in wet conditions. Braking performance is solid for such a heavy vehicle, if a little on the laborious side. Braking performance is linear enough, but we would like to see a little more authority when hauling the heavy machine down from speed. As smooth as the brakes are, increasing their bite could just be a matter of a change in pad material. We do like the fact that the rear brake can be controlled by the lever on the left handlebar as well as via the pedal in the right footwell. During our testing we were more comfortable just using the lever and forgetting about the pedal.
Speaking of comfort, the KingQuad 500 AXi's T-shaped seat is easy on the posterior; a plus for long rides or a busy day on the job. Its footwells offer plenty of room for big boots and its long, serrated footpegs offer plenty of traction for the soles.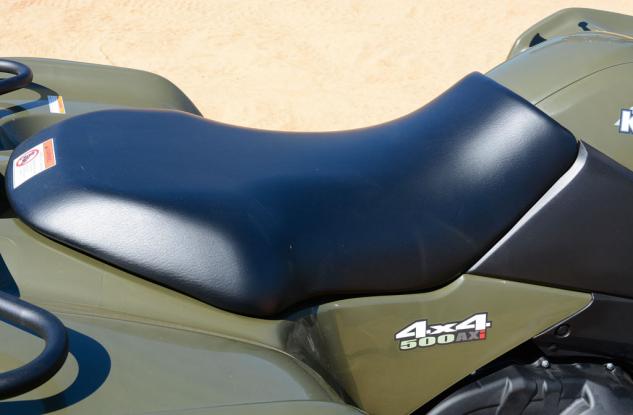 We found the handlebar to be well-placed for comfort and all of the KingQuad's controls seem to be in the right places to fit a wide range of rider shapes and sizes. Its easy-to-read LCD digital instrumentation contains a speedometer, odometer, twin tripmeters, hour meter, clock, fuel gauge, driving range position, and drive mode indicator. LED indicator lamps are used for High, Low, Neutral, Reverse and Drive – 2WD/4WD and differential-locked 4WD. There are also LED warning lamps for fuel injection and engine temperature.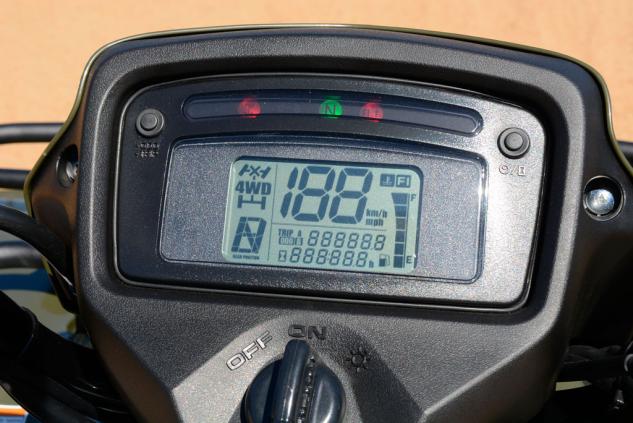 Of course, utility is the name of the game with the KingQuad 500 AXi, which boasts sturdy cargo racks that are capable of handling up to 66 pounds up front and 132 pounds out back. However, we were less than thrilled with the jug-like screw-in cap that yields access to the 2.8-liter front storage compartment located on the right front fender, even if it is water-resistant. Even so, the KingQuad 500 AXi looks as good as it works, with clean styling that has been updated for 2015 via the addition of a rugged new front bumper design and a new speedometer cover. Suzuki also added a new left-side cover to allow for easier access to check the engine oil level.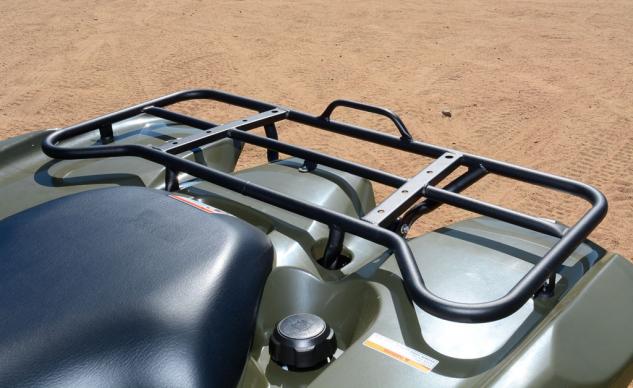 Overall, we're more than mildly impressed with the 2015 Suzuki KingQuad 500 AXi. It performs extremely well for a 500cc Utility ATV, and it's a fun machine with which to tackle rugged trails. Our one caveat is that we would pony up the extra dough for the electronic power steering – in fact, we're surprised that any manufacturer still sells non-power-steering versions of models that offer power steering. Once you experience it, you'll never want to go back.
But power steering or no power steering, the Suzuki KingQuad 500 AXi is an extremely competent 4×4 Utility ATV in our book. Who needs a 750 anyway?
2015 Suzuki KingQuad 500 AXi Specs
Engine:
493cc liquid-cooled four-stroke Single, SOHC, four-valve
Bore and Stroke:
87.5mm x 82.0mm
Compression Ratio:
10:1
Induction:
Fuel injection
Ignition:
CDI
Transmission:
QuadMatic CVT-style automatic, high/low-speed and reverse; Drive modes: 2WD, 4WD and 4WD with differential lock
Suspension:
Independent double wishbone
Front/Rear Brakes:
Hydraulic disc front, sealed and oil-bathed disc rear
Front Tires:
25 x 8-12
Rear Tires:
25 x 10-12
Length/Width/Height:
84.1 in/47.6 in/49.0 in
Wheelbase:
50.6 in
Fuel Capacity:
4.6 gal
Colors:
Terra Green; Flame Red; Timber XD3 Camouflage
Curb Weight:
676 pounds
MSRP:
$7,399 (base); $8,299 (power steering)
Published June 22nd, 2015 3:14 PM
Top Brands
Popular Articles