51 Views
2017 Suzuki KingQuad 500 AXi vs. Honda FourTrax Foreman Rubicon 4×4: By the Numbers
June 30th, 2017 2:48 PM
Share
We're committed to finding, researching, and recommending the best products. We earn commissions from purchases you make using links in our articles. Learn more here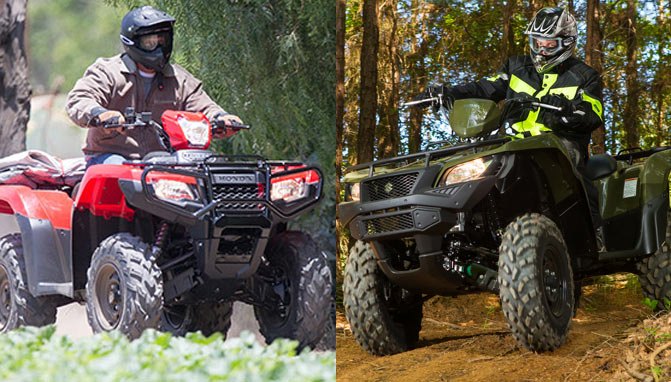 A battle of middleweight Utility ATVs
Honda may have the bragging rights to the first commercial ATV with the invention of the Honda ATC 90 back in 1969, but the first modern four-wheeled ATV title goes to Suzuki with the 1983 QuadRunner LT125. Three wheelers have sadly gone the way of the dodo bird, but four-wheeled ATVs are still going strong. Suzuki and Honda are still competing for market share, especially in the recreation/utility market. Suzuki has the KingQuad 500 AXi, a model that has been around for a few years and offers the features of its 750 model at a lower price and reduced engine size. Honda unveiled an all-new Foreman Rubicon in 2015, showing a serious commitment to the 500-class market with an extremely capable machine. How well do these two stack up? Let's compare them, by the numbers.
| | | |
| --- | --- | --- |
| | 2017 Suzuki KingQuad 500AXi EPS | Honda FourTrax Foreman Rubicon 4×4 EPS |
| Price | $8,299 ($8,999 for Rugged Package) | $8,599 ($9,199 with DCT) |
| Engine | 493cc, 4-stroke, liquid-cooled, SOHC | 475cc liquid-cooled longitudinally mounted single-cylinder four-stroke |
| Horsepower | 38 | 29 |
| Driveline/Differential | 2WD, 4WD & 4WD Differential Lock | Direct driveshafts with TraxLok® and locking front differential |
| Transmission | CVT (V-belt), with high/low-range and reverse | Five-speed automatic dual-clutch transmission with reverse |
| Wheelbase | 50.6 in | 50.9 in |
| Overall Dimensions (LxWxH) | 83.3 x 47.6 x 50.6 in | 84.5 x 47.4 x 48.6 in |
| Weight | 661 lbs | 690 lbs (703 lbs for DCT) |
| Front Tires | 25×8-12 | 25×8-12 |
| Rear Tires | 25×10-12 | 25×10-12 |
| Ground Clearance | 10.2 in | 9.4 in |
| Fuel Capacity | 4.6 gal | 3.9 gal |
| Front Suspension | Double wishbone, five-way preload adjustable, 6.7 in. | Dual wishbone/7.28 in. |
| Rear Suspension | Double wishbone, five-way preload adjustable, 7.7 in | Dual A-arm/8.46 in. |
| Front / Rear Brakes | Front disc / Rear sealed oil-bathed multi-disc | 190mm dual disc/ 170mm disc |
Motoring Up
Both machines have similar engines on paper. The Suzuki runs a 493cc, four-stroke, liquid-cooled, SOHC, single-cylinder powerplant that has been around for a while now. The Honda Rubicon runs a 475cc liquid-cooled, longitudinally-mounted, single-cylinder, four-stroke engine that is basically the same as their pre-2015 model upgrade, with some improvements of course. Though neither company releases official horsepower numbers, a little Internet sleuthing shows the Rubicon boasts just shy of 29 horsepower, while the KingQuad churns out just over 38 ponies.
What really differentiates these two engines is how the power gets to the wheels. Suzuki uses the industry standard CVT transmission, which provides seamless shifting with good power delivery. Just about every company out there runs a CVT system in their automatic ATVs and UTVs. Everyone, that is, except Honda. Honda runs a dual clutch transmission, or DCT. This provides a noticeable shift between gears, and with the option of allowing you to select the gear you're in. This gives the Honda five gears plus reverse in both high and low range. With no power loss via the CVT, the Honda feels more powerful than horsepower numbers and has exceptional engine braking.
Creature Comforts
Both machines have some great features that are very similar. The Suzuki has its T-shaped seat and Honda uses a very thick seat, making both comfortable-to-sit-on rides. If you opt for the Rugged package on the Suzuki, you get a brush guard, front and rear. The Honda comes standard with a brush guard. Both come with steel racks, although Suzuki coats its racks in a grippy, non-slip material.
Both machines also have a locking differential for extra traction. This can be activated from the handlebar controls. The Suzuki has an advantage of about a gallon more fuel capacity over the Honda with a 4.6-gallon tank, so if you're feeling adventurous, you can go a little further with the Suzuki. It is also set up for an easy winch installation, if you need to add one.
If you really want to compare these two middleweight machines, the best thing to do is go to your local dealership and take a look at them. We're sure your dealer would love to talk to you.
Price
Due to options, prices of both of these ATVs will vary. The Suzuki KingQuad 500 AXi EPS retails for $8,299, but if you want the Special Edition with the Rugged Package, the price jumps to $8,999.
The Honda Foreman Rubicon EPS carries a base price of $8,599. But if you opt for the Dual Clutch Transmission, expect to see a price tag of $9,199.
Learn more about the Suzuki KingQuad 500 AXi EPS here. Derrek Sigler
Derrek's love for all things ATV started when he was a mere 11 years old, growing up on his family farm. His mom gave him and his sister a choice - get a horse, or a three-wheeler. The sister wanted the horse, and Derrek wanted the ATV. Luckily he won out, and was soon burning up the trails on a Yamaha Tri-Moto 200. By the time he was 14, he had saved enough of his own money by working on the farm and in his folks restaurant to buy a new 4-wheeler. That happened the day he and his mom were driving past the dealership and saw 1987 Banshee. His mom had no idea what he was buying, and he never looked back. He's been riding ever since, and been writing professionally for many years. He has ridden all over North America and been behind the controls of just about every machine out there. And yes, he still has his 1987 Yamaha Banshee.
More by Derrek Sigler
Published June 23rd, 2017 4:21 PM
Top Brands
Popular Articles