1 View
2011 Yamaha ATV Lineup Unveiled
June 17th, 2015 4:12 PM
Share
Grizzly 450 with EPS and Raptor 125 added to lineup
Already boasting perhaps the most complete ATV lineup in the industry, Yamaha has upped the ante in 2011 with two new machines – the Grizzly 450 with Electric Power Steering (EPS) and the Raptor 125 sport quad.
"The new Grizzly 450 EPS is a mid-level machine with top-of-the-line features that excels in trail riding and utility functions. The Raptor 125 is the first in its class from a major ATV manufacturer with true sport performancee," says Mike Martinez, Yamaha's general manager of ATV and Side-by-Side operations. "These two models give customers a couple of great new options within Yamaha's 2011 line. It's the superior functionality and performance in both of these ATVs, along with Yamaha's known durability and reliability, that provide the high value our customers expect."
Grizzly 450 EPS
The Grizzly 450 is not exactly an unfamiliar name in Yamaha's lineup, but it did get a major overhaul for 2011, including the addition of Electric Power Steering. According to Yamaha, the EPS system features new ECU mapping designed specifically for the Grizzly 450. If it's anything like the EPS on the Grizzly 550 and Grizzly 700, users won't be disappointed. Greatly reduced steering effort is a hallmark on Yamaha's EPS system, which makes for a less taxing ride, especially over the nastier terrain. If you hit a rock at the wrong angle you don't feel nearly as much kickback, with saves your arms and shoulders untold strain over a long day. As soon as we tried Yamaha's EPS we never wanted to go back to the old days again. It's that good.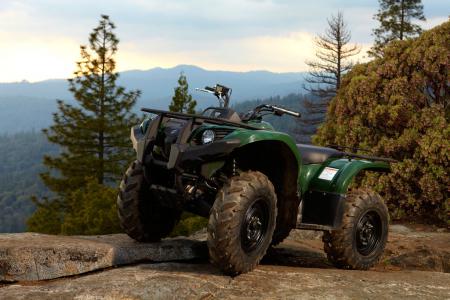 2011 Yamaha Grizzly 450 EPS
Don't think all Yamaha did was add power steering and call it a day. The 2011 Grizzly 450 EPS also features a new one-piece frame, which saves six pounds over the previous frame. In fact, even with EPS, the new Grizzly weighs nearly 10 pounds less than the 2010 model. Additionally, a rear anti-sway bar was added to maintain the balance of the front suspension settings. Furthermore, Yamaha moved the upper shock mounts outward 38.5mm to accommodate the EPS system.
Finally, Yamaha outfitted the Grizzly 450 EPS with a new sealed wet brake. According to Yamaha, the brake is impervious to outside elements, while the brake requires less pressure for equal braking force. Braking feel through the levers is also claimed to be improved.
Even with the addition of power steering, the Grizzly 450 is lighter than it used to be.
Yamaha already has more than 20 accessories ready for the new Grizzly, so consumers won't have to go to the aftermarket for many modifications. Protection is covered with skid plates for the frame, rear differential, front A-arms, and rear A-arms, as well as overfenders and a brush guard. Other accessories include a 2,500-lb Warn winch, plow kit, receiver hitch, windshields, heated seat cover, heated grips, gun boot, rear rack extension, and a variety of cargo bags.
The 2011 Yamaha Grizzly 450 EPS is available in Hunter Green ($7,499), Steel Blue ($7,799), and Realtree AP Camo ($7,849).
Be sure to check out our photo gallery for more pictures of the new Grizzly 450 with EPS.
Raptor 125
After having wild success with the Raptor 250, Yamaha has decided to go after young sport riders with the new Raptor 125. This is the first 125-class sport quad from a major ATV manufacturer and it was designed to be a true sport machine.
2011 Yamaha Raptor 125
The Raptor 125 is powered by 124cc, two valve, single overhead cam engine with a five-speed manual transmission and electric start. It features the same suspension components (five-way preload adjustable front shocks) as the Raptor 250 and was designed to offer the same impressive handling characteristics. With 7.5 inches of travel up front and 7.9 inches out back, the Raptor 125 should soak up most trail chatter with ease.
The 124cc Single is at the heart of this sporty low-displacement quad.
The rear suspension offers 7.9 inches of travel.
Other features include dual hydraulic disc brakes up front and a single disc in the rear, eccentric chain adjuster, and new Maxxis sport tires – 19-inches in front and 18-inches in back.
There is a big market out there of people who are buying off-brand, low-displacement, low-price models. With many off-brand ATVs, quality is not always top notch and, so Yamaha has decided to tackle that segment and provide a high-quality machine at an affordable price.
Like the Grizzly 450 EPS, Yamaha has come prepared with a family of accessories for the Raptor 125. Woods riders will appreciate the swing arm skid, frame skid, A-arm skid, and swing-arm skid. Also available are nerf bars (brushed aluminum and black), and a variety of front bumpers, footwells, rear grab bars, and shock covers.
The 2011 Yamaha Raptor 125 ($3,399) is available in Team Yamaha Blue or White with one of two graphics kits.
Be sure to check out our photo gallery for more pictures of the new Raptor 125.
Yamaha's complete utility ATV line for 2011 now includes the Grizzly 700 EPS, Grizzly 700 (non-EPS), Grizzly 550 EPS, Grizzly 550 (non-EPS), new Grizzly 450 with EPS, new Grizzly 450 (non-EPS), Grizzly 350 IRS 4×4, Grizzly 350 4×4, Grizzly 350 2WD, Grizzly 125 2WD and Big Bear 400 4×4. Yamaha's 2011 sport ATV models include the Raptor 700R (also in a Special Edition model), Raptor 350, Raptor 250, Raptor 250R (with piggyback shocks), the all-new Raptor 125 and Raptor 90. The 2011 Rhino 700 FI, including a Sport Edition, was announced in February.
The 2011 models will be in dealerships across the country this summer.
Related Reading
2011 Yamaha Rhino 700 FI Unveiled
2010 Yamaha YFZ450R and Raptor 700R SE Review
2010 Yamaha YFZ450X Review
2009 Yamaha Raptor 250 Review
2009 Yamaha Grizzly 550 FI EPS Review
2008 Yamaha Grizzly 700 FI Auto 4×4 EPS Review
All Things Yamaha on ATV.com
Published June 9th, 2010 10:20 AM
Top Brands
Popular Articles