1 View
American Honda Offers Over $150,000 in GNCC Contingency
February 9th, 2009 10:43 AM
Share
Payouts spread among multiple classes
Long-time GNCC supporter Honda has announced its contingency programs for the 2009 Can-Am Grand National Cross Country series. Contingency payout for bikes and ATVs totals $159,575.
While the Honda Red Riders Rewards program focuses primarily on amateur classes, Honda will also pay the XC1 and XC2 pro classes on both bikes and ATVs. For ATV riders, Honda offers $300 to the XC1 Pro and XC2 Pro Am Class winner, $200 for second place and $150 for third.
"We kind of spread the love around this year," says Keith Dowdle, assistant manager of Motorcycle Shows and HRCA. "We tried to pay a few more classes this year. We expanded the program to include more classes, especially as they relate to the vet classes, +30 and +40 classes. We try to make it a number where it will affect the largest number of customers."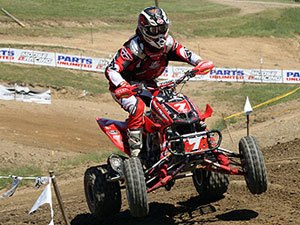 The Honda program offers contingency from GNCC Youth classes all the way up to the pro ranks on bikes, and covers a variety of ATV classes. For more information, scroll through all of the 2009 GNCC contingency postings at http://www.gnccracing.com/pages/2009-gncc-contingency-programs.
The 2009 AMA/ATVA Grand National Cross Country Series begins with The Parts Unlimited River Ranch in River Ranch, Fla. on Feb. 28 to Mar. 3. For more information, go to www.gnccracing.com.
Published February 9th, 2009 10:43 AM