1 View
Big Weekend for Doug Eichner at WORCS Finale
October 31st, 2008 1:37 PM
Share
Polaris rider clinches UTV championship with win
Honolulu Hills Raceway in Taft, Calif. was home to the final round of the World Off-Road Championship Series (WORCS), held October 23 – 25.
Saturday morning marked the start of a successful day for Polaris rider Doug Eichner when he took his first Pro win aboard the Outlaw 450 MXR with a full gate in the Pro Production Class. With a holeshot start, Eichner took a commanding win and looked to be strong for Sunday's Pro Main event.
Later Saturday afternoon, Eichner faced the challenge of securing the WORCS UTV championship. Eichner took the holeshot and never looked back, bringing his Polaris Ranger RZR across the checkers and clinching the WORCS 2008 UTV National Championship in his first year behind the wheel of a racing UTV.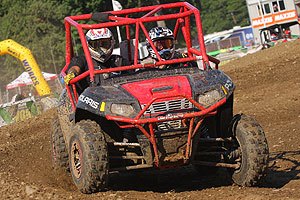 Sunday morning's ATV Pro Main Event had all the racers ready early as race time had moved to an early morning start time due to festivities planned for later in the day. Eichner missed the holeshot he was gunning for and had to make his way through a few riders to get some clean air. He fought his way to second place after making a spectacular pass through a log and tire section that had earlier caused a multi-vehicle pile up.
Eichner closed the gap and was on the bumper plate of the leader and then led the event for a lap and a half. The need for a pit stop changed the positions of the top riders and Eichner fell to third. Making up 19 seconds in a lap was still not enough to get to the checkers in time for the win, but did put the Outlaw 450 MXR on the Pro Podium for a third place finish for the ATV Pro Main and a fourth Overall in the WORCS Series for 2008.
"We learned a lot this year and I am excited to fight for the WORCS crown in 2009," says Eichner.
At the WORCS awards banquet held Sunday evening, Eichner was presented with five globe awards to signify his five years of WORCS Championship titles. Guests enjoyed an Eichner Trivia Game with questions such as 'how many pro wins has Eichner earned in the WORCS Series?' Eichner himself didn't know the answer of 45.
"Polaris Racing is very excited about Eichner's first UTV National Championship and effort with the Outlaw 450 MXR," says Eric Nault, race team manager for Polaris. "This is our first full season with the Outlaw 450 MXR in the WORCS series. We learned a lot this season and funneled that information back to our R&D departments to make improvements for 2009 season. Next season, Eichner will be piloting our new 2009 Outlaw 450 MXR and battling for another championship."
Eichner's year is not finished yet, as the Polaris/Lone Star/Eichner Racing Team is gunning for the ITP QuadCross Open Pro Crown aboard the Outlaw 525 S. Eichner currently holds a 12-point lead with the final QuadCross Round scheduled for Nov. 30, at Speedworld Raceway, in San Bernadino, Calif.
Published October 31st, 2008 1:37 PM
Top Brands
Popular Articles