1 View
BRP Recalls 2010 Can-Am Outlander and Renegade Models
December 7th, 2009 12:53 PM
Share
Power steering issue leads to recall
Bombardier Recreational Products (BRP), in cooperation with the Consumer Product Safety Commission, is conducting a voluntary recall of certain 2010 Can-Am Outlander and RenegadeATV models equipped with Dynamic Power Steering.
According to BRP, an electrical short circuit to ground of the DPS may occur. This can cause your vehicle to suddenly steer left on its own and in some situations the operator could lose control of the vehicle.
So far the CPSC has received one incident report, but no injuries or material damage was reported. About 2,400 units are affected by the recall. These units were sold throughout Canada and the United States from August, 2009 through November 2009 for between $6,800 and $13,500.
BRP has already sent by mail a Safety Recall Notice to all known registered owners of these vehicles. This letter urges the owners to contact their authorized BRP Can-Am ATV dealer to have their vehicle repaired.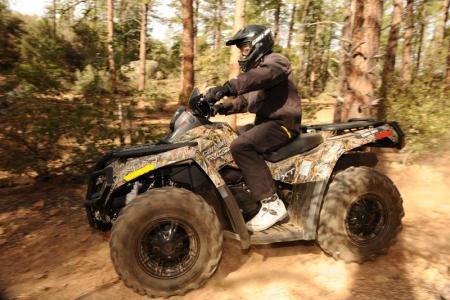 Consumers are asked to stop using the affected units immediately. New DPS software is expected to be available in the coming days. Should consumers wish to continue using the ATVs, BRP asks that they disable the DPS by removing the DPS electrical fuse.
For additional information, call BRP toll-free at (888) 638-5397 or visit the firm's Web site at Can-Am.BRP.com.
| | | |
| --- | --- | --- |
| Model Name | Model Number | Color |
| Can-Am Outlander | XT 4X 800EFI | Yellow, Viper Red, Camo |
| Can-Am Outlander | MAX XT 4X 800EFI | Yellow, Viper Red, Camo |
| Can-Am Outlander | MAX LTD 4X 800EFI | Yellow, Viper Red, Camo |
| Can-Am Outlander | MAX XT 4X 650EFI | Yellow, Viper Red, Camo |
| Can-Am Outlander | XT 4X 500EFI | Yellow, Viper Red, Camo |
| Can-Am Outlander | MAX XT 4X 500EFI | Yellow, Viper Red, Camo |
| Can-Am Outlander | XT-P 4X 800EFI | Black |
| Can-Am Outlander | MAX XT-P 4X 800EFI | Black |
| Can-Am Outlander | XT-P 4X 650EFI | Black |
| Can-Am Outlander | MAX XT-P 4X 650EFI | Black |
| Can-Am Outlander | XT-P 4X 500EFI | Black |
| Can-Am Outlander | MAX XT-P 4X 500EFI | Black |
| Can-Am Outlander | MAX LTD 4X 500EFI | Yellow, Viper Red, Camo |
| Can-Am Outlander | XT 4X 650EFI | Yellow, Viper Red, Camo |
| Can-Am Renegade | XXC 4X 800EFI | Black |
Published December 7th, 2009 12:53 PM
Top Brands
Popular Articles