1 View
High-Lifter Polaris Shines in the Mud
April 25th, 2008 12:12 PM
Share
Solid showing at ATV Mud Nationals
Team High Lifter-Polaris Racing put together a great showing at the 2008 High Lifter ATV Mud Nationals, held at Mud Creek Off-Road Park, in Jacksonville, Tex. the week of April 2 to 6.
The five-day muddy extravaganza featured mud riding, special events, competitions and entertainment.
Maggie Robertson rode her Polaris Sportsman 800 to first place in the Polaris Mud Chic Open class. Her husband, Brian Robertson, finished second out of 65 entries in the Pro Series class, also on a Sportsman 800.
JW Otwell took home third place in both the Bogger and Pro Series B classes on a Polaris Sportsman 500, while Kelly Knutson and Jesse Johnson topped the field of 20 entries in the RUV class in their Polaris Ranger RZR.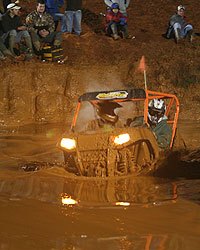 In the Maxxis Mudda Cross competition, Randy Miller blazed through the bog on his Sportsman 500 for a first-place finish in the 500cc or Less class. Teammate Otwell, also on a Sportsman 500, finished second. Miller also took third in the Open class on a Sportsman 800.
Trey Thomas and his Sportsman 800 X2 took second out of 90 entries in the 501cc and Up class and Johnson finished third in the RUV class in his Ranger RZR.
Making its Mud Nationals debut, the Ranger Crew tackled the EPI Endurance Challenge. The six-man team entered the race on an exhibition basis and ended up posting the fastest time and was one of nine of the 18 entrants that managed to finish the race.
The team's next outing is the Texas Mudfest, at Gator Park, in Longview, Texas, on May 1-4.
Published April 25th, 2008 12:12 PM
Top Brands
Popular Articles