40 Views
High Lifter Polaris ACE 1000 Review
June 17th, 2015 4:41 PM
Share
We're committed to finding, researching, and recommending the best products. We earn commissions from purchases you make using links in our articles. Learn more here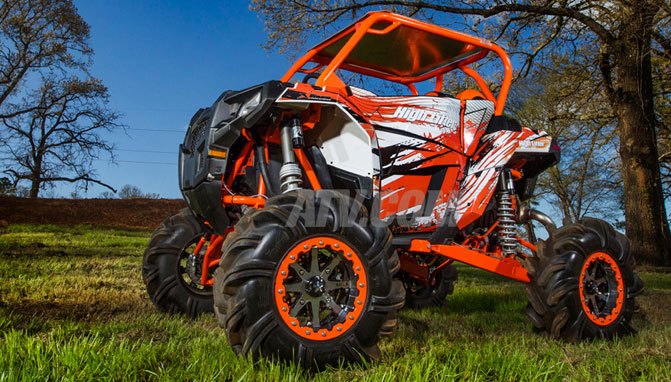 We get some seat time in High Lifter's insane ACE project
High Lifter Products of Shreveport, La. is known throughout the ATV and Side-by-Side industry for its lift kits and other mud-friendly products that helped start an off-road mudding revolution.
Scott Smith and his team of radical designers and engineers have also dreamed up some of the wildest feature vehicles we've ever laid eyes on. It seems the High Lifter team has no limits in mind when putting a vehicle together.
Do you remember the Teeter Totter; a high-horsepower small block Chevy-powered Polaris RZR 4 from a year or so ago? How about the huge hydraulically steered Polaris Ranger seen at most High Lifter events as a rescue vehicle for those with more courage than talent in the deep Texas mud? This year the High Lifter team put a Polaris ACE under the knife and the outcome was amazing to the eyes and ears.
High Lifter's Rescue Ranger (left) and Polaris RZR 4 Teeter Totter (right) are two recent examples of High Lifter's innovative minds.
High Lifter tells us that the Polaris ACE 570 started out in brand new standard trim before it was completely stripped naked and tortured for about three months. Disassembly of the unit was completed and the frame was completely exposed so that mad scientist Jesse Johnson, High Lifter's main fabricator, could turn this seemingly humble vehicle into a raging monster. His goals were simple; use existing parts in the High Lifter catalog and build it past the point of wild.
The stock Polaris ACE 570 was stripped down to its essence.
This ACE's frame was split in two and "adjusted," according to Jesse, to handle the excitement that he had in store. Once ground zero fabrication was finished, parts from High Lifter's 1000 XP high clearance line began to mount onto the rig. The A-arms are straight from the shelf at High Lifter Products and are typically used on the Polaris' RZR 1000 XP. They are the high clearance arms and use the stock FOX shocks also found on the 1000 XP. Larger upper shock mounts were added to the framework, as well as other small mounting components. This gave the ACE, known as the Spider Monkey, an incredible stance. As you may know, the rear suspension is of the independent A-arm variety on a regular ACE, but for this wild build High Lifter threw on a completely engineered trailing arm style setup with massive FOX shocks to add the dampening factor.
High Lifter installed a set of its Polaris RZR 1000 A-arms.
Powder coating everything orange really makes the finished product stand out.
With its new legs installed, the Spider Monkey now needed some new shoes to show them off. High Lifter went with MSA M21 wheels wrapped in its own Outlaw 2 tires in the size of 29.5 x 9.5 x 14. Powder coating the M21 beadlock wheel rings to match the orange frame and many other components was also a very smart move. When fabrication and test fit for each product had been finished, the powder coater had his hands full dressing the shiny orange coating on most all of the steel components of the framework and suspension.
High Lifter's own Outlaw 2 tires are wrapped around MSA 21 wheels with powder coated beadlock rings.
Stuffing a 1000 XP engine and transmission into the rear end of this Sportsman ACE was easy, according to the builder, because he's just that good. It looks like it was a factory fit to us, which tells us he is right to be confident in his skills. The exhaust was tuned for space and not so much power, but this beast didn't need anymore of that. The power to weight ratio is incredible and when you step onto the gas pedal you know it. Getting the CVT and engine to breathe in the environment that the Spider Monkey was designed for meant that the snorkels from a High Lifter Edition Polaris RZR Mud monster needed to be used.
Somehow, High Lifter managed to shoehorn a ProStar 1000 engine into the back of the ACE and made it look good.
Inside the cab of this ACE, you'll find room for someone smaller than me. The High Lifter Edition fully bolstered seating and four-point harnesses will keep you tucked in nicely and are pretty comfortable. All of the familiar ACE controls were left intact, including the tilt steering and the details with graphics really snazzed up the interior. Other small details include an aluminum top to match the larger RZR products available from Polaris, and extended brake lines and custom tie rods for steering control. Add a very nice custom wrap and some High Lifter Products logos to the look and you have a total package.
The finished High Lifter ACE project is stunning to see in person and drew many jealous stares during our test ride.
So did I get to drive it? Yes, I did! However, the unfortunate part of this story is that I did not get to drop it off into the wild abyss of mud that was crying for me at Mud Creek Off-Road Park in Texas during Mud Nationals. Out of respect for the owner of the rig (and for my own safety should I have returned with anything more than dust on the wheels), I decided to enjoy the opportunity to cruise the monster build and soak in the staring from the jealous Mud Nationals fanatics. I can tell you the power will most likely roast the tires at any given time and probably could wheel stand for miles. I mean, I think it could. Wink, wink. Published May 13th, 2015 12:03 PM
Top Brands
Popular Articles