1 View
Manufacturers Form Safety Group for Side-by-sides
November 21st, 2008 5:52 PM
Share
ROHVA to promote safe and responsible use
Formed by the major manufacturers and distributors to promote the safe and responsible use of side-by-sides, or recreational off-highway vehicles (ROVs), the Recreational Off-Highway Vehicle Association (ROHVA) received ANSI accreditation to develop a standard for the equipment, configuration and performance requirements.
In addition, ROHVA has published safety rules for these increasingly popular off-road vehicles.
An ROV, better known as a side-by-side or UTV, is a motorized off-highway vehicle designed to travel on four or more non-highway tires, with a steering wheel, non-straddle seating, seat belts, an occupant protective structure and engine displacement up to 1,000cc. Current models are designed with seats for a driver and one or more passengers. ROVs' performance and durability make them ideally suited for a variety of outdoor recreational activities as well as many work applications.
The following 'ROV Safety Rules' focus on safe and responsible ROV use:
1. Always wear protective gear, use the seat belts, keep all parts of your body inside the ROV, and wear a helmet when driving the ROV for recreational purposes.

2. Never drive on public roads – another vehicle could hit you.
3. Drive only in designated areas, at a safe speed, and use care when turning and crossing slopes.
4. Never drive under the influence of alcohol or other drugs.
5. Never drive an ROV unless you're 16 or older or have a driver's license. ROVs are not toys.
6. Never carry more passengers than the ROV is designed for, and never allow a passenger who is too small to sit in a passenger seat to ride in the ROV.
7. Read and follow the operator's manual and warning labels.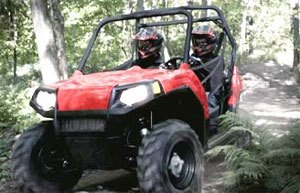 "The safety of the driver and passengers of ROVs is the top priority of the ROHVA member companies," says ROHVA vice president Tom Yager. "ROHVA and our member companies strongly recommend that ROV drivers and passengers follow these important safety rules to avoid crashes and injuries."
In addition, ROHVA will serve as the primary resource for information on ROVs. To coincide with its ANSI accreditation the association has launched a website, http://www.rohva.org/, and has published ROV Safety Rules as well as a description of this emerging vehicle category.
ROVs offered in dealerships across the United States include the Arctic Cat Prowler, Kawasaki Teryx, Polaris Ranger and Ranger RZR and Yamaha Rhino models.
Based in Irvine, Calif., the not-for-profit ROHVA is sponsored by Arctic Cat, Honda, Kawasaki, Polaris, and Yamaha.
Published November 21st, 2008 5:52 PM